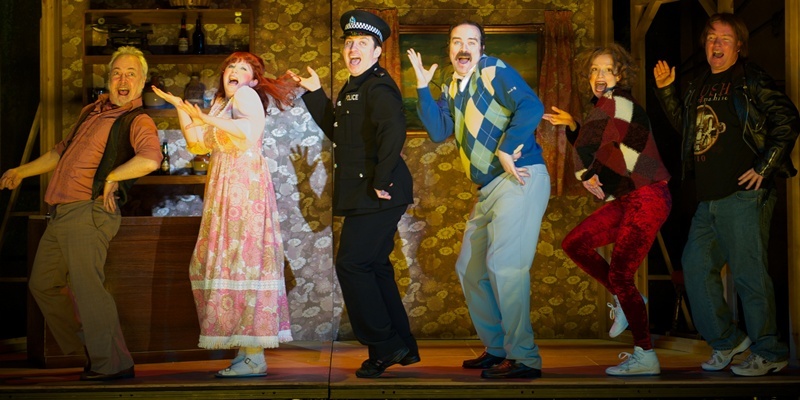 Co-written by and starring one of Scotland's wittiest performers, Greg Hemphill of Chewin' the Fat and Still Game fame An Appointment with the Wicker Man is a nod to the 1973 cult film supported by an excellent line up of comic talent.
Directed by the National Theatre of Scotland's Vicky Featherstone and co-written with Hemphill by Donald McLeary, it follows the story of the Loch Parry Theatre Players, who mount a production of The Wicker Man on their native remote Scottish island.
The touring production also stars Greg's old Chewin' the Fat and Still Game colleague Paul Riley (who played Winston) along with Sean Biggerstaff, Jimmy Chisholm, Johnny McKnight, Sally Reid and Ros Sydney.
The play is described as a "love letter to a unique and timeless cult masterpiece, except that someone forgot to pay the postage!"
Amateur theatre company the Loch Parry Players are rehearsing a stage version of The Wicker Man but their leading man has gone missing in "mysterious circumstances".
At the last minute, they hire an actor who plays a police officer on the television to come over from the mainland and step in, and there's just 24 hours until the play opens.
Greg, who has been working on a number of new projects since Still Game finished in 2008, described doing the show as exciting: "I haven't done theatre for many years and there is a challenge every night to make sure we give the audience the same show we gave them the night before.
"I'd like to think that the play is first and foremost entertaining rather than an overly reverent homage."
He thinks he has seen the film at least 20 or 30 times and while the play is embedded in the fabric of the movie, the audience doesn't require a prior knowledge of the plot to understand it.
NTS assistant director Phil McCormack will host a post-show talk at The Alhambra on March 21, to discuss his involvement with the production. An age guide of 14+ is suggested for this production.We have five pairs of tickets to give away for the showing on March 21 at 7.30pm. To be in with a chance of receiving tickets, email whatson@thecourier.co.uk stating "Wicker Man" in the subject line and include a contact address and daytime phone number in the body of the message. The closing date is noon on Wednesday, March 14, and the senders of the first five emails picked at random on the day will each receive a pair of tickets. Successful entrants will be notified by email.Photo by Manuel Harlan