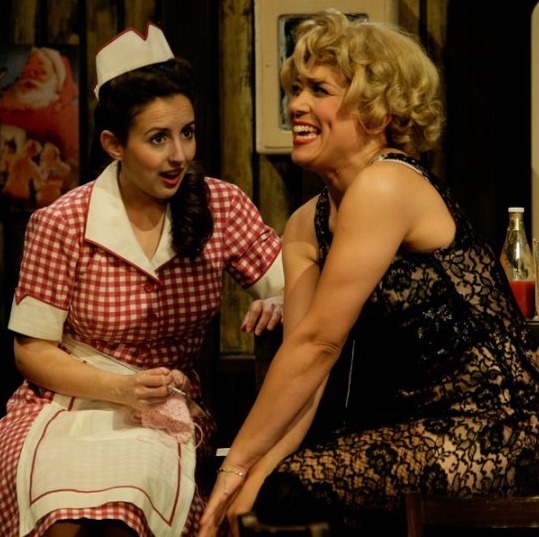 It's probably the film of William Inge's play that is best known to most people with Marilyn Monroe playing the showgirl who gets swept off to Montana by a hormonal young cowboy.
Their journey is interrupted by a snowstorm which strands the pair and the other bus travellers overnight at Grace's Restaurant in a small Kansas town.
The 1955 play is a different matter from its celluloid incarnation. Deceptively simple, it's not only the turbulent tale of cowboy and singer, although they are mainly centre stage, but of a range of relationships embodied in the characters, from young and innocent to old and sleazy.
It's the kind of bittersweet tale at which director Ken Alexander excels. The characters are slowly introduced as Grace (Jacqueline Dutoit) who runs the diner and schoolgirl Elma (Jennifer Rhodes) prepare for the next bus in the early hours.
In comes sheriff and preacher Will Masters (PFT stalwart Dougal Lee looking about 10 feet tall with a beard only just shorter), a man who likes to gently lay down the law.
Cherie the night club singer runs in away from the grasp of the cowboy, who has abducted her. Amanda Gordon has just the right mix of sauciness and ingenuousness as her feelings towards Bo change.
He bursts into the diner, hyperactive, obnoxious and grabbing at his quarry. Sandy Batchelor, looking every inch the big cowboy, touchingly reveals the inner man, who has so little knowledge of life and love.
Bo's mentor is Virgil Blessing (Greg Powrie) who heads off, he knows not where, as he realises he's no longer needed.
The woman in the diner won't let him stay in the warmth for the bus. It's all a poignant reminder of real life. The wordless scene where Virgil is silhouetted against the rising sun is beautifully created in Simon Wilkinson's lighting.
The final relationship is Dr Lyman, the old professor with a taste for young girls and booze. His target is Elma, tellingly conveyed by Jennifer Rhodes, a mixture of wide-eyed innocence and book-learning.
The use of two intervals is mistaken, just as the audience is getting to know the characters and the tension is building up, the lights go down on the first act. It's the theatrical equivalent of opening the oven door before the souffle has risen.
Photo courtesy of Douglas McBride/Pitlochry Festival Theatre.