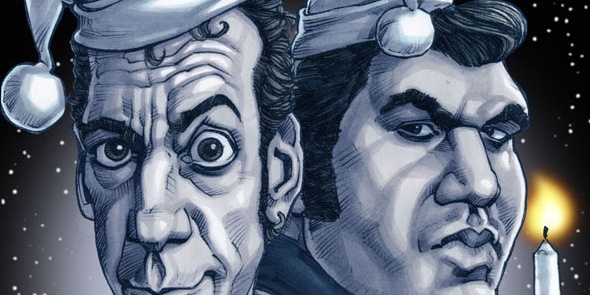 The Late Late Show with Paul Zenon and Mikelangelo is chaotic, slightly amateurish at points, but perfect if you're just arriving for a stay in Edinburgh and have no idea what to see.
On from 12.15-2am, each night's show has a different cast of guests, all doing segments from their own shows. The shebang is compered by magician Paul Zenon who 30-plus readers may remember from children's television magic shows in the early 1990s and Mikelangelo, cabaret star and lead singer of the Black Sea Gentlemen.
On the show the evening I attended were Anna Pocket Rocket, an Australian hula hoop artist, who makes painted plastic circles move in ways you wouldn't believe.
There was Anil Desai who does a show called Hey, Impressions Guy at the Gilded Balloon. He performs 52 quickfire impressions in under 10 minutes, with Mikelangelo drawing them from a deck of cards.
Some are so-so, but others are very good and the sheer pace keeps you caught up. There are some good observations as well (Al Pacino: "Have you ever noticed how I shout REALLY LOUDLY for no REASON in the middle of a sentence?") and he's so enthusiastic and irrepressible it's hard not to like him.
Comedian Phil Kay's 10 minutes of rambling ad-libbed songs and constant leaping about stage did little for me I think of him as more of an attention-seeker than a true comedian.
Best of the bunch were riotous musicians Orkestra Del Sol, who combine fine arrangements with ridiculous musical challenges, including the lung capacity contest.
Mikelangelo's a powerful stage presence with a deep bassoon voice and a good range of blackly humorous songs. Paul Zenon does a good trick of swinging a pint of cider balanced on a snooker triangle round his head without dropping it. That he sinks it in one after the trick perhaps explains his somewhat disordered performance from this point on.
With the line-up changing every night, it's a bit of a lottery, but the Late Late Show is drawing some great acts. A visit will give you an idea of what you might like to see, though if you already have a full schedule it may only add to the list of acts you need to spend your hard-earned on.The Late Late Show with Paul Zenon and Mikelangelo is at Assembly @ George Street at 12.15am until August 29.