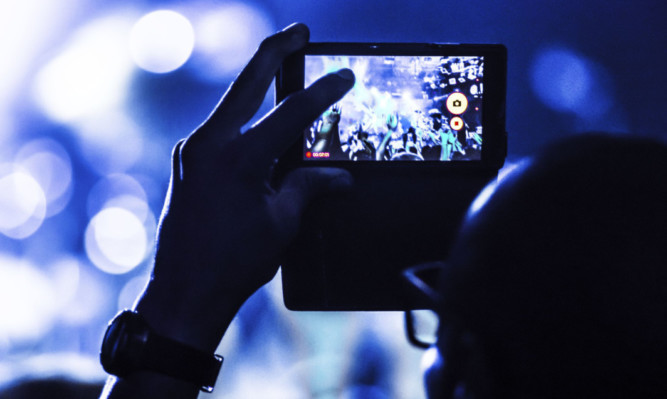 Singer Kate Bush has appealed to fans not to record her forthcoming shows. Jacqueline Wake Young speaks to people on all sides of the debate and attempts to uncover the bigger picture.
Jackie Robinson, superstar baseball player of the Forties and Fifties, uttered the stirring words: "Life is not a spectator sport. If you're going to spend your whole life in the grandstand just watching what goes on, in my opinion you're wasting your life."
It's a rousing sentiment which has been pinched by marketeers and motivators the world over.
It strikes a chord but do we heed its message?
Kate Bush likely thinks not.
The veteran singer has become the latest artist to add her voice to the growing call for audiences to put their mobile phones and cameras away at concerts and instead to "connect" with the performance.
In a statement released on her website before a series of gigs at the Hammersmith Apollo, she wrote: "It would mean a great deal to me if you would please refrain from taking photos or filming during the shows. I very much want to have contact with you as an audience, not with iPhones, iPads or cameras.
"I know it's a lot to ask but it would allow us to all share in the experience together."
Of course, recordings of shows have long been prohibited, or at least discouraged, for fear of piracy, or "spoilers" or simply an artist's desire to manage their image and not to have a grainy, unflattering video of them appear on YouTube.
All of that, however, is not the main issue here. Kate is talking about connection and enjoyment matters which have been discussed by several performers recently.
The Who's Roger Daltrey has said he pities people who record a performance instead of experiencing it.
"I really feel sorry for them," he said. "Looking at life through a screen and not being in the moment totally if you're doing that, you're 50% there, right? It's weird. I find it weird."
Mobile phone and tablet technology means that every aspect of our lives is now a photo opportunity from concerts to childbirth.
Photographer John Need, who works throughout Scotland and internationally, has given some thought to this phenomenon.
He is skilled in "reportage" meaning that the subject is free to enjoy their experience, leaving the job of capturing the event to him.
"I totally see where Kate Bush is coming from," he says. "We are living in a world geared to social media, especially among the young and people are missing the action for the sake of capturing the action.
"They want to post online rather than enjoying the moment."
John recalls going to concerts when he was "a kid" and says that constantly recording means we are "missing memories".
"The emotion will last forever for the people living in that moment," he says. "So I suggest people try it. Keep the phone in your pocket, be mindful. Don't experience it from behind a screen. See what you notice by not recording."
His use of the word "mindful" is telling. "Mindfulness" is a technique which goes back thousands of years and is a core factor in Buddhism.
In recent decades it has been "repackaged", largely through the work of Jon Kabat-Zinn and is now exploding in popularity even the NHS has embraced it, and there are degrees, such as the one at Aberdeen University, dedicated to its study.
Mindfulness is about "being present" about doing one thing at a time and of being in that moment, whether that is spent brushing your teeth, stroking your child's cheek or being at a Kate Bush concert.
Dr Ian Connor, centre director and consultant clinical psychologist at First Psychology Centre, Dundee, explains: "There are so many demands on us. We sit at home with the TV on, the iPad on and the kids running around and our attention is divided.
"The result is that we feel that we never fully accomplish anything, which increases stress and reduces our enjoyment and fulfilment. Living like this means there is less chance to enjoy the moment, to be present and connect."
Dr Connor says Mindfulness is as relevant today as it has ever been.
"We have lots of people presenting with stress and anxiety, as they try to balance modern living," he says. He says the problem may have been "compounded by modern technology".
The ultimate drawback of living in this way with attention pulled in different directions – is "increased feelings of under-achievement, not completing, not accomplishing tasks, lower self-esteem and anxiety response".
However, the idea that people should not enjoy recording events is not shared by the makers of Vyclone, a phone app that connects people who film at the same time and location to create multi-angle video.
Sam Watts, of Vyclone, told The Courier: "I love Kate Bush and her request was really heartfelt but can you dictate what your paying audience does? Will there be fans in the venue filming and others telling them to stop. Surely that will be more distracting?
"We've worked very closely with lots of musicians Ed Sheeran, Madonna, Jason Mraz, Bloc Party and more to create enhanced content for them and their fans.
"One thing we don't encourage is that people film a whole show we encourage an artist to work together with the fans to capture one song make it as good as can be and the outcome is a collaboration between the fan and the artist.
"Of course there will be the purists who want to be there just for the music but the landscape is changing. Right now, everyone with a smartphone is a potential visual journalist. If a band wants to control what hits YouTube then that is their prerogative but the bands that embrace new technology will be the ones who prosper the most."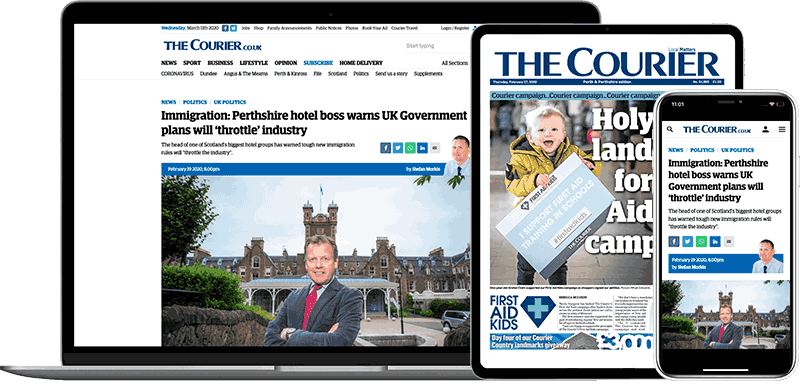 Help support quality local journalism … become a digital subscriber to The Courier
For as little as £5.99 a month you can access all of our content, including Premium articles.
Subscribe