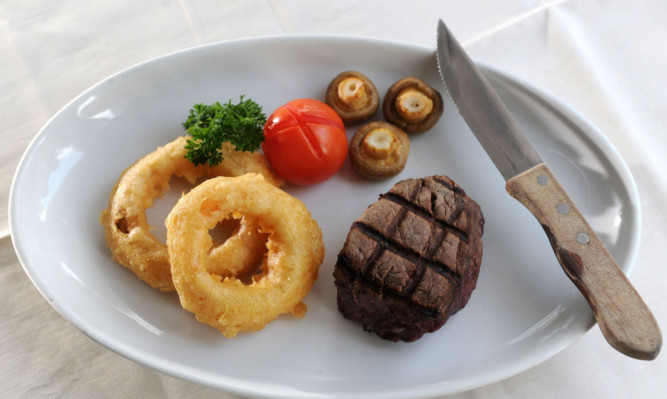 The Hotel Broughty Ferry is changing opinions (or at least one opinion).
For all my formative years I believed hotel restaurants to be drab, silent, unimaginative places where potentially good meals went to die. This can be put down to a never-to-be-forgotten childhood experience.
My family was the sole family dining in a soulless hotel restaurant on some dreich holiday in the 80s. A single waiter (not unlike Lurch of Addams family fame) stood in uncomfortably close proximity throughout.
I still remember my parents squirming in their seats as, halfway through the starter, my brother squealed with loud delight after finding a single vegetable floating in the lukewarm water which was masquerading as soup.
With such horrendous memories clouding my judgment for many years, it was with joy in my heart that I entered the restaurant at The Hotel to the accompaniment of vibrant chatter and the gentle clang of cutlery on china.
It seemed that, at long last, the childhood pain I had carried with me for two decades was to be banished to history.
Polite and attentive waiting staff showed us to our table, and I had prompt cause to be thankful for my reasonable girth as I found my chair hard up against the wall.
Having wiggled into position, we studied a menu which put traditional fare and family favourites well above pretension.
I decided to steer clear of the soup, instead going for the chorizo chargrill while my partner chose the healthy-sounding (ahem) haggis fritters.
The chorizo dish consisted of two BBQ flavoured sausages, served with a small but perfectly formed new potato salad, laced with mayo and dotted with sweetcorn.
The haggis fritters, meanwhile, were worth every calorie. Packed with flavour, each bite started with a satisfying crunch of batter. The accompanying home-made tomato chutney was similarly tasty.
For main course I was going to order the vegetable casserole, right up to the moment the waitress arrived, at which point I completed a dramatic about-turn and went for the fillet steak instead. The menu said it would be mouth-watering and I was simply unable to resist.
Appetite for calories largely sated by the starter, my partner went for the timbale of smoked haddock, stuffed with prawns and with a chive sauce.
The steak was a tad expensive (just shy of £25 when served with chef's black peppercorn sauce proudly described as "to die for" on the menu) but there can be no doubt it really was magnificent.
Succulent, tender and cooked in exact accordance to my instructions, it was a triumph. The onion rings and green vegetables were all fine but there was no doubt the exquisite slab of meat was the wholly justified star of the dish.
The timbale also got the thumbs-up. The fish was melt-in-the-mouth, the chive sauce an ideal partner.
To describe the main courses as filling would be an understatement of near-Titanic proportions.
I did manage, in a stunning yet subtle manoeuvre, to inch the table forward a tad, giving me a little more squirm-room and increasing those vital wall-to-table dimensions. And it was with breathing room thus granted that being an artist and prepared to suffer for my art I bravely decided to go for a dessert.
That, unfortunately, is where things fell apart somewhat.
Both the sticky toffee pudding and the chocolate brownie were disappointing. Neither showed evidence of any real flair and were distinctly average the kind of microwave-friendly sweet one can pick up fairly cheaply in a supermarket.
It was a shame, as all that had gone before it had been prepared perfectly and was quite delicious.
Yet it would be unfair to decry the whole dining experience merely on the strength of a below-par finale. The steak, in particular, was delicious and overall the Hotel Broughty Ferry is clearly a popular place which puts traditional, well-cooked fare at the heart of its offering.
Fine dining it is not, but it does what is says on the tin very well indeed for the first two courses at any rate.
Rating: 34/50
Price: Starters £3.90-£6.85, mains £13-£21, desserts £4.75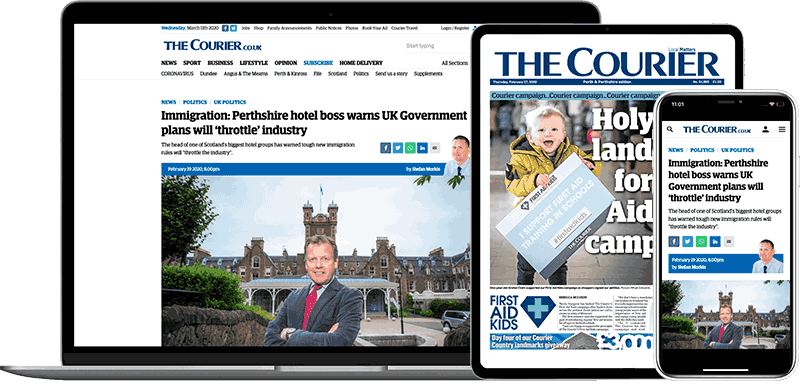 Help support quality local journalism … become a digital subscriber to The Courier
For as little as £5.99 a month you can access all of our content, including Premium articles.
Subscribe