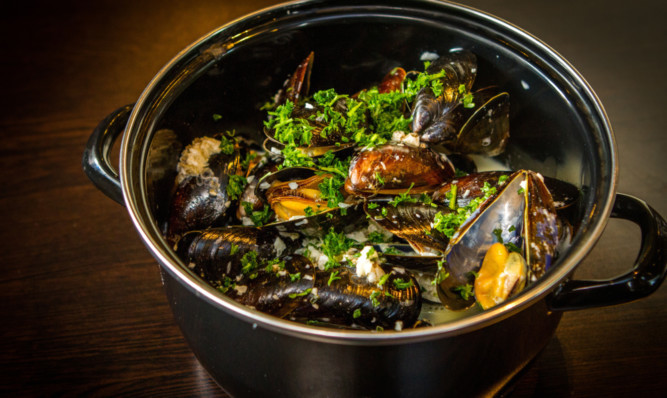 the mantra "location, location, location" is a prime consideration in house buying, it can be the make or break factor in establishing a successful restaurant.
For Perth's newest entrant to a crowded sector, Kisa's, must have an added edge with a top spot in the centre of the city's "cultural quarter". It sits yards from the concert hall and only a short step from the cinema and Perth Theatre, which is currently undergoing a multi-million-pound refurbishment.
Profile might have drawn us in but the question now is whether it can deliver on the other keys to success: food, service and ambience.
Clearly, a significant investment has been made at No 1 Mill Street and first impressions are excellent.
As we step from the street, we are welcomed with an intimate bar area in which to enjoy a pre-meal drink as our table is readied.
We decided to start things off in indulgent fashion with an early-evening cocktail, a couple of french martinis (£6.95 each), which deliver on taste and alcoholic kick.
Although only recently opened, we are told that the restaurant is fully booked for the night with loyal customers from the well-established sister establishments Le Jardin in Kinross and Cafe Kisa in Auchterarder ensuring a flying start for the new venture.
When we are ushered through to the main restaurant and seated at a table looking out on to the plaza between the concert hall and the museum, we have the dual pleasure of people-watching inside Kisa's and the visitors and locals outside.
In good weather, tables are put out on the plaza, adding a continental feel for customers.
For starters, we opt for prawn, apple and avocado salad (£6.50) and steamed mussels with white wine and shallots, finished with cream and parsley (£5.95), accompanied by a bottle of chardonnay (£25).
After a modest wait (neither too long for impatience to set in, nor too rapid to wonder about the preparation) our choices arrive.
The only minor complaint more of an observation would be that a hunk of bread might have been a nice addition to the mussels to fully enjoy the sauce. The mussels are plump and plentiful, with more than enough to share with my companion.
For my main course, I choose battered haddock served with fries and minted peas (£10.50), while my fellow diner picks the 8oz rib-eye steak (£19.95) with french fries and salad and a peppercorn sauce (£1.50).
While fish and chips might seem rather unadventurous faced with a menu offering monkfish loin with oriental broth and pak choi (£13.95), pan-fried duck breast with passion fruit sauce "lightly flavoured with Speyside whisky" (£14.50), or pan-seared venison with wild berry sauce (£13.95), the dependable staple delivers on all fronts. A light batter, crispy fries and the minted peas certainly don't leave me wishing I had ventured into more exotic fields.
The steak, if not enormous, is declared "delicious" by my companion, who decides she has space for a dessert. While I decline, I soon regret my rare bout of self control when the choux pastry bun, filled with ice cream, served with chocolate Amaretto sauce (£4.95) arrives.
I wheedle a tiny taste of the dessert but wish I had thrown caution to the wind.
As we savour the last of the wine, we agree that Kisa's has all the hallmarks for a successful establishment, complemented by attentive but not overbearing staff.
With large amounts of money being spent in the immediate vicinity by the council on the "cultural corridor" from Perth Theatre to the concert hall, the decision by proprietors Sam and Kim Wightman to locate in the heart of Perth looks a wise one.
Rating: 40/50
Price: Starters £3.95-£7.95; mains £8.75-£23.95; desserts about £5.
Info: www.kisas.co.uk/kisas