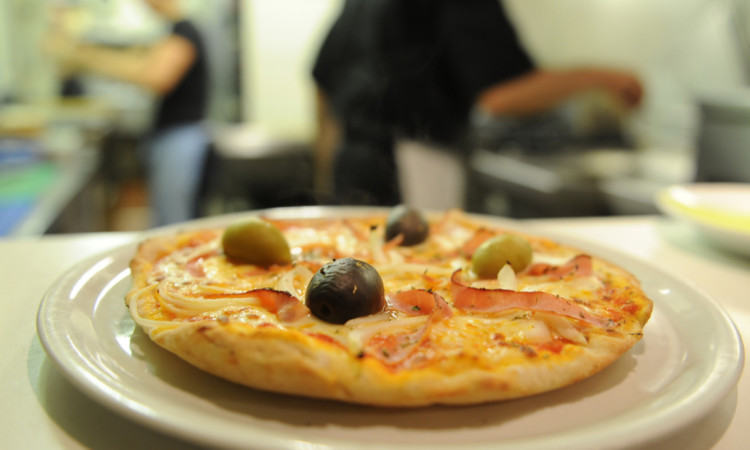 If you've ever been to Italy, then you'll no doubt know the welcome feeling of ducking out of the heat and into a cool, dark trattoria or ristorante that you have happened upon whilst exploring the streets.
Stepping into Ciao Sorrento on a warm summer's evening, we were reminded of a happy, sun-drenched holiday in Sorreto and the Bay of Naples in the not-too distant past.
With its dark wooden tables, terracotta-coloured columns, tiled floor and homely feel, the interior of the restaurant is charming and welcoming. On the walls there are paintings of locations in the Bay of Naples and scenes from classical art.
When we arrived, the restaurant was not full but there were a couple of parties looking relaxed and well-fed. Not long after we were seated more diners began to arrive.
The Ciao Sorrento menu is quite a large one, serving everything from traditional antipasti such as cured meats and cheeses to bruschetta, pizza and pasta and also a wide range of meat including steaks and veal.
We ordered tap water and a half carafe of the house red (£9) that came served in a delightful ceramic jug bearing the name of the restaurant.
The waitress was patient when I hadn't managed to decide what to order and after another good look at the Authentic Italian menu and a nibble on the bread sticks at our place setting we were finally ready to eat!
If you like the look of a main course but also fancy trying a pasta dish then you can have the best of both worlds by ordering a half portion of pasta as a starter priced at £6. My partner and I both opted to do this.
He chose the pasta al forno and I chose the fettuccine with Parma ham, asparagus, cream and parmesan.
Al forno means baked in the oven and the pasta al forno is a delicious concoction of differently shaped pieces of pasta covered in a rich ragu sauce with a kick of spicy sausage. This is topped with melted cheese and baked in a dish until piping hot.
It is advertised on the menu as a house speciality and a "must" and my partner was not disappointed, polishing it off just as soon as it had cooled down a little!
My fettuccine was light and fresh and the combination of the creamy sauce and soft asparagus topped with small strips of salty ham worked well.
The portion was a nice size, too, which meant I could still enjoy my main course.
Despite the vast choice of dishes, I was in the mood for a pizza especially since I had caught a glimpse of the dough being prepared as I passed the open kitchen at the back of the restaurant.
All pizzas are nine-inch a good size in my book and I opted for the Sorrento (£9.50) topped with tomato, ham, onions, garlic, olives and mozzarella.
Once more the freshness was evident and my only gripe was that the delicious olives had stones in them, which made them a little difficult to slice!
On the whole, though, it was a great pizza.
My partner opted for something more unusual in the form of the saltinbocca alla Romana: an escalope of veal with sage, Parma ham and white wine served with vegetables (£18.95).
He found the sauce full of flavour and was pleased there was a substantial amount of meat.
To finish, we both chose the homemade tiramisu (£5.95). I am a big fan of this dessert and we were each delivered a generous slice, which was very good indeed.
Having been in Dundee for over 15 years Ciao Sorrento has clearly perfected its menu and kept standards consistently high.
Service was swift but not rushed and we thoroughly enjoyed our meal.
Customers return to the restaurant because it is friendly, efficient and above all it serves up tasty, unpretentious cooking we'll certainly be back very soon!
Rating: 40/50
Price: starters from £5.50, mains from £9.50 and desserts £5.95.