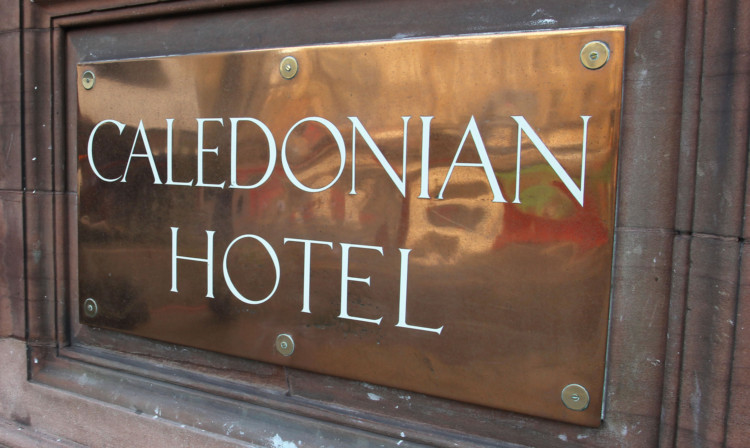 It is said that we can thank Anna, the 7th Duchess of Bedford, who needed a little something to lift that "sinking feeling" between luncheon and dinner, for the great British tradition of afternoon tea.
The Duchess, a lifelong friend of Queen Victoria, filled the gap with a light meal of cakes and sandwiches, accompanied by a drink of tea.
The rest, as they say, is history. And it is a piece of history that is thriving at the Caledonian in Edinburgh.
The Caley, now a Waldorf Astoria Hotel, has recently undergone a re-launch following a £24 million investment and renovation programme, which has elevated the old Victorian railway hotel to the top tier of luxury hotels in the country.
One of the many changes made under Waldorf Astoria stewardship is the creation of a Peacock Alley. Every Waldorf Astoria has one. Legend has it that the original Waldorf Astoria Hotel in New York had a marble and palm tree-lined corridor connecting the two parts of the building, which was filled with peacocks, a major attraction.
The Peacock Alley at The Caledonian is the social hub of the hotel, a beautiful space filled with history and light, in which it is difficult not to unwind.
It is there that afternoon tea is taken.
There is a range of tea menus, from a cream tea to the Caley Afternoon tea and the ultimate speciality sfternoon tea which, if taken with a glass of Pommery Seasons, will set you back £42 a person.
Afternoon tea at the Caley is about much more than the food and drink. It is an experience, a treat, a wonderful opportunity for a bit of self-indulgent pampering.
It starts the moment you set foot in Peacock Alley. The staff set a tone and level of service that is quite extraordinary, managing to treat customers like royalty and like a cherished family friend at the same time, a bit like a favoured aunt.
There are conversations about the menu, the champagne, the origins of Peacock Alley, the refurbishment of the hotel and, of course, the choice of some 25 teas traditional, china and herbals and infusions.
My partner and I chose Caledonian Royal Scottish tea, which arrived each in its own pot and was served in classic china.
The food arrived on a three-deck cake stand, in itself a work of art.
A waiter, one of five serving staff who entertained us during the afternoon, described each layer.
There were perfect finger sandwiches egg mayonnaise with mustard cress, peeled cucumber with cream cheese, smoked ham and English mustard and Scottish smoked salmon.
On the middle plate were scones, plain and fruit, served with clotted cream and strawberry and raspberry jam.
And on the top deck the crowning glory the pastries. There were beautiful individual lemon meringue pies, fruit tarts with creme patisserie, a chocolate mousse with orange marmalade, Victoria sponge, salted caramel eclairs, strawberry and white chocolate opera and miniature banana loaves.
And then there was the champagne, chilled, crisp and at 2.30 in the afternoon, sheer decadence.
We had deliberately skipped lunch and took tea early but even then could hardly do the plates before us justice.
I had been watching the staff gliding about with white cake boxes and soon understood their purpose as on leaving we were presented with two boxes full of the cakes we had been unable to eat.
To be honest, there is only so much that can be done with sandwiches, cake and scones as far as a meal goes.
But afternoon tea at the Caley is an experience, an occasion, something very special to be remembered and cherished.
The Duchess would approve.
Rating: 44/50
Price: Cream tea from £12 per person, the Caley Afternoon Tea from £23, speciality afternoon tea from £29 per person (£42 with a glass of Pommery Seasons)