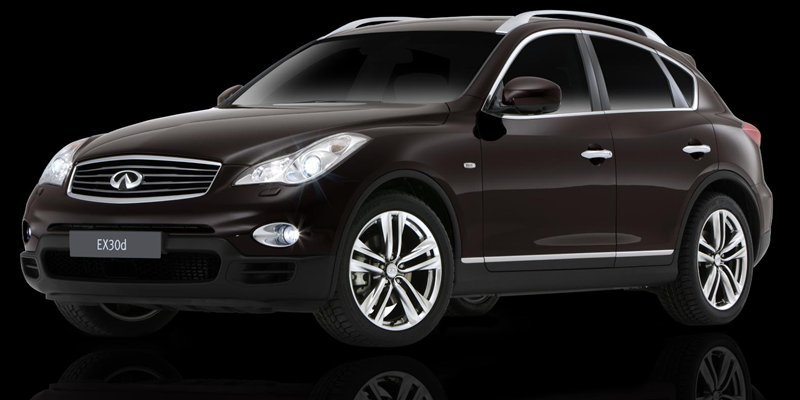 Infiniti is to Nissan what Lexus is to Toyota the luxury arm of a large mainstream manufacturer. But, while Lexus is a household name over here, Infiniti is the new kid on the block.
They recently opened their first Scottish dealership, in Glasgow, and I went along to sample some of their wares. Designed more along the lines of a luxury hotel than a car garage, the showroom has a lobby, original art on the walls and a general air of noveau riche-ness.
Very cannily, Infiniti erected their fancy new premises opposite Audi and Porsche dealerships. There's every chance people shopping for these brands will mosey across the road to have a look at the shiny building with cars in the window.
One of the better-looking ones they'll see is the EX. It sits somewhere in the middle of the range Infiniti ownership starts at just under £32,000 for the G saloon, topping out at £56,000 for the big FX.
The EX, a mid-size SUV, starts at £36,741. It's a handsome car, with a swooping, futuristic shape that is made all the more striking by its scarcity on our roads.
There's a 3.7 litre V6, but the 3.0 litre diesel version I drove is likely to account for the vast majority of British sales.
Its 235bhp is more than adequate. Mated to the (standard) seven-speed auto, it'll take the car from 0-62mph in 7.9 seconds very quick for a car that weighs nearly two tonnes topping out at 137mph.
Fuel economy is 33.7mpg easily trumped by rivals such as the BMW X3 and X5, Audi Q5 and Land Rover's Freelander.Focus on comfortIt's available in three trim levels, and all but the most basic version comes with full leather seats. Although the cover price is comparable to rivals from Germany, the EX comes with a higher level of standard equipment.
I drove the top-spec GT Premium, which has safety features and gadgets galore, including a lane departure warning system, keyless entry, xenon headlights, rear privacy glass, heated front seats and so on.
Sensibly, Infiniti have not attempted to beat the opposition when it comes to dynamic ability, and the EX handles noticeably less sharply and with a less car-like feel than the excellent new BMW X3.
Instead, they've concentrated on comfort. The EX rides well and its double-glazed windows keep the cabin very quiet indeed. The driver and passengers posteriors are cosseted by big armchairs, and rear passengers also get good levels of comfort, although leg and head room are not class-leading.
Boot space is a limited 340 litres, but can be expanded to 1175 by lowering the rear seats. Doing so reveals the EX's party trick not only do the rear seats fold at the touch of a button, they also raise themselves back into place in a clever piece of electronic trickery.
Other technological features include cameras on all four sides that give the driver a bird's eye view of the car. The downside of this, of course, is that you no longer have an excuse if you do ding the car.
I came away impressed by the Infiniti. It's not as good to drive or as economical or practical as mid-size SUV champion the X3, but it is very comfortable, good-looking and different.
Price: £42,547.0-62mph: 7.9 seconds.Top speed: 137mph.Fuel economy: 33.2mpg.CO2 emissions: 224g/km.