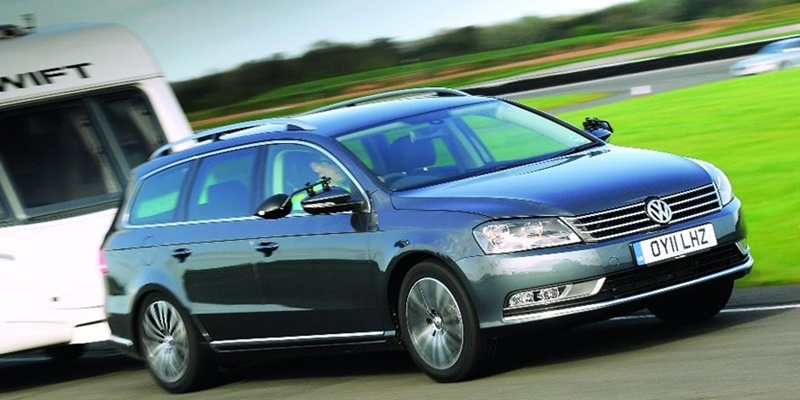 Volkswagen's Passat Estate is the essence of a dependable car that does almost everything well. It lacks the pizzaz of its smaller sibling the Golf, but still has the VW badge that signifies quality for so many buyers.
The range starts at £20,180 for the 1.4 TSI petrol in basic S guise, which has a lively 120bhp turbocharged unit. There are two other petrol engines in the range a 158bhp 1.8 litre TSI and a muscular 207bhp 2.0 litre.
The entry level diesel is the 1.6 litre TDI, which returns over 64mpg but only has 104bhp, and two 2.0 litre TDIs with 138 and 168bhp.
I drove the lower powered 2.0 litre diesel fitted with the company's BlueMotion technology. An official fuel economy figure of 61.4mpg makes it nearly as economical as the 1.6 litre TDI and it shaves 2.5 seconds off that car's 0-62mph time.
It still takes 10 seconds to get there, which isn't exactly setting the world alight but is only a fraction of a second slower than the equivalent Mondeo Estate and almost a whole second ahead of Vauxhall's Insignia 2.0 CDTi.
Mine came with a six-speed manual box rather than the excellent but £1600 more expensive twin-clutch DSG auto. It's a fine unit and has a long-legged sixth gear to improve fuel economy at cruising pace.
The motorway is where the Passat is most at home. It's a quiet, roomy, comfortable cruiser. It also handles quite nicely, although the weight of the diesel engine makes it a tad nose heavy.
The interior lives up to Volkswagen's reputation for quality, with appealing switchgear and a well organised dash with no clutter. There's not as much space as the enormous Mondeo Estate or Skoda's even more spacious Superb Estate, but it's still very roomy indeed. There's plenty of room for four, although the hefty central tunnel makes life slightly squeezed for a fifth passenger. The 513 litre boot is well shaped and can handle bulky items as well as a large amount of family clutter.
The Passat range is pricier than some rivals but it'll hold its value well and it has a pretty high level of standard equipment. S models cover all the basics, with air-con, alloys and a stereo with an aux-in socket. The next level, SE, adds useful extras like a digital radio, Bluetooth and a fatigue detection system. Top-spec Sport versions have swankier trim and a touch-screen satellite navigation system.
I'd recommend the Passat Estate to anyone who needs room for four adults, lots of luggage space, and low running costs.
Before you get your chequebook out though, make sure you check out the excellent Skoda Superb, which is larger, more comfortable and cheaper but doesn't have that German badge on the front.
Price: £23,375.0-62mph: 10sec.Top speed: 130mph. Economy: 61.4mpg. CO2 emissions: 120g/km.