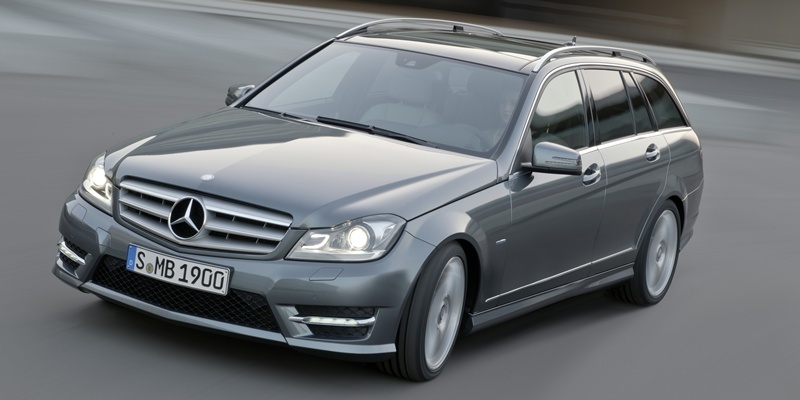 Mercedes-Benz has always been a byword for quality and reliability, but with budget cars better built than ever before the luxury German brands are having to work harder than ever to maintain their lead.
The C-Class manages to retain that upmarket feel and driving experience while Mercedes BlueEFFICIENCY technology means the diesel engines throw fuel economy into the 50mpg and even 60mpg bracket.
John R. Weir's Dundee Mercedes dealership loaned me a C250 Elegance Estate for a few days. At around £33,000 it represents the midpoint of the C-Class Estate range, which starts at £26,725 for the 180 and rises to £37,130 for the 350CDI (not including the bonkers 457hp 63AMG which costs over £56,000).
Despite its 250CDI badge which once would have indicated a 2.5 litre engine the car is actually powered by a 2.2 litre turbo-charged diesel. It's plenty powerful, though, with 204hp to call on. Nought to 62mph comes up in a sharp 7.4 seconds and, thanks to the 368lb/ft of torque, you don't need to work the engine hard to get the best out of it.
Top speed is 147mph and, despite its impressive performance, the big C-Class is as frugal as a city car was just 10 years ago, returning 54.3mpg on the combined cycle.
Virtually all C-Class models (the AMG version excepted) come with the BlueEFFICIENCY technology, which incorporates a flat undertray, slippery wing mirrors, low rolling resistance tyres, stop-start technology and various other tweaks designed to wring the most out of every drop of overpriced fuel.
Buyers who can't quite stretch to the 250CDI's price tag can go for the C220CDI, which costs under £30,000, can get from 0-62mph in a still-speedy 8.5 seconds, and returns 60.1mpg.
The C-Class is a phenomenally comfortable cruiser. Its Teutonic ride absorbs virtually everything even Scotland's pockmarked roads can throw at it, and at 70mph in top gear the engine is barely ticking over.
There's plenty of room for two grown-ups in the back.
At 485 litres, the boot is smaller than a Ford Mondeo Estate's, but around the same size as the Audi A4 Avant and 25 litres larger than BMW's 3-Series Touring. Drop the rear seats and there's 1500 litres of load space back there.
Driver and passengers are cosseted by leather seats, soft-touch plastics, real wood trim and enough cutting-edge digital technology to keep children and technophiles happy until journey's end.
Any Mercedes is relatively expensive to buy, but strong resale values help make up for this. I really enjoyed my time with the C250 CDI. In this class, choosing the best car is a case of splitting hairs.
The Merc's big rivals are the BMW 3-Series Touring and the Audi A4 Avant. For my money, the BMW is a mite more fun to drive, the Audi a touch more stylish, but the Mercedes is the most comfortable and the one that feels like it will last forever.
Price: £33,020.0-62mph: 7.4sec.Top speed: 147mph. Economy: 54.3mpg. CO2 emissions: 136g/km.