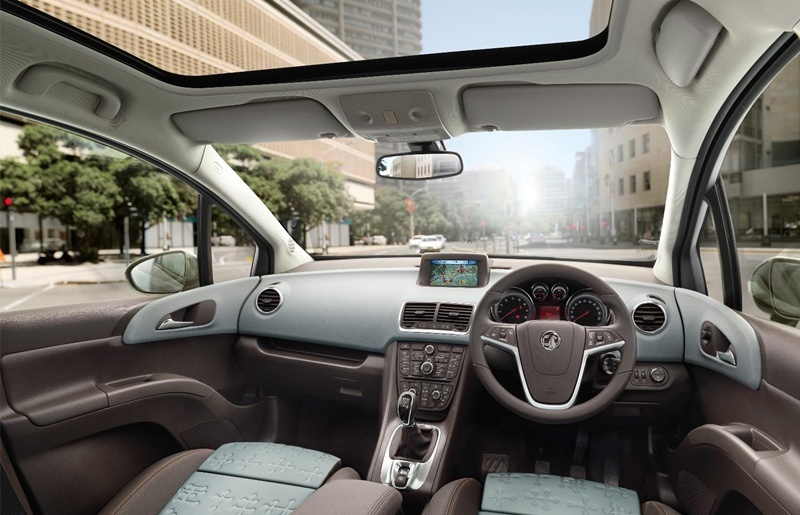 The latest Vauxhall Meriva is unusual in that it's not an update of an old model, but an entirely new car that's competing in a completely different market to the one it replaces.
Instead of being based on the Corsa platform, the new Meriva has moved up a size to take on the likes of Ford's C-Max and the Citroen C4 Picasso.
They've sharpened its looks and added bold and clever rear doors. They're hinged at the back rather than the front in an arrangement that used to be called 'suicide doors'.
They earned their name from the danger that, if the doors open even a little while the car is moving at speed, the wind rips them open like a sail.
Vauxhall's press officer was at pains great pains to emphasise that the doors of modern cars do not just open by themselves, and promised that stringent safety tests have been carried out.
Additionally, the doors lock once the car is rolling at 2mph, meaning passengers can't accidentally open the doors at speed.
In which case, they're actually rather clever. Opening to an unusually wide 84 degrees, they make ingress and egress easier, and also allow parents to secure their bambinos into child seats without throwing their backs out in the process.
For those who don't yet have children, or whose offspring are past that age, the rear still provides something of a roomy haven for its occupants. The seats slide forward and back by around nine inches, allowing for a bigger boot or more rear legroom.
It's also possible and very easy to fold down the narrow centre seat and slide both outer seats closer to each other, so you end up with a four-seater vehicle where the rear passengers have as much shoulder and legroom as those in the front.Load spaceThe back seats fold completely flat to deliver 1500 litres of load space, while the boot has a false floor you can stow mucky or valuable stuff under.
I found this a bit of a fiddle, however, and I'd remove it to better utilise the 400 litres of space that's there.
The cheapest Meriva is the 1.4 litre Expression, costing £12,995. All other versions cost over £15,000, and the range culminates with the 1.7 litre CDTi diesel in SE trim at £21,255.
There's also a 1.3 litre turbodiesel which is more sluggish but returns 57.6mpg. However, it was two of its petrol offerings Vauxhall brought to Scotland for a bunch of northerly car journos to test.
Both have 1.4 litres of displacement and both are equipped with turbochargers, one boosting the non-turbo version's 98bhp to 118bhp, the other to 138bhp.
The lower powered version (data in the Facts box are for this model in S trim) gets from 0-62mph in 11.5 seconds and returns 46.3mpg. The 138bhp unit cuts 0-62mph to 10.3 seconds and gives you 42.2 miles per gallon of fuel.
I'd pocket the £800 or so difference and go for the lower-powered one, which feels quick enough.
The right-hand drive Meriva has had its suspension tuned for Britain's uniquely poor quality roads. It's comfortable enough to deal with our potholes yet stiff enough to cope with our lack of straight lines.
It's not quite as much fun to drive as the C-Max (best in class in this respect) but it should be a more than entertaining enough drive to satisfy most customers.
Price: £16,215.0-62mph: 11.5 seconds.Top speed: 117 mph. Economy: 46.3 mpg. CO2 emissions: 143 g/km.