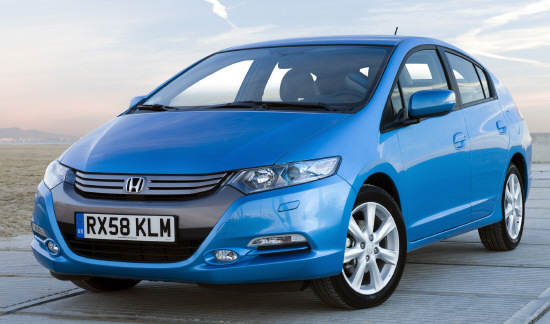 With Toyota experiencing some not-inconsiderable problems with their Prius, now could be the time for would-be rivals to gain some ground.
Toyota's Prius is the most famous hybrid, but after news that one ran amok on a California highway — getting up to 94mph before police managed to stop it — now might be an ideal time for rivals to noise up their abilities.
The most obvious contender is the Honda Insight. Starting at a little over £16,000 (the top-of-the-range ES-T I drove costs just under £19,000) it's around £3000 cheaper than the new Prius.
Power comes from a 1.3 litre, four-cylinder, 88hp petrol engine supplemented by a 14hp electric engine. It can run for short periods on electric power alone, but the petrol engine stays running while it does so, meaning you don't get that eerie but environmentally smug feeling of moving in complete silence.
In practice, what tends to happen is the electric motor supplements the petrol engine, taking some of the strain off it.
When you brake or run downhill, the battery charges, increasing efficiency.
There's an Eco button that drills back the throttle response, reduces the power available to the air conditioning system and performs various other tricks to improve economy.
There are also graphics on the dashboard to indicate how efficiently you're driving — go easy on the throttle and there's a green glow, accelerate too harshly and the light turns an angrier blue.
Official fuel consumption for the Insight is 61mpg. In mainly motorway driving I got returns in the mid-40s, but when I had a little practice eco-run over a short distance that figure jumped into the low 60s.
CO2 emissions are 105g/km.
That's pretty good, but it still costs £35 a year to road tax and the most economical equivalent diesels are now getting below the 100g/km barrier.
Nor is the Insight a car to buy if you like to press on a bit. There is enough poke for overtaking manoeuvres but you need to rev it hard, and when the little 1.3 is pushed it sounds awful.
Inside, it's a curious mixture. The switchgear and driver display are futuristic, making use of lights and graphics, but the plastics and other trim are below the quality you'd expect on a decent C-segment car.
Given the Insight's complex technology and keen price, it's clear this is one of the areas Honda decided to save money on.
Ride, handling and noise insulation are OK, but not nearly up to those of the class-leading Ford Focus.
The Insight is better than the old Prius, however, which is the car Honda wanted to beat. I haven't yet driven the new Prius (look out for a road test in a few weeks' time) so can't say if it's better than the new one. It's certainly cheaper.
I'm not yet convinced about hybrids. The technology is costly, the batteries may not perform once the car enters middle age, and a new generation of diesels are more efficient, more powerful and less polluting.
The technology's still in its infancy, though, and the Insight is a step ahead.