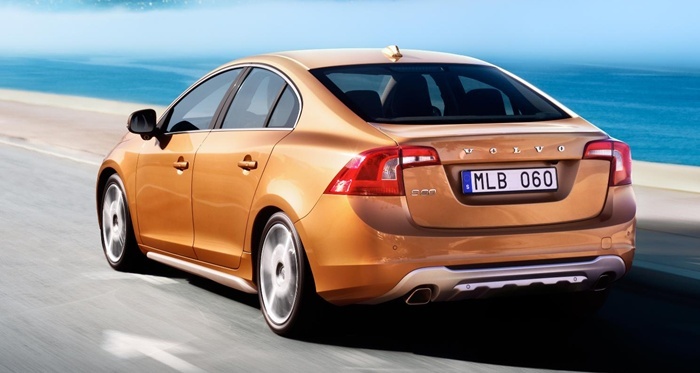 What do we have here? A sexy Volvo. The Swedish car manufacturer has always been famed for safety, but sometimes this extended to the safety of its styling nice, unadventurous box shapes.
In recent years, Volvos have become softer and more modern but, with the exception of the C30, this is the first Volvo in a while that can accurately be described as eye-catching.
Barnetts Volvo in Dundee gave me one for a day and, even liveried up with their logo and sales information, it's a head turner. With its coupe-like profile, it looks good in a brighter colour. Shame it'll mainly be bought by executives who'll get it in black or silver.
The range starts at £23,295, topping out at £35,495 for the 300bhp T6 four-wheel drive version. I spent a day with the S60 D5 Geartronic in SE Lux trim, which costs a little over £32,000.
It comes with leather, electric everything and pretty much all the other toys you'd expect on a quality executive saloon.
One of the more unusual features is adaptive cruise control, which automatically adjusts your speed, keeping you a safe distance behind a car in front and laying on the brakes if a vehicle pulls out while you're overtaking.
Provided there's traffic ahead it even slows down for roundabouts and accelerates away from them afterwards. You just have to watch out if the roads are quiet the car won't slow if there isn't traffic queuing at the roundabout.
I'm not usually much of a one for using cruise control. When I was a young 'un driving across America with my friends I'd use cruise control all the time. With the wide, empty dead-straight highways that shoot across the United States like an arrow, it's ideal. I always found it pretty useless on the UK's tiny, winding, traffic-clogged roads. This version makes much more sense.
The 2.4 litre diesel unit doesn't quite match the refinement of BMW's sublime diesels but it's good enough, and with a little over 200bhp, powerful as well. Returning just short of 45mpg, it's fairly frugal for its size.
The interior is spacious and as good as anything else in the class.
As for the driving experience, well Volvo have retained the old car's cosseting ride at the same time as dramatically overhauling the car's handling abilities. Dynamic and agile, it can now hold its head up alongside rivals BMW and Audi as a driver's car.
Price: £31,2000-62mph: 7.8 seconds.Top speed: 143mph.Economy: 44.8mpg.CO2 emissions: 166g/km.