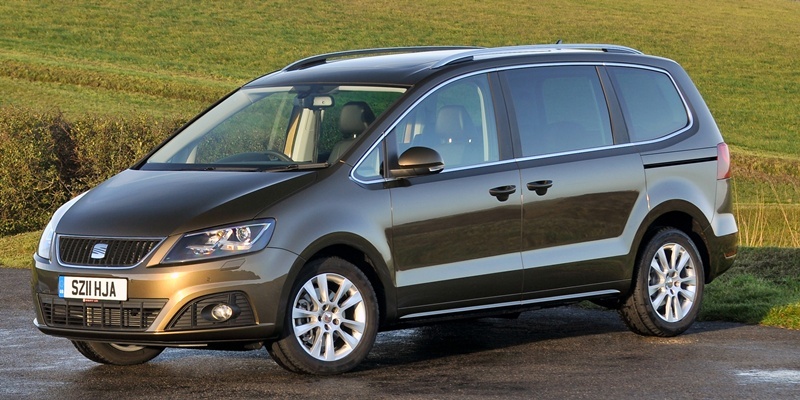 The majority of cars that advertise themselves as seven seaters should really be billed as seating two large adults, three small adults and two children. Rarely do I come across one where I'd like to spend more than a couple of minutes in the third-row seats.
Seat's Alhambra is one of the few exceptions to this rule. Its capacious interior will comfortably accommodate five large examples of the human species, along with another two average sized homo sapiens in the rearmost seats.
It's built on the same platform as Volkswagen's highly acclaimed Sharan, but is arguably better looking than its Germanic counterpart.
Although it retains the van-with-windows basic shape of all people carriers, the Alhambra manages to look pretty classy, with some nice contour detail round the sides and two horizontal slashes in the rearquarters arresting the eye.
I drove the 2.0 TDI Ecomotive version in SE trim, which is the most frugal Alhambra. Combined fuel economy just breaks the 50mpg barrier, which is pretty terrific in a car that seats seven adults. I managed to wring 45mpg out of it without even trying.
For an extra £795 (or by buying the SE Lux spec) you can have electrically operated rear doors and boot, which can be activated via buttons on the key fob. To some people, this will seem like an extravagance, but to a mum trying to wrestle three kids and a trolley full of shopping across a supermarket car park, I'm sure it would soon come to feel like a necessity.
Slip inside the Alhambra and you could be mistaken for thinking you were in any high end Volkswagen. The switchgear will be familiar to Golf and Passat drivers, and the quality of the plastics and other finishing feels as premium as anything this side of an Audi.
The middle row of seats slides forward or back up to 16cm, and the second and third rows of seats can be dropped into the floor in a single movement.
With the middle seats fully back, it's one of the roomiest five seaters out there: dragged forward, there's still reasonable leg space and you can either fit two more adults into seats six and seven or enjoy a humungous amount of boot space.
With all seats folded there's a cavernous 2,297 litres of space; as a five seater there's up to 658 litres; and even with all seven seats up you're still left with a reasonable 267 litre boot.
The 2.0 litre, 138bhp diesel engine hauls the big Seat along with decent enough alacrity "" there's only 0.2 seconds between that and the turbocharged 1.4 petrol option in the 0-62mph dash "" and for those who want a bit more oomph there's a 168bhp diesel that drags the 0-62mph time down to 9.5 seconds.
All Alhambras come with a six speed manual gearbox, and VW's clever six speed DSG automatic system is available as an option.
Up to 70mph the Alhambra is a refined and quiet cruiser: with a comfortable ride and wind and tyre noise kept well in check, the loudest noise should be the kids arguing in the back. On a run from Dundee to Edinburgh, in lashing rain, all was calm and peaceful inside.
It's not exactly a consummate handler, but driven steadily it doesn't get out of shape, and I can't imagine any natural Alhambra buyers wanting to chase a hot hatch down a country lane.
The Alhambra isn't dirt cheap though. The entry level S version with a 1.4 litre, 150bhp petrol engine costs £23,525; the most expensive SE Lux model will set you back £32,585.
Many people will balk at paying that much for a Seat. But the Alhambra is not only a lot of car, it's arguably Seat's best car.
Price: £25,085. 0-62mph: 10.9sec. Top speed: 120mph. Fuel economy: 50.4mpg. CO2 emissions: 146g/km.