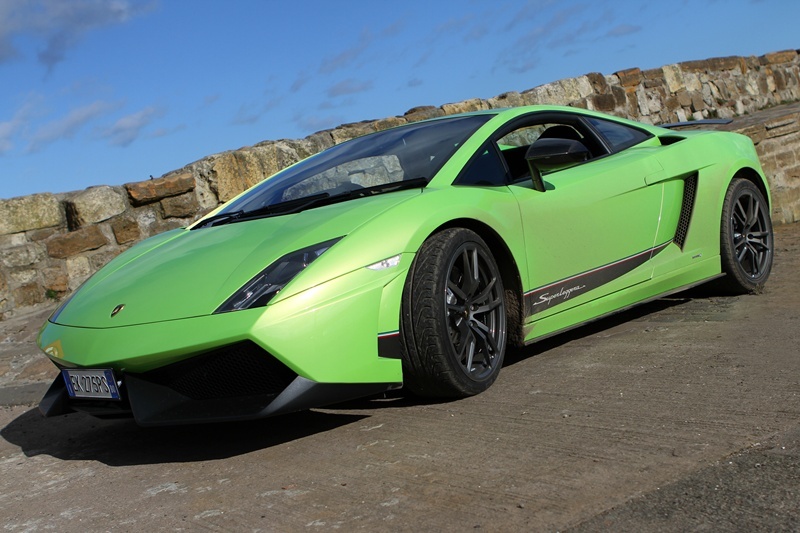 This is not a car for people who don't like attention. It's not a car for people who do like comfort. And it's certainly not a car for people who don't earn telephone number salaries.
It is a car for people who admire beauty. It's a car for people who love thrills. And it's a car you can easily fall in love with.
It's a Lamborghini Gallardo Superleggera.
The lightest and most dynamic model in the Gallardo range at 1340kg, it weighs 70kg less than the already skinny 'standard' car.
This has been done by making everything out of carbon fibre and getting rid of most things that can't be made out of that superlightweight material.
Interior doorhandles? Too heavy, use fabric strips instead. Arm rests? Too heavy, get rid of 'em. Leather seats? Too heavy, use suede-alternative alcantara instead.
There are some creature comforts, however: the stereo and air conditioning unit have survived the cull.
All this weight saving allows the 5.2 litre, 562bhp V10 engine to do its job. It does this job mind blowingly well.
Three point two seconds after your foot first touches the accelerator, you're doing 62mph. Keep going, and before the stopwatch reaches seven seconds you'll be doing more than 125mph.
If you've got the room (I'd suggest a private runway) and the chops, it'll keep accelerating until you break 200mph. It's one of the most suddenly, savagely, overwhelmingly fast cars I've driven. The acceleration pins your shoulders against the seat and, if you haven't already braced yourself, snaps your neck back with its force.
You could put I think so anyway, I'm too mean to try it a £20 note on the dashboard and challenge your passenger to grab it before you hit 60mph. In addition to being pinned to their seat, they'll be too overcome by fits of giggles or terror, depending on their temperament, to have a chance.
The handling, as you'd expect, is beyond anything that can be safely explored on a public road. It has four wheel drive, which makes it easy for even distinctly average drivers like me to control. Basically, it takes bends like they're straights.
Although it's available with a six-speed manual, my car came with a six-speed semi-automatic e-gear set up. Gear changes are made with paddles behind the steering wheel. There's a button you can press that will make the car fully automatic, but it's not very good changes are sometimes delayed or skipped and it's much more fun to do it yourself with the paddles anyway. I only popped it into automatic to negotiate boring town and city traffic.
According to official figures, the Superleggera returns 21mpg but anyone who manages anything like this figure isn't using the car as nature intended I think I got about 14mpg out of it.
But given that it costs northwards of £180,000, few owners are going to be unable to pay for fuel.
The Superleggera is not a car that's suitable for everyday driving. It's noisy, rides harshly, and isn't wild about town driving.
So it isn't an everyday supercar like a Porsche 911 or Audi R8. But it's also much faster, more exotic, and more exciting than those. It's a supercar in the true sense of the word.
As people who see how often my mug is featured in motoring pages will be aware, I'm not averse to a bit of attention, which is just as well in the Superleggara. On one jaunt across the Tay Bridge, no fewer than three people tooted and gave me the thumbs up. At St Andrews Harbour, Courier snapper Kris Miller had to wait for the crowd to clear before he could begin taking pictures.
There's such a thing as too much attention though: I draw the line at the car of teenage boys who followed me home. I had to dart down a side street to get rid of them.
One thing the Lamborghini teaches us though is that most millionaires are of average height or below. At 6ft.5in. I am not built to fit inside a Gallardo: my head was scraping the roofline. The solution, when I make my millions, is of course to buy the spyder version.