The supermini market has seen a total makeover in the last couple of years. Suzuki kicked things off in early 2017 with an all-new Swift, before Ford came in with a totally fresh version of the UK's best-selling car — the Fiesta.
Around the same time, the VW Group made a similar move with the Volkswagen Polo and Seat Ibiza, shifting both to the new MQB A0 platform —which the recently-introduced Audi A1 also now sits on.
Across the table though lies Skoda — which is soldiering on with its Fabia that has been on sale more-or-less in identical form since 2015, giving it a mild refresh a few months ago in an effort to keep up with the pack. In a crowd more competitive than ever, does it still have what it takes to compete? That's what we aim to find out with our new long-termer.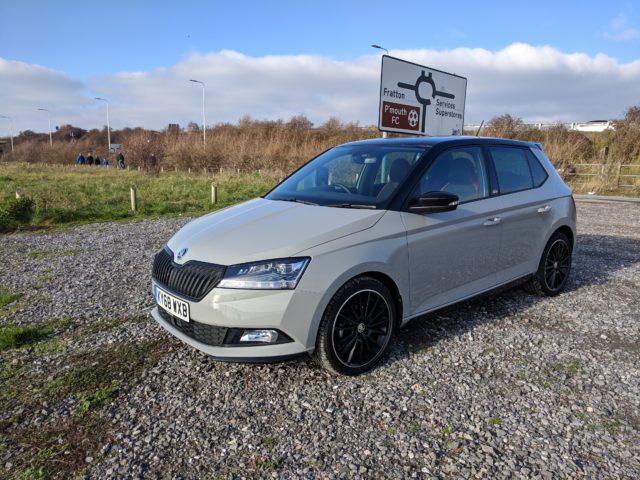 Meet KY68 WXB — our Skoda Fabia Monte Carlo. Packing a 1.0-litre turbo three-cylinder petrol engine, it produces 94bhp and 160Nm and sends that to the front wheels via a five-speed manual gearbox. As a result, 0-60mph comes in 10.6 seconds with a top speed of 114mph possible.
Skoda claims it'll return 61.4mpg combined — although our early testing is putting that figure around 45mpg — while emitting 106g/km of CO2 emissions.
As for equipment? Monte Carlo trim comes with a fair amount of kit — including a contrast black roof, DAB radio, LED daytime running lights and a leather steering wheel. Our car has a few options too — namely 17-inch alloy wheels (£360), touchscreen infotainment system with Apple CarPlay and Android Auto support (£770), the new LED headlights (£960), Monte Carlo special colour (£420), sports suspension (£125) and winter package that brings heated seats plus heated washer nozzles (£250).
That brings KY68 WXB to a total of £20,065 which is pretty pricey no matter how you look at it — more so when you consider this does without a six-speed gearbox, the more potent 114bhp engine or even cruise control.
Jaw-dropping price aside though, initial impressions with the Fabia have overall been very positive. Largely used as a commuting machine so far, it's proving pleasant on motorway journeys, returning a respectable fuel consumption and offering a decent amount of comfort.
A couple of niggles are cropping up, however. First is the lack of cruise control, a feature many rivals now offer as standard at a lower price, with a limiter instead in its place — although it's not a hard limiter and is very easy to just accelerate through. Some condensation is also beginning to form in one of the headlights, which is an issue to be sorted at a later date.
If by the time we have to say goodbye to KY68 WXB and those remain the only complaints though, it's fair to say it'll have been a good experience. Time shall tell…