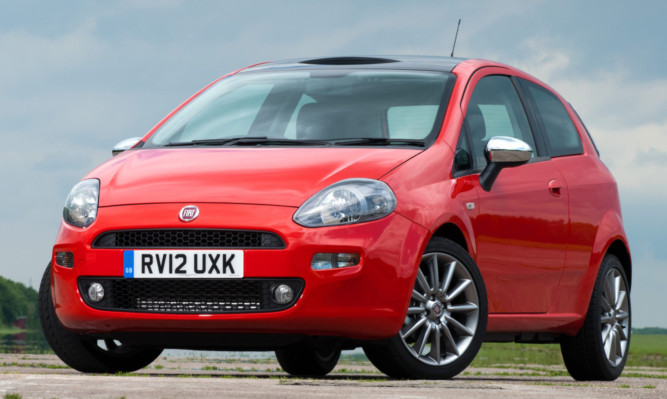 Fiat rejigged their ever-popular Punto last year, changing the styling back to something closer to the original's retro charm.
They also introduced some new engines, the most interesting of which is this, the 0.9 TwinAir. Driven by spiralling fuel prices, small is beautiful seems to be the new thinking when it comes to powering our cars.
The little 875cc engine only has three cylinders but comes with a turbocharger that boosts power to 85hp.
Zero to 62mph comes up in 10.7 seconds, accompanied by a distinctive raspy buzz from the three cylinder engine which young men will love but which might irritate more mature drivers.
Fortunately (for I'm edging towards old mannishness myself) once the desired speed is achieved the engine purrs smoothly and is actually quieter than many of its rivals.
A sixth gear not a feature that many superminis have increases both comfort and economy on the motorway. Unfortunately, wind and tyre noise spoil what would otherwise have been a tranquil cruiser.
According to official figures the Punto does 67.3mpg. That's a phenomenal figure for a petrol powered car and a feather in the cap of the engineers who came up with the little three-cylinder engine.
I didn't get close to that, but comfortably managed returns in the low 50s with care and better weather 60mpg should be achievable.
The fact that diesel costs more than petrol and that diesel powered cars are more expensive to buy both new and second hand means frugal petrol models are an excellent buy for those who don't drive starship mileages every year.
Prices for the Punto start at a competitive £9,800, rising to £15,590 for the top spec model. My car cost £12,700, although options including special paint, side airbags, cruise control, leather steering wheel and various oddments brought that up to £14,405.
Dynamically, the Punto rides and handles well, which fits in well with its youthful vibe.
On the inside, it's one of the roomier superminis, with very good headroom and decent legroom in the back. Transporting five can be a squeeze but it'll take four adults without too much difficulty.
The boot holds 275 litres virtually identical to the Ford Fiesta but is a good deal more capacious than that car when you fold the rear seats down.
The steering has a city button you can press that makes the steering lighter. With this button engaged you can almost use a single finger to park the car. Just don't leave it engaged when you're on the motorway or a single sneeze could see you make an unintended lane change.
The dashboard is smartly laid out and all the switchgear is decent quality. In really cold weather the heater fan has to be cranked up to make the cabin warm enough.
Looked at objectively, the Punto lags behind class leaders like the Fiesta and Polo. It offers good value for money though, has decent internal space and has a funky youthful image. It's an ideal car for a twenty-something.
jmckeown@thecourier.co.uk