French manufacturer DS has announced the prices and specs for its first two electrified models – the DS 7 Crossback E-Tense and DS 3 Crossback E-Tense.
The DS 3 E-Tense is a 100 per cent electric model, launching towards the end of 2019, with the DS 7 E-Tense being a plug-in hybrid that will hit showrooms with petrol and diesel models next month.

Powered by a 134bhp electric motor and 50kWh lithium-ion battery pack, the pure EV promises a range of 200 miles and can charge from 0-80 per cent in 30 minutes using a rapid charger. It is priced from £30,350 – including the government's £3,500 electric car grant – making it around £4,000 more expensive than the range-topping petrol unit.
It's offered in three trim levels – Performance Line, Prestige (£32,850) and Ultra Prestige (£35,350).
As for the DS 7 Crossback, this model was introduced to the UK last year as the firm's first standalone product since it separated from Citroen in 2015.
The E-Tense will be a plug-in variant offering an electric range of up to 31 miles. Its 200bhp turbocharged 1.6-litre petrol engine is paired with an electric motor to produce a combined output of 296bhp and 450Nm of torque – making it the most powerful DS 7 by some margin. It allows for a 0-60mph time of 6.3 seconds, with four-wheel drive giving it extra traction.
The range starts from £47,570 for the Performance Line, with the model also being available in Prestige trim (£50,570) and Ultra Prestige grade (£55,920).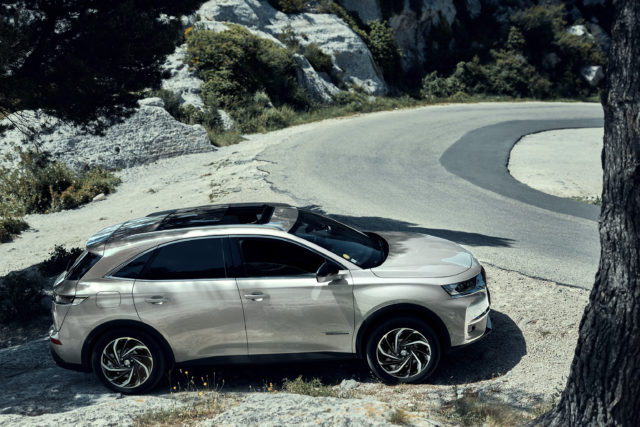 Chief executive Yves Bonnefont said: "E-Tense unites the demands of the energy transition and the pleasure of the car for independent mobility."
All new DS models will be offered with a pure EV variant or a plug-in hybrid variant from this point on, too. The French firm previously announced that from 2025 all its new models will be launched exclusively with electrified variants.