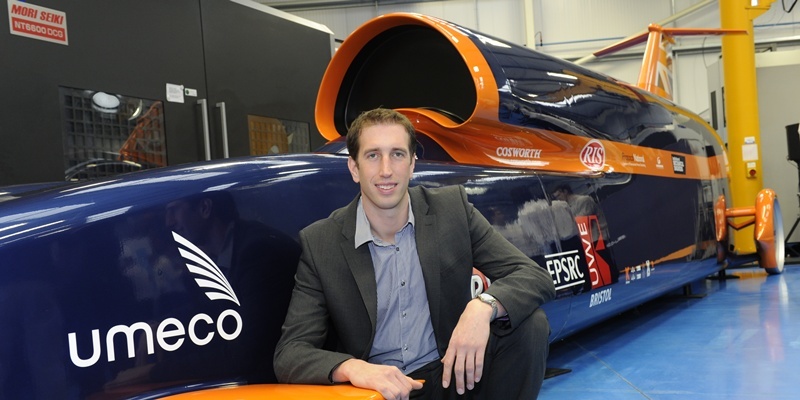 A Scottish company will make the wheels for the British world land speed record attempt car, Bloodhound SSC.
The project is the brainchild of Edinburgh-born Richard Noble, who was inspired by seeing former land speed record holder John Cobb's jet boat Crusader on Loch Ness when he was a child.
He's currently building the world's first 1,000mph car. Bloodhound SSC (Supersonic Car) will commence testing in the UK at the end of this year.
He was in Glasgow on Monday to sign an agreement with aerospace technology firm Castle Precision Engineering.
A full-size model of Bloodhound SSC was on display and most of the company's 160 staff were present to witness the deal.
A family-owned firm, Castle Precision Engineering is the biggest Scottish partner of the project and joins companies including Rolls-Royce, Intel, Cisco and Rolex in providing parts and expertise.
"The wheels are the most vital component of the whole car," said operations director Yan Tiefenbrun (24). "Anything else can fail: the engine can fail, the rocket can fail. The wheels cannot fail."
The 90kg, 900mm diameter wheels will be made from forged aluminium. At their top speed they will rotate at 177 times per second and will have to withstand a load of 50,000 radial G meaning a 1lb. bag of sugar placed on the rim would feel like it weighs 50 tonnes.
The car is powered by a jet engine from the Eurofighter Typhoon. Mr Noble talked the former defence and transport minister Lord Drayson into donating it in return for an undertaking to involve the nation's schools in the project.
"We now have over 5,200 schools in the UK involved, 660 of them in Scotland, which is one of if not the most important area for us," he said.
Bloodhound SSC will make its record attempt at Hakskeen Pan desert in South Africa some time in 2014.
A team of 317 men are currently clearing every stone and pebble from the alkaline flats to create a near-flawless 10-mile track.
At its top speed the car will cover one of those miles in just 3.6 seconds. It will be driven by former RAF fighter pilot Andy Green.
Mr Noble (65) is himself a former land speed record holder, driving Thrust2 at 633mph in 1983.
He told The Courier: "I met (managing director) Marcus Tiefenbrun when I was a speaker at the Manufacturing and Technology Awards last year. I immediately asked him if he'd be interested in making parts for the car. In this business you're always on the scrounge."
The wheels will be running without tyres during the attempt, because no tyre could survive the pressures of running at 1,000mph in a desert.
"But we need tyres for testing," Mr Noble said. "We need to debug the car before we go to South Africa otherwise it will get horrendously expensive. So we'll be doing testing in the UK but we need tyres for that, otherwise we'll destroy the runway and they get annoyed if we do that.
"We're using low-profile tyres from a vintage Lightning jet plane. We couldn't find any because the plane is long out of manufacture but we tracked down a chap in South Africa who ran one for his tourism business."
Getting the car up to 1,000mph isn't the part Mr Noble's most worried about.
"Stopping it will be the most difficult thing," he said. "We deploy air brakes at around 800mph, a parachute at 600mph, and once we've got it below 200mph we can start using the brakes on the wheels."Find out more at www.bloodhoundssc.com