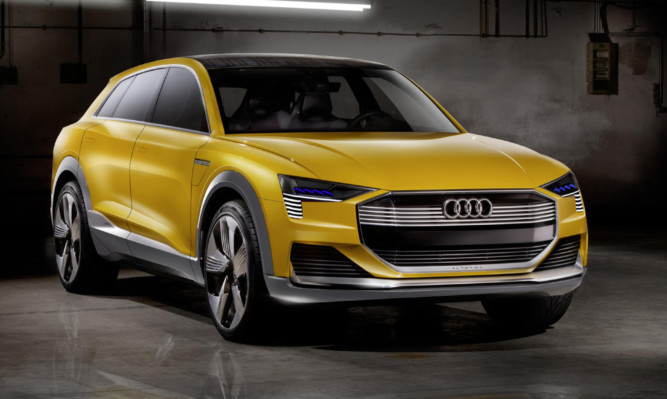 Audi has revealed a futuristic concept car powered by hydrogen and helped by a battery, four-wheel drive and the world's largest in-car solar panel.
The panel on the h-tron's roof can generate enough power for an average of 1.7 miles of driving per day as long as there's enough sunshine.
The hybrid battery system is used for boosting acceleration on demand and storing recuperated energy gathered under braking.
Meanwhile, three hydrogen tanks supply enough fuel for around 372 miles of very gentle driving.
However, using around a kilogram of hydrogen per 62 miles corresponds to a claimed efficiency rating of 60% better than any combustion engine.
Peak power from the complex system is 282bhp and a huge total torque quota of 408lb/ft allows the heavy car to reach 62mph in under seven seconds and go on to a 124mph top speed.
Audi already owns a facility in northern Germany for "cracking" hydrogen for use in cars. It is powered by wind turbines and as well as hydrogen, it produces synthetic methane for use in the A3 g-tron and A4 g-tron.
The super-advanced drivetrain could be on European roads by 2020, with or without the solar assistance.
Meanwhile, diesel power is set to be offered with the new Fiat 500, following confirmation the facelifted 2016 model will get the latest 1.3 MultiJet II 94bhp engine.
The Italian firm says the unit is specially designed for small cars like the 500 and the Panda.
It produces peak torque of 148lb/ft from just 1,500rpm and will race up to a top speed of 112mph, bypassing 62mph in 10.7 seconds. Of likely greater importance to buyers will be the claimed fuel economy of 83.1mpg, with corresponding emissions of 89g/km.
It won't come cheap, though, with starting prices for a diesel 500 nudging past £14,160, while the semi-convertible 500C adds a further £2,649.