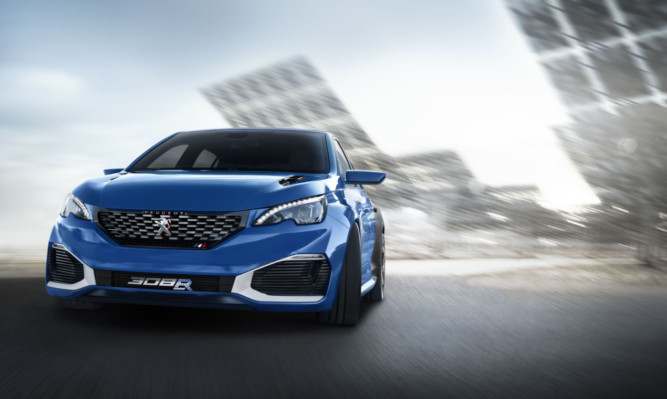 It can take your shopping in the boot, your kids in the back, roar from 0-62mph in four seconds flat and emits just 70g/km of CO2.
It is the 500bhp Peugeot 308 R Hybrid. Sadly, you won't be able to get your hands on one it's a concept car only and unlikely to ever make it into production.
However, there could well be a 308 R hot hatch and possibly even a hybrid version of that, although it would not be as powerful as this bonkers model.
In any case, that should not stop us enjoying a look at it. One of petrolheads' greatest pleasures is coveting supercars they can never afford, or one-off concept cars. So let's see what we've got here.
The 308 R Hybrid shares its powertrain with the Quartz concept seen at Paris, meaning the RCZ R's 270bhp 1.6-litre turbo is used in conjunction with a pair of 115bhp electric motors.
It is four-wheel drive and Peugeot claims 62mph in four seconds, a limited 155mph top speed and 70g/km. Economy, Peugeot suggests, will be well north of 90mpg. Those are some fairly impressive statistics.
And while the car itself won't ever be seen on a forecourt near you, some of the technology pioneered in it looks likely to make it into future production models.
One of these is the four driving modes that vary the assistance offered by the electric motors.
ZEV makes priority use of the rear electric motor, Road limits outputs to 300bhp and 295lb ft, Track ups that to 400bhp/391lb ft and then Hot Lap throws every horse the car can lay its hands on into the pot to deliver 500bhp and 538lb ft of torque.
The 308 R Hybrid sits on a track 80mm wider front and rear than the 308 R and wears 235-section tyres wrapped around 19-inch rims. Batteries and all, kerbweight stands at 1,550kg, just a couple of hundred kilos north of the Ford Focus ST.
So it's not real but there's no harm in dreaming.