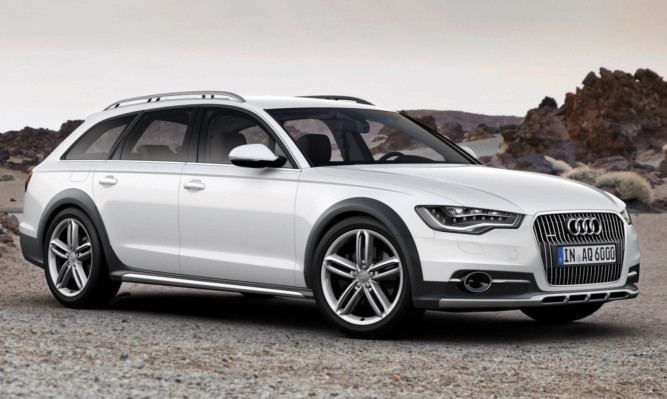 Audi's A6 Allroad is one of the most difficult-to-criticise cars I've ever written about.
If you can afford one (they start at well over £40,000) they're handsome, spacious enough for a family of four, ultra-comfortable, fast, economical and have enough off-road ability to cope with a fierce Scottish winter.
Which is just as well, as the snow was coming down in sheets and I had a friend in Pitlochry to visit.
On a dark and snowy night the Allroad is about as comfortable and reassuring a car to be in this side of a Range Rover.
The four-zone heater ensured me and my passenger were cosy and the wipers steadily cleared the white stuff from the windscreen.
Audi's Quattro four-wheel drive kept the car glued to the road even through ankle-deep slush. Obviously it isn't designed for heavy duty off-road use, but the car's ride height can be raised from 6cm above a standard A6 Avant to 18.5cm higher, allowing it to cope with muddy fields, deep ruts and rocks.
The A6 Allroad starts at £43,465 for the 3.0 litre, six-cylinder, 204hp turbodiesel but I'd recommend stretching to £45,000 for the car I had with the 245hp version of the same engine: it's the one around three-quarters of buyers go for.
Those who want the ultimate Allroad should save up for the £49,760 BiTDI version. This uses the same three-litre diesel unit but with two turbochargers, giving an output of 313hp and bringing 0-62mph up in a startling 5.6 seconds. Impressively, it still returns 42.2mpg.
But my car was plenty quick enough. The seven-speed S-tronic transmission whisks through the gears. With 0-62 coming up in 6.6 seconds it's only a second slower than the BiTurbo, and in real-life driving the wave of acceleration when you put your foot down is enough to overtake quickly and safely.
The boot swallows 565 litres enough for a family of four to fit a week's worth of suitcases and if you fold the rear seats the space available rises to 1,680 litres.
Its carrying capacity came in handy when hitting the slopes for the weekend the Allroad handled Glenshee's car park like it was tarmac rather than deep snow on mud.
Of course, £45,000 is a lot of money to pay for a car especially when you can get a broadly-similar four-wheel drive estate from Volkswagen or Skoda for almost £20,000 less.
But the A6 is more capable, more comfortable and much more luxurious.