 The 500 Trekking is an enlarged, jacked up "soft-road" version of Fiat's delightful little city car.
It follows in the footsteps of the Mini Countryman, which is another example of a trendy urban whizzabout being pitched towards the country set.
There isn't actually a four-wheel drive option on the Trekking, so you won't be able to follow a Land Rover, but it has a number of features designed to make it amenable to mud.
Increased ride height, extra protection for the body, mud and snow tyres, and Traction + – essentially an electronic equivalent of a limited slip differential) enable it to cope with fields, rutted tracks, and snow better than an ordinary hatchback.
The Trekking costs a little over £17,000 and I drove the second-from-top of the range 1.6 diesel, which costs £19,590.
The 105bhp diesel engine tries its best, but the Trekking is a big, un-aerodynamic car, and 0-62mph takes a slovenly 12 seconds to come up.
There's a very decent 320nm of torque, however, meaning it will carry a full load almost as easily as an empty one.
Economy is excellent too, with an official figure of 60.1mpg and around 50-52mpg in real world driving.
For those who want a bit more oomph there's a 118bhp version of the diesel engine.
"This thing is ugly! And I don't like the rear seats," whinged our business editor on a lunchtime jaunt in the Trekking.
I can see what he means. In the same way the Mini Countryman doesn't quite capture its little brother's iconic air, the Trekking doesn't carry over the cutesy nature of the 500.
It's big and chunky though. The designers have unashamedly gone for fun rather than beauty and it looks like nothing so much as a child's toy car writ large.
Meanwhile the rear bench seat does not, indeed, supply enough thigh support for very tall people. But for adults who aren't long-shanked they'll be supportive enough and there is plenty of head and legroom.
Indeed, space all round is very generous, unless you need to fit a fifth adult in, in which event the car's relative narrowness makes things a little pinched. It has been widened over the standard 500 though.
Luggage space is reasonable at 343 litres, and you can fold the rear seats to fit 1,310 litres of gubbins back there.
The boot has two levels, with underfloor storage that can be used to hide valuables or have a towel placed down to store muddy boots away from the rest of your luggage.
Cleverly, the back seats slide back and forward so you can adjust for the best blend of legroom and luggage space.
On the driving front, you're aware of being in a tall car. Corner too hard and the body does roll. There's also a bit of din from tyres and the wind.
But ride quality is comfortable and the additional height gives a commanding view of the road. A big windscreen adds to that and lets lots of natural light flood in, but rear visibility could be a lot better.
The Trekking isn't for people who need a proper off roader. But it provides enough capability for those who live in rural Scotland to have something that will see them through the winter, look fashionable in the city, and cost less to run than a proper 4×4.
Price: £19,590
0-62mph: 12 seconds
Top speed: 109mph
Fuel economy: 60.1mpg
CO2 emissions: 122g/km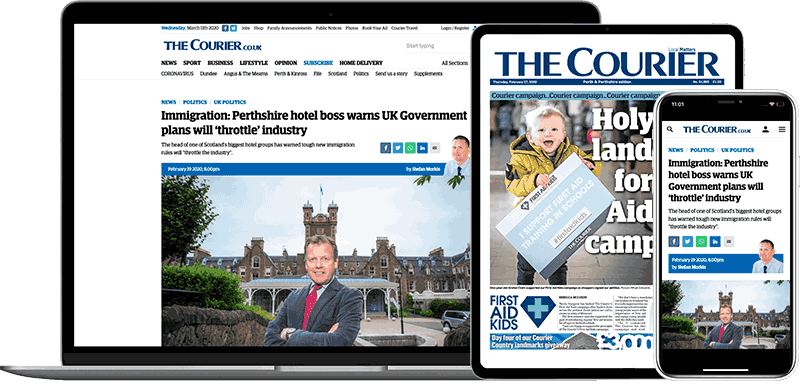 Help support quality local journalism … become a digital subscriber to The Courier
For as little as £5.99 a month you can access all of our content, including Premium articles.
Subscribe