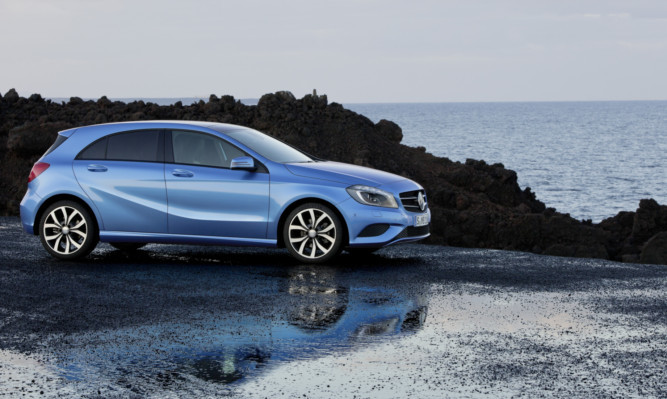 Mercedes-Benz has abandoned the unloved mini people carrier A-Class in favour of a car that's stylish and modern.
When I attended the new A-Class's launch in Slovenia last year, Mercedes' press handlers were keen to showcase the car's dynamic prowess.
We tore round a race track at the local airport in fast AMG versions of the car. Of course, few people are going to race their A-Classes so the model I reviewed was the more pedestrian but bigger selling 180 diesel which returns 74.3mpg and is likely to be one of the most popular models.
This time round Mercedes sent me a sportier A250 AMG Sport. It costs £26,855 (the A-Class range starts at £18,970) and is powered by a 2.0 litre, 208bhp petrol engine.
It's fast 0-62mph comes up in 6.6 seconds and top speed almost touches 150mph. The engine is creamy smooth and quiet and is a delight whether you're pressing on or just cruising in a relaxed fashion.
Officially it returns an impressive 45.6mpg but I found around 35mpg was closer to the mark.
Other engine options include 1.6 litre petrols with 121 and 154bhp and diesel options with 107bhp, 134bhp and 168bhp.
My car came equipped with seven-speed twin-clutch automatic transmission. One quirk of Mercedes is that they insist on locating the gear lever for automatics on a stalk behind the steering wheel in the style of older American cars.
This takes a little bit of adjusting to but once you've become accustomed it actually makes a lot of sense. You can change from drive to reverse without having to take your hands off the wheel. The only downside is the indicator and lights/wipers stalks are crowded on the left of the steering wheel.
AMG Sport A-Classes ride 15mm lower than the standard car. Surprisingly, while firm, the ride is very good just beware of potholes and speed bumps.
Handling is excellent. The car grips strongly and body roll is virtually non-existent, even in tight corners.
On the inside Mercedes have done a fine job of combining the marque's traditional quality with a modern flair. The circular air vents borrow from the SLS supercar and quality of materials is good. There's plenty of room up front and rear legroom is good. The panoramic glass roof fitted to my test car robbed rear passengers of a small amount of headroom but the trade-off is worth it.
Rear visibility is poor and the parking sensors fitted to my car were one of the few optional extras I'd be loth to give up.
Although the A-Class starts at a sensible price, in common with BMW and Audi models, it's all too easy to blow your budget by putting ticks on the optional extras list.
My test car's not-unreasonable £26,000 price tag swelled to an astonishing £37,870 through the cavalier addition of numerous navigation, safety and comfort extras.
In any case, standard equipment covers most bases, with every model getting alloy wheels, Bluetooth and some form of air conditioning. The AMG model is distinguished by bespoke alloys, a more aggressively-styled front grille and a bodykit.
Stick with or close to the standard equipment and the A-Class isn't bad value for money. It's also much better looking than the BMW 1 Series, and possibly even edges the new Audi A3 in the style stakes.