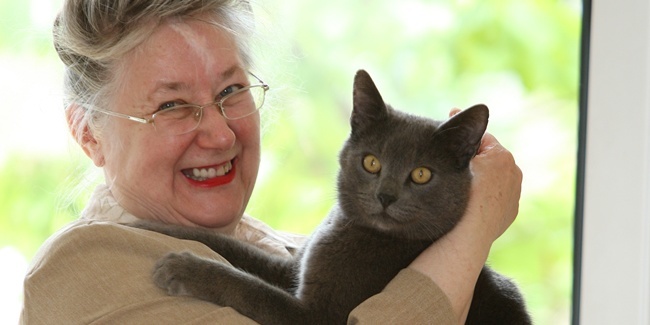 There's a purrfect ending to what could have been a catastrophic 'tail' for one kitty who came in from the cold.
There was no frosty reception for five-year-old Jasper when he was reunited with delighted owner Edna Crawford (68) after he went missing from his Dunfermline home eight months ago.
The runaway puss has left everyone wondering how he managed to survive the UK's harshest ever winter fending for himself.
The friendly moggy disappeared from Edna's home just off Linburn Road last September, not all that long before the big chill began.
As Scotland lay shivering under snow and ice, the worried pensioner's hope of being reunited with her beloved grey seemed to fade.
But after eight long months, Jasper is now back at home and enjoying being pampered by his elated owner.
"I never thought I would see him again, admitted Mrs Crawford.
And it was all thanks to staff at Dobbies Garden Centre on Fife Leisure Park that he's still got some if not all of his nine lives left.
Mrs Crawford explained staff at the garden centre, which lies around a mile from her home, saw the runaway stroll into the building. But the fact he was discovered there came as little surprise to the pensioner.
"I think he went there because he likes flowers, he loves the garden," said a relieved Mrs Crawford, who has already handed in chocolates to staff as a thank you.
Then Jasper was taken to Inglis Veterinary Hospital in Dunfermline, where staff have also praised Mrs Crawford's role in the happy ending.
Mrs Crawford had had the foresight to have her pet microchipped at Inglis when he was a youngster.
One quick scan later, and staff were on the phone to Mrs Crawford, who couldn't quite believe what she was hearing. She rushed there and saw Jasper, as large as life and none the worse for his adventure, ready to greet her.
"Had he not been microchipped we would never have known who owned him," said veterinary nurse Laura Donaldson.
"We are always imploring people to get their pets microchipped, and Jasper is a perfect example of how doing so can reap rewards."
Continued…
Now grounded for the foreseeable future to curb his wanderlust, it's not the first time Jasper has gone walkabout.
Last year he was away from home for 10 days before turning up with an injured leg.
"Jasper's looking really healthy," continued Mrs Crawford. "He's always been a hunter, and while I suppose someone could have taken him in, I think he managed to look after himself.
"But it's unbelievable he's survived, especially last winter when it was so awful. I can't believe he's back."
Laura said that it was great that Jasper was back home after all this time and she hoped his experience will encourage other people to get their pets microchipped.
Next month is national microchipping month, a national campaign that encourages owners to microchip their pets.
Throughout the month Inglis will be microchipping pets for half price £11.25 rather than £22.50 which will simply cover its costs.
"Microchipping pets is a simple procedure that, as Mrs Crawford will attest, is well worthwhile," added Laura.