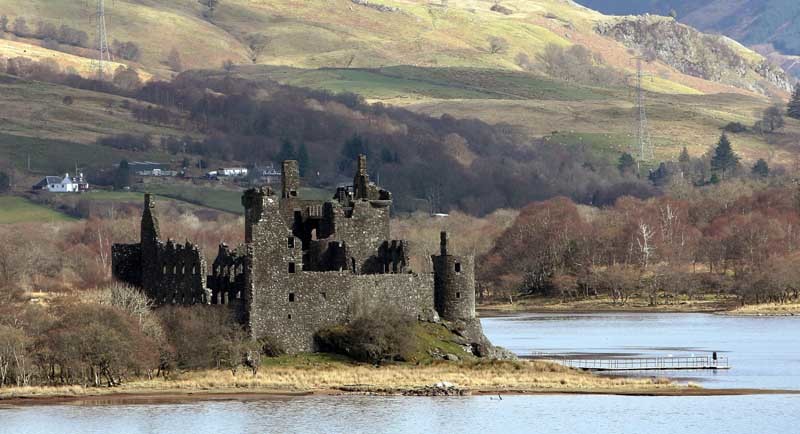 With the global economic downturn biting and some miserly exchange rates on offer, the popularity of the "staycation" has rocketed in recent months. Dave Lord joined the growing band of Scots who holiday at home with a stay at the 300-year-old former drovers' inn Taychreggan near Oban named one of the most romantic retreats in Britain.
Overlooking the shores of Loch Awe, the Taychreggan Hotel is situated on its own bay and enjoys some truly breathtaking views. It may have started life as a humble inn, but it has recently undergone a major £1 million refurbishment and modernisation programme leaving it the envy of many an illustrious rival. There remains, however, a strong sense of tradition and history at the hotel befitting of a site that has been a tranquil yet inspirational resting place for the likes of Samuel Johnson and James Boswell.
Set in 40 acres of garden and natural woodland, great care has been taken to reveal and preserve the 300-year-old inn's roots meaning the visitor is rewarded with a real sense of tradition as exposed original walls and generous fireplaces tastefully blend with modern additions such as a sumptuous orangery.
Reaching Taychreggan is an adventure in itself and, as you turn down the long, narrow and winding road along the banks of Loch Awe, it is one of those moments when you cast a distrustful glance toward the sat nav and simply hope for the best. As you snake your way toward the hotel it is hard not to experience an ever-increasing sense of expectation and it is easy to imagine just what a welcome sight the whitewashed stone walls of the inn must have been for the ancient drovers.AttractionsHowever, the modern-day Taychreggan offers the weary traveller much more than the humble hospitality of the past. Among the attractions offered by the welcoming and courteous staff are wild foraging. Visitors are invited to hunt and gather in the surrounding countryside, before bringing their food back for dinner, with chef promising to cook it up exactly as requested.
Whether you are dining on the fruits of your own labour or not, meal times at Taychreggan are a true pleasure. The dinner menu changes daily, and during my stay the best end of lamb, served with an aubergine puree, fondant potato and olive jus, was among the best I have ever been served. A special mention should also go to the desserts with a quite exquisite pineapple tart tatin the undoubted highlight.
The menu is complemented by a meticulously constructed wine list which offers the perfect accompaniment to any meal.
And then there's breakfast! For those intent on a day full of activity deer tracking and clay pigeon shooting are among the attractions on offer there is excuse enough to tuck into the full monty which includes such perennial favourites as bacon, eggs and black pudding. However, the more discerning guests can be seen enjoying anything from kippers or smoked salmon with gently scrambled eggs to the majestic fillet of haddock, carefully poached in milk so that it achieves a rare melt-in-the-mouth consistency.
While Taychreggan feels isolated, for those who do not wish to simply sink into one of the marvellously overstuffed armchairs or enjoy a leisurely frame of snooker there is much in the area to enjoy. Those packing stout walking boots can look forward to spectacular forest walks. The nearby Inverliever and Eredine woodlands boast nearly 90 miles of forest roads, all open to the public on foot. In addition to several signposted routes there are also countless public rights of ways for those with sound navigational skills or at least a detailed selection of OS maps.
Although some walks are, at least partially, accessible to wheelchairs it should perhaps be noted that many of the rights of way are wet and rough. Meanwhile, public access is understandably curtailed during timber harvesting.Memorable viewsThe area is also rich in historical attractions, among them Kilchurn Castle at the north-east end of Loch Awe. Built by Sir Colin Campbell of Glen Orchy around 1550 as a square tower, it was substantially enlarged in 1693. Well looked after by Historic Scotland, it is worth a visit if only for the truly memorable views offered.
The hustle and bustle of city life can seem a million miles away in this part of the world but for those seeking some bright lights, Oban is only a short drive away. With a population of 8500, the town is the unofficial capital of the West Highlands and the "Gateway to the Isles".
Stunning panoramic views of the mountains, lochs and islands have captivated visitors for centuries and provided inspiration for an array of poets, authors and songwriters. Oban even received the royal seal of approval from Queen Victoria, who famously branded it "one of the finest spots we have seen."
Boasting some excellent restaurants and bars, the town also has a number of excellent tourist attractions. Open from March to September is the Oban war and peace museum. Featuring a display of both peace and war-time photographs, it also showcases an array of uniforms and memorabilia and is well worth a visit. Admission to the museum, located at the Corran Esplanade, is free.
With a number of cruises offered from the harbour, sea-farers are well catered for.Quality restaurantsMeanwhile, landlubbers can enjoy shopping in the bustling town centre or merely relax in any of the huge number of coffee shops where, it is a pleasure to report, home-baking has become a finely-honed art form. Oban, with its many quality restaurants and shops, is around half an hour away by car.
Meanwhile, no fewer than 13 Munros are within easy reach. Staff at the hotel are happy to provide packed lunches or flasks of warming soup for those dedicated to a day enjoying the great outdoors.
It is to easy to see why Taychreggan has snapped up awards from Les Routiers, Michelin and a whole clutch of accolades from the AA, including two rosettes. The service on offer is second to none and the setting is, quite simply, breathtaking.
Although I will never completely shun my foreign breaks to sunnier climes, one pair of globetrotters from south of the border gave me something to think about. Recently returned from New Zealand's south island widely regarded as one of the most beautiful regions of the world they insisted the scenery around Argyll was second to none.
With so much beauty right on our doorstep I came home feeling I may just have discovered a very worthwhile and satisfying silver lining to the credit crunch cloud.For more information on Taychreggan log on to www.taychregganhotel.co.uk or phone 01866 833211. Information on Oban can be found at www.oban.org.uk