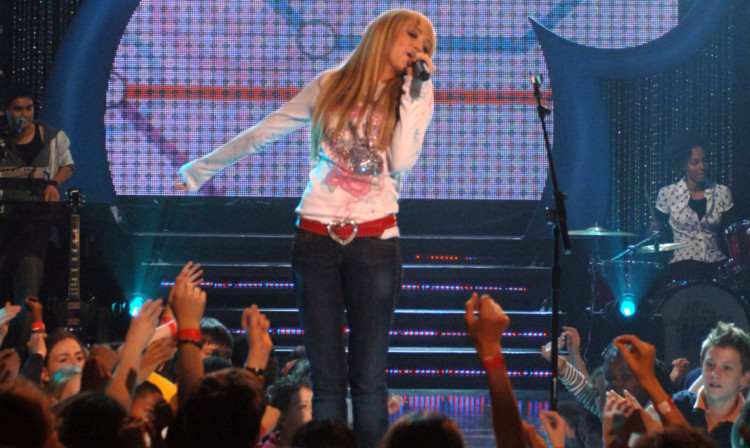 Former Hannah Montana star Miley Cyrus shattered her Disney-girl image with a raunchy performance at the MTV Video Music Awards. She fits into a long history of child stars going bad, Jack McKeown discovers.
Oh dear. What has Miley Cyrus been up to? Just a few years ago she was the wholesome teen idol who enthralled children all over the world as Hannah Montana, the schoolgirl who lived a double life as a famous pop star. Now she is the sexually-suggestive singer parents won't let their children watch.
The 20-year-old put on a risqu performance at the MTV Video Music Awards on Sunday. The former Disney Channel star burst onto the stage in a leotard that she quickly removed to reveal a flesh-coloured bikini.
Fresh from scoring her first UK number one single with We Can't Stop, the 20-year-old singer licked her lips, stuck out her tongue and danced suggestively twerking with fellow musician Robin Thicke. The former child actress then took advantage of a foam finger, rubbing it up Thicke's crotch before massaging her own.
The Parents Television Council (PTC) issued a complaint against MTV for airing Cyrus's routine, saying the show should not have been rated suitable for 14-year-olds. In a bizarre twist of events, Miley's own father, the country music star Billy Ray Cyrus, is on the PTC's advisory board. But should we really be surprised at her behaviour? Plenty of child stars before her have deliberately shed their butter-wouldn't-melt image. Many others have genuinely gone off the rails.
Undoubtedly the most high-profile of these is another one-time Disney golden child, Britney Spears.
Emotional breakdowns don't get much more public than marching into a hairdressers and shaving your head before smashing up a car using an umbrella.
However, the Baby One More Time star now seems to have bounced back from her personal struggles.
Another child star who has seen their fortunes wane is Macaulay Culkin. Once among the highest-paid child actors of all time, the Home Alone star gave up movies at the age of 14.
He has since been arrested for drug possession, receiving a suspended prison sentence, and newspapers have long speculated he is battling heroin addiction.
It is hard to remember a more cute and innocent child than Gertie in Spielberg's ET. But Drew Barrymore would go on to start smoking at the age of nine, drinking by 11, smoking marijuana at 12 and taking cocaine at 13, the age at which she lost her virginity. She was in rehab at 14 and her public unravelling culminated in 1995 with her leaping onto David Letterman's desk and baring her breasts to him on live television.
Producers of Terminator 3: Rise of the Machines were desperate to have Robert Furlong reprise his role as mankind's saviour, John Connor. He was later dropped from the movie because drug addiction rendered him unreliable. Rumoured to be a heroin addict, he recently appeared in court charged with domestic abuse.
There are, however, plenty of childhood stars who have made the transition into a successful adult careers without mishap. Ron Howard was just six years old when he starred in The Andy Griffith Show and still in his teens when he was cast as Richie Cunningham in Happy Days.
He has gone on to enjoy a hit career as a director, with his movies including Parenthood, Backdraft, Apollo 13, The Da Vinci Code and A Beautiful Mind, which won him an Academy Award for best director.
Emma Watson rose to fame as the nerdy student wizard in Harry Potter. Now aged 23, she has the critically coming-of-age drama The Perks of Being a Wallflower under her post-wizarding belt and is lined up as the star of several major movies, including Guillermo del Toro's take on Beauty and the Beast.
And Matthew Broderick showed no ill effects from his early stardom in Ferris Bueller's Day Off, going on to marry Sex and the City actress Sarah Jessica Parker and enjoy one of Hollywood's longest and happiest marriages.
Any readers tutting at the moral degradation afflicting the youth of today should pause child stars going off the rails is not a recent phenomenon. We can go all the way back to the 1940s and the case of Bobby Driscoll.
Born in 1937, Driscoll was one of the biggest child actors of his day, starring in a string of blockbuster Disney movies, from Song of the South to Treasure Island.
In the 1950s, as he left his childhood fame behind and his career began to wane, he became addicted to heroin.
He died penniless and destitute in 1968. His body was buried in an unmarked pauper's grave in New York and it wasn't until more than 18 months after his death that the former child star's resting place was tracked down and he was identified by his mother.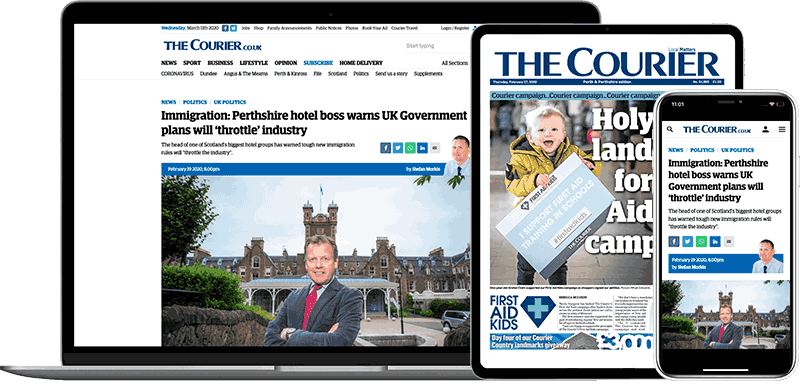 Help support quality local journalism … become a digital subscriber to The Courier
For as little as £5.99 a month you can access all of our content, including Premium articles.
Subscribe