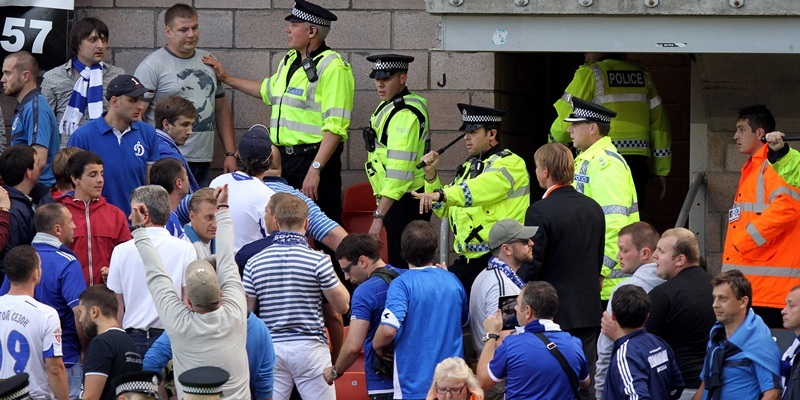 Fierce fighting broke out during Dundee United's match against Dynamo Moscow.
Thousands of fans at Tannadice Park looked on as punches and kicks were traded, with at least one of the Russians being kicked in the face as he tried to climb up to confront United supporters.
Police and stewards had to separate the rival groups of supporters, with some of the officers drawing their batons.
The Europa League qualifier had only just begun when the trouble flared. The small group of Russian supporters who had travelled to Tannadice – thought to be around 150 people – were on the lower tier of the Fair Play stand, with United fans above them.
It is understood that something was thrown down onto the Russians, sparking a violent reaction.
One witness said: "Quite a few of them climbed up to fight and the police and stewards got involved. Some of the police had their batons out to try to control them."
one worried home supporter added: "Russians are climbing over barriers trying to get at United fans."
However the trouble was contained after several minutes and the game continued. There was heavy police presence in and around the stand for the remainder of the match.
Also in the first half, a Dundee United fan was taken away after running onto the pitch to celebrate after Willo Flood scored the opening goal.
Chief Inspector Shaun McKillop later said three people – one of them Russian – had been arrested and another seven spectators had been ejected from the ground.
He added: "The information we have is that an object or objects – possibly coins – were thrown from the upper tier down on to the visiting supporters which upset them and there was a minor skirmish."
"It would have looked quite bad, but there were only four to six people involved in the actual skirmish."
The game – which proved to be a thriller to rival any international game seen at Tannadice – ended in a 2-2 draw and police kept the Russians inside the stadium until the United fans had dispersed. It was only around 10pm that the Dynamo fans emerged.
A small group were given a lift in a police van to catch a bus and a few others who had cars parked nearby were allowed to leave.
The remainder, who were due to leave on a train, were escorted on foot by a large number of officers down Dens Road towards the city centre. The procession appeared good-natured, although it did cause some traffic disruption.
It had been hoped the tie would pass off peacefully, unlike United's last Europa League clash with side Slask Wroclaw which saw gangs of Polish fans causing violence and disorder across the city.
Prior to the game Tayside Police said they had spoken to their counterparts in Russia and to forces in the UK where Dynamo had played before and had been told their fans were usually well-behaved and integrated well with other fans.
Unfortunately that proved not to be the case.
Now, in addition to facing a tough away match if they hope to progress in the competition, United may also find themselves in trouble with the Scottish football authorities – especially if it is determined one of their fans was responsible for instigating the violence.