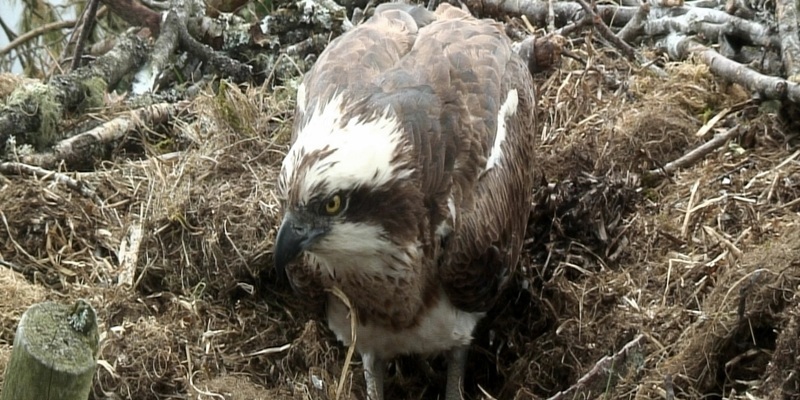 IT HAS been all change at Loch of the Lowes over the weekend with the arrival of new faces and the departure of a familiar one.
Content that the "men of the house" are able to look after themselves, Lady the osprey is believed to have begun her migration.
The record-breaking raptor was last seen at the Dunkeld reserve on Friday morning, just one day after her only chick of the season made attempts to fish in the loch.
After keeping vigil over the osprey nest webcam, wildlife fans have resigned themselves to the fact the famous bird has ended her 22nd year in Perthshire.
Scottish Wildlife Trust (SWT) ranger Emma Rawling gave assurances that Lady's departure is "completely normal".
"The female of an osprey pair often leaves first as her primary instinct to lay and nurture her chicks has been fulfilled," she said.
"It seems osprey males take responsibility for supervising their growing young and providing for them until late summer, although we are not sure how much teaching they do as fishing attempts by osprey chicks seem to be purely instinctive.
"On average, our female has usually left Loch of the Lowes by the end of the first week of August, though she has stayed until mid-month before.
"It can be hard to judge if she has gone altogether, as sometimes she might hang around further afield in our area to fatten herself up before the long journey."
So far, the chick officially named Blue 44 has shown he is his father's son by dive-bombing into the loch but with no fish to show for it.
As a result, he is still relying on the older male for food until he masters the skill of catching his own food.
While watching the antics of the remaining ospreys from the loch-side hide, visitors have also spotted a rarely seen sight at the reserve. For the first time, a beaver was seen at Loch of the Lowes as it swam around the watercourse on Friday afternoon.
It is thought the beaver likely originates from the unlicensed population in Tayside, which have also been seen near Lunan in Angus.
To find out more about Loch of the Lowes and daily events there, go online to blogs.scottishwildlifetrust.org.uk/osprey.