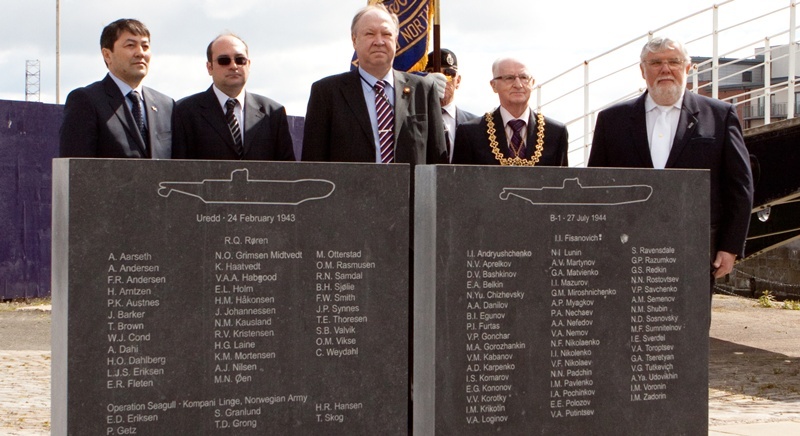 A wreath-laying ceremony at Dundee's submarine memorial may have been to commemorate Russian submariners drowned when their vessel was sunk by friendly fire but the presence of one German veteran proved the Submariners Association is an open church.
Born in Frankenstein, an east German village near Dresden, Johannes Thieme was only two months into his war campaign when his U35 submarine was sunk by the British Navy off the Norwegian coast.
He said, "I was captured in November 1939 and imprisoned first in the Tower of London and then Canada for seven years."
Mr Thieme, however, was one of the lucky ones. Of the 10 boys from his class in the village school who went to war, only he survived.
After the war he had wanted to stay in Canada but was shipped back to Scotland to work on the land.
"My father told me not to come home because of the Russians in East Germany," he said.Honorary memberMr Thieme now lives in Dundee with his second wife Grace (75) and has been made an honorary member of the Submariners' Association.
The association's north-east secretary Allan Collins said when they discovered there was a veteran German sailor living in Dundee, he was welcomed with open arms.
Paying testament to the camaraderie that exists between sailors across border divides, Mr Thieme said, "I met a French submariner who said, 'I can't understand for the life of me why I was supposed to kill you'."
Mr Thieme joined veterans and dignitaries from Scotland, Russia, the Ukraine and Kazakhstan to commemorate the Soviet submariners who lost their lives in a tragic case of mistaken identity.
The B-1 submarine was one of four ex-British submarines loaned to the Soviet Northern Fleet in 1944. The crews trained for six weeks at HMS Ambrose, the Royal Navy's ninth submarine flotilla based at Dundee, before sailing for home on Sunday, July 23, 1944.
There had been a number of cases of mistaken identity where friendly submarines had been attacked by Allied aircraft so a 100-mile wide "sanctuary" exclusion zone had been put in place around the B-1 to ensure its safe passage.
According to local naval historian Dr Andrew Jeffrey, the RAF made a huge navigational error and at 8.10am on July 27 an RAF Coastal Command bomber attacked the surfaced submarine north of Shetland.
He said, "The RAF messed up and ignored some critical signs that the submarine was friendly. It didn't fire back or attempt to dive."
At the time the War Office was, according to Dr Jeffrey, "economical with the truth," as Churchill was preparing to meet Stalin at the Yalta Conference.Downplayed"The RAF's responsibility was downplayed," he said.
"An RAF court of enquiry found that it was the aircrew who had made an 80-mile navigation error but false rumours began to circulate that it had been the conveniently dead Captain Fisanovich and his 50 Russian and British crew who had been out of position, not the RAF."
All thoughts of blame were set aside on Sunday, though, as Dundee Lord Provost John Letford, Consul General of the Russian Federation Sergey Krutikov, Acting Head of the Consulate General of Ukraine Vadim Vakhrushev and Consul of the Republic of Kazakhstan Dudar Zhakenov laid wreaths at the submarine memorial in a ceremony that coincided with Russia's Victory in Europe day.
Mr Krutikov said, "This day of the great victory, after our national day, is the next most important in the history of our country.
"Fisanovich the captain was one of the first heroes of the Soviet Union and it's very important. We are in no doubt it was friendly fire but we are very thankful to our allies who helped us very much, not only with the Russian convoy but with other military supplies.
"We are very glad that the submariners' memory is kept alive in Dundee."