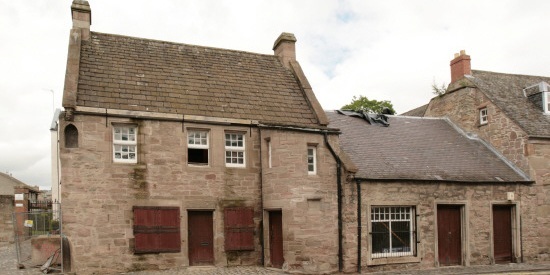 Thousands of visitors will be given a rare view inside some of Perthshire's most historically significant buildings during Doors Open Day 2010 next month.
For one weekend only, dozens of buildings will allow public access and a range of fascinating guided tours.
Among the places taking part is Perth's famed Fair Maid's House on North Port. The oldest secular building in the town, it is thought to date from the late 15th century.
Located near the Blackfriars monastery, it was purchased in 1629 by the Glover Incorporation.
In 1828 Sir Walter Scott published his famous romance The Fair Maid of Perth with the fictional heroine of the story, Catherine Glover, said to have lived in the old Glover's Hall.
In 1893 the building was substantially altered to conform to Scott's story.
Over a century on, a new chapter is being written in the house's long history as it along with the adjoining Lord John Murray's House is being renovated by the Royal Scottish Geographical Society (RSGS) as a geographical information and education centre.
More details about the renovation plans will be on display during next month's Doors Open Day event.
Also taking part is nearby St John's Kirk in Perth town centre. A church has stood on the site since the early 12th century, giving rise to Perth's alternative name of St John's Toun.
In 1559 John Knox preached his sermon on the "sin of idolatry" which sparked the Reformation in Scotland.
The kirk was restored by Sir Robert Lorimer in 1926 and is now undergoing a £2.8 million renovation and visitors will be able to study architects' plans.
But Doors Open Day is not all about the area's highest-profile buildings.
Also featuring will be Bow Cottage in Coupar Angus, where craft specialists Maggie Langelaan and Angela Porchez will be on hand to talk about historic spinning and weaving.
Doors Open Day set to run on September 25 and 26 is organised and funded by the Perth and Kinross Heritage Trust.
"The event gives families the opportunity to visit historic buildings not usually open to the public," a spokesman said. "There are guided tours, walks, exhibitions and special events at many of the buildings."
For further information visit www.doorsopendays.org.uk, contact Andrew Driver of the heritage trust on 01738 477082 or email acdriver@pkc.gov.uk