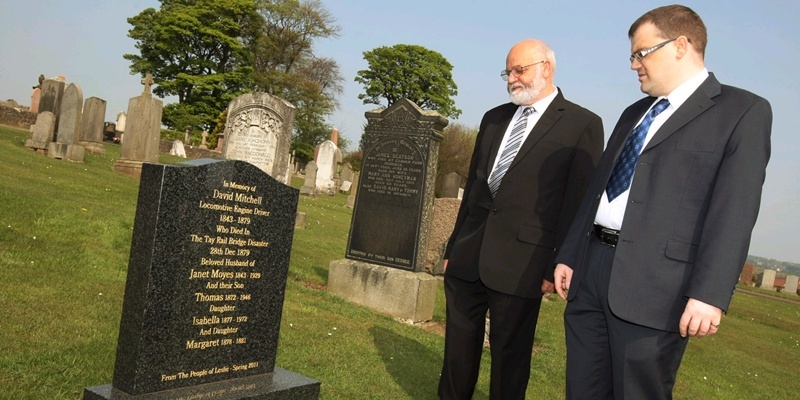 A piper's lament played as the final resting place of the train driver who perished in the Tay Bridge Disaster more than 130 years ago was finally marked in Fife on Wednesday.
David Mitchell, from Leslie, was one of 59 who died in the tragedy on the night of December 28, 1879, when the 5.20pm train from Edinburgh plunged into the Tay after the bridge collapsed in a violent storm.
Mr Mitchell's body was washed up nine weeks later and he was placed in a grave at Leslie Cemetery which had remained unmarked ever since.
Thanks to the efforts of locals, spearheaded by Leslie writer Ian Nimmo White, a headstone has been created and was officially dedicated at a ceremony at Mr Mitchell's graveside.
Mr Nimmo White, who has composed a poem to be etched on a memorial to the disaster's victims planned for the Dundee side of the Tay, has spent many months poring over records trying to identify Mr Mitchell's descendants, and has done so with great success, uncovering the life and legacy of a man who is forever part of Tayside and Fife's history.
So extensive was the work that Mr Mitchell's great-grandson David Leighton and great-great-grandson Murray were able to take part in the service.
Mr Nimmo White said, "Obviously in people's minds the train driver sticks out not because he was in any way responsible, but because he has been given a reluctant place in history."
He added, "For me personally it was a great experience and I've had nothing but steadfast support from the Mitchell family."
Mr Mitchell's body lies in the grave at Leslie along with his wife Janet Moyes, his son Thomas and his daughters Isabella and Margaret.
Mr Nimmo White reckons one of the most satisfying things about his work is that Margaret, originally listed as an unnamed child, is one of the names included on the headstone.
Another two children moved away Mr Mitchell's son Andrew, who moved to Glasgow and is buried in Govan cemetery, and David Mitchell jun, who married a woman called Annie Sweeting and had two children, Beatrice and David John.Pocket watchBeatrice is 92 and lives in a nursing home in Edinburgh, while David John lives in England and still has his grandfather's pocket watch.
David John's living descendants couldn't attend.
David Leighton, Beatrice's son, said he was delighted to be involved on Wednesday.
"I'm the sort of middleman because I'm here representing the senior members of my family, but also the younger members as well," he said.
"I received a phone call a while back and it all started out in a rather strange way because the caller asked me what my name was and if I could prove it.
"It was Ian, and he then went on to explain in great detail what he hoped would happen today and as you can see he's been very successful.
"I now have a family tree which I didn't know about, and I'm very honoured that the people of Leslie have taken an interest in today's events."
The dedication service was conducted by the Rev Mel Griffiths, from Trinity Church Leslie, who said blessings and prayers, while local councillor Fiona Grant also paid tribute to all those involved in the project.
Wreaths were laid on behalf of various local groups, with Leslie Primary School pupils also in attendance to highlight Mr Mitchell's importance to future generations.
Mr Nimmo White admits his research has become something of a labour of love and that he was glad to see the latest milestone in his story marked.
"Some say history is a thing of the past with no relevance to our present day lives," he said.Personal"In its defence, I would say that each one of us has our own personal history a part of us being made up of our parents, our grandparents and great-grandparents.
"And if we care about our ancestors, then we care about their lives, which more often than not were a sight harder than our own.
"To deny history a part in our present day lives is to turn our backs on where we came from and who we are."
The accident remains the most catastrophic structural failure in Britain's history and the Tay Rail Bridge Disaster Memorial Trust (TRBDMT) was set up to try to ensure a proper memorial to the victims is created.
Stuart Morris, Laird of Balgonie, has been heavily involved with the TRBDMT and hopes a fitting tribute will come to fruition soon at Riverside Drive in Dundee, overlooking the Tay and the site where the tragedy happened.
"The victims are not just names or statistics they were people," he concluded.
"We owe it to these people, not only to commemorate the fact that they were caught up in this disaster, but to commemorate their lives."