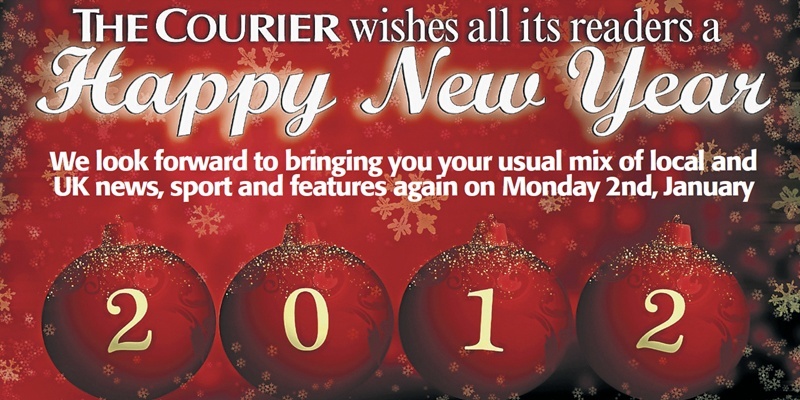 As another year comes to an end, we take a look back at the most-read stories on www.thecourier.co.uk in 2011.
Just as in 2010, this year's most-read stories feature a heady mix of the serious, the comical and the bizarre from around Courier Country.
So let's dive in.1: 'This is June!' amazing video of freak hailstorm in DundeeWith getting on for double the views of any other story this year comes a piece which proves video of freak weather is a surefire online winner. When we started to hear about a heavy hailstorm in Dundee in mid-summer, we asked our Facebook followers to share their photos. Then came this unforgettable video with its wonderful "This is June!" narration. Watched by expats across the world, it gave them a warm, fuzzy feeling about the old country as it reminded them exactly why they got out of here in the first place.
2: VIDEO: Demolition of the Alexander Street Hilltown multis in DundeeIn second place, it's another Dundee video story. The city comes to a virtual standstill to witness the demolition of the landmark Alexander Street multis in late July.
3: Zombie planning undead hordes no threat to Dundee City CouncilIt was the question everyone wanted answered and, thankfully, Lee McAulay stepped up to ask it just how well prepared was Dundee City Council for a zombie invasion? Lee's FOI request, and the council's amusing response, was the third most-read article this year.
4: City centre closed down to contain Slask Wroclaw fan troubleDundee United's appearance in the Europa League qualifiers brought a thrilling night of European football to Tannadice in July. Less welcome was the behaviour of some of the visiting Slask Wroclaw fans, and news of their rampage through the city before and after the match was the fourth most-read story this year.
5: Perthshire minister suffers cuts in bizarre sea eagle attackThe Hunter was hunted in August and you clicked in your thousands when we brought you the somewhat unusual news of the Very Rev Hunter Farquharson being attacked by a sea eagle. It would be wrong to we're hoping for it, but if 2012 throws up any more examples of men of the cloth being attacked by God's creations we'll be there to report. It's our duty.
6: Fifteen children by 13 mothers Dundee man Jamie Cumming dubbed Britain's most shameless fatherHe graced news outlets across the world as word of his one-man mission to boost Scotland's population was revealed. At No. 6 is the tale of Dundee dad-of-15* Jamie Cumming.
7: Professor Bernard King suspended from Abertay University postIt's on to matters more serious next as the suspension in January of its principal, Professor Bernard King, sparks the start of a tumultuous year for Abertay University. Later came the prospect of a forced merger with Dundee University a threat soon defeated thanks to a campaign led by The Courier.
8: A bit of fun, but risks of planking craze should not be taken lying downWho remembers planking? News of perhaps the most short-lived internet craze of the year was the eighth most-read article in 2011.
9: VIDEO: Bell Baxter High School flash mob is top of the classBell Baxter High School in Cupar was behind one of the feelgood videos of the year in May when footage of its YMCA-themed flash mob hit YouTube. Hats off to the teachers and pupils, who showed school really can be the best days of our lives.
10: Dunfermline FC mascot's 'disgraceful' pre-match anticsRounding off the top 10 is Scotland's most OUTRAGEOUS football mascot, Dunfermline Athletic's Sammy the Tammy. Raith Rovers fans or some of them struggled to see the funny side of Sammy's tank routine ahead of a crucial derby in April. We're pleased to confirm peace has since broken out between Fife's finest.We would like to thank everyone who has taken the time to use our site this year, especially those who get involved by leaving comments, sending us photos and following us on Facebook and our various Twitter feeds. The Courier will be publishing as normal on Monday January 2. There's an exciting year ahead for The Courier in 2012. See you then!
(*at last count)