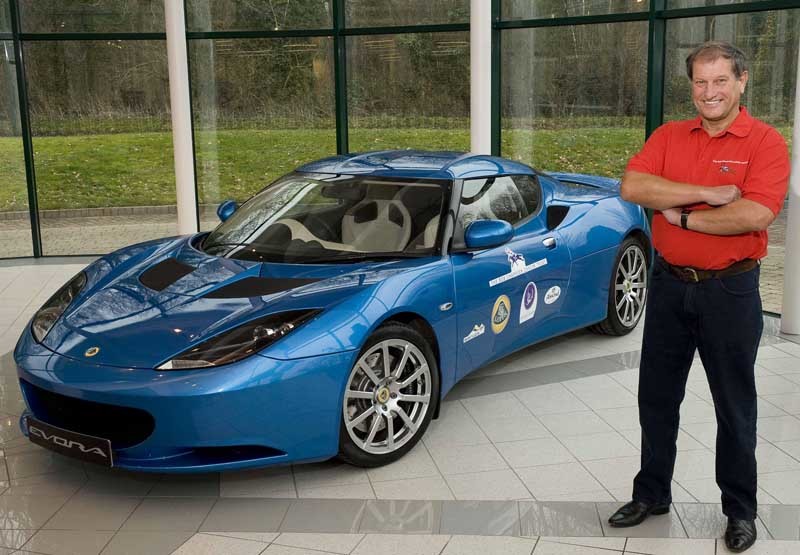 Jockey Bob Champion wasn't expected to survive when he was diagnosed with cancer. Less than two years later he won the Grand National. Since then he's raised over £12 million for his cancer charity and is about to embark on a whirlwind tour of Britain. He tells Jack McKeown about the 60:60 Challenge.
Bob Champion is lucky to be alive. His diagnosis with testicular cancer, in 1979, came just as new drugs and chemotherapy techniques were being pioneered.
Bob (61) was one of the very first people to be given the new treatments. Had he contracted the disease just a year earlier, he would certainly have died.
"As it was they gave me only a four out of 10 chance of survival," the retired jockey told The Courier this week. "If I'd got it 18 months before I did, I would have had a zero per cent chance of living."
Bob made it, however, and just 18 months later pulled off one of the most amazing returns in sporting history.
"I never stopped thinking about racing," he explains. "All through the treatment, that's what I kept my eyes fixed on. I used it as a goal to help me cope with the treatment I wanted to get back to riding, that was the goal the whole time.VictoryLess than two years after being diagnosed, on April 4, 1981, riding Aldaniti the mount he always refers to as 'the old horse' Bob romped to victory in the Grand National.
"Since I was eight years old my ambition had been to ride in the Grand National," he reveals. "Not to win it, you understand, just to ride in it. Winning it was beyond even my wildest childhood dreams."
The victory earned Bob and Aldaniti the BBC Sports Personality Team of the Year Award and was voted one of the 100 greatest sporting moments by Channel 4 viewers in 2002.
Bob's against-the-odds recovery and subsequent Grand National victory captured the hearts of the nation and in 1983 his story was made into a film starring John Hurt.
Aldaniti who was recovering from a career threatening injury while Bob received his cancer treatment starred as himself.
"It was a bit strange seeing myself portrayed on the big screen," he says. "But they usually make these things after you're dead so I was just glad to be alive to see it."
Though he continued to race for a couple of years, Bob never recaptured the glory of 1981. He and Aldaniti fell at the first in the following year's National. Weakened after the gruelling cancer treatment, he had difficulty with the strict diet and endless rounds of sauna and steam room sessions necessary to maintain his racing weight.
"I don't ride too much these days," Bob says. "But I live in Newmarket so I see them regularly in the gallop."EnthusiasmIn 1983, riding the crest of a wave of interest and enthusiasm over the greatest fairytale in racing, he set up the Bob Champion Cancer Trust.
It provides funding for the Bob Champion Cancer Research Unit, based at Royal Marsden NHS Trust Hospital in Surrey.
"We've got our own research collaborations and pay our scientists from the trust," he explains. "It's a constant battle and harder nowadays, but since we started we've raised nearly £13 million.
The trust also finances two patient support projects the Aldaniti Rehabilitation Unit and the Bob Champion Lounge. Doctors have become much better at detecting and treating testicular cancer so in recent years the research unit has expanded to include studies into prostate and bladder cancer.
"When I had testicular cancer you had a 40% chance of survival. Now you have a 95% chance of survival if it's diagnosed early enough," he says. "So we're now studying prostate cancer. One in 13 men will get prostate cancer it's the secret killer."
The centre's ultimate aim is to eliminate male cancers.
"Men are all the same though," Bob continues. "They're like me when you've got a cold you're dying, but anything more serious and you pretend it's not happening."
To raise money for the trust, Bob is embarking on a challenge to visit all of Britain's 60 racecourses in 60 days. Starting with Ascot on April 18 and finishing in Brighton in mid-June, his journey round the UK will bring him to Perth Racecourse on April 23.
Lotus have provided an Evora sports car and fuel for him to get round the country in style.Wheels"The wheels are pretty good, though we'll feel the potholes in it," he says.
Bob Champion's aim is to raise £250,000 over the course of the challenge, which will be split between his charities and The Injured Jockeys Fund. For a minimum donation of £50, people get entry to the race enclosure, meet Bob, possibly walk the track before the race, and have their picture taken with Bob and some of the jockeys.
"They'll also get to chat with race stewards," he continues. "As well as get a free bet on that day's race and a grand draw ticket we've got some fantastic prizes."
The grand draw will take place on June 16, the day after Bob finishes his challenge. Prizes include a week's holiday on Saint Lucia, business class tickets to the 2011 Dubai World Cup, a three-night trip to watch the Qatar Prix de L'Arc de Triomphe in Paris, a Lotus driving day and a number of overnight holidays for two within the UK.
"It's never been done before," he continues. "Sixty race courses on race days in 60 days. I'm always trying to find new ways of raising money for my charity and this seemed like a good one.
"As well as race fans, I'm hoping this will inspire people who aren't really into horse racing to come and see what it's all about. I'll be there to explain why it's the greatest sport on earth."To find out more about Bob's charity, visit www.bobchampion.org.uk. For more on the 60:60 challenge visit www.champions6060.org.uk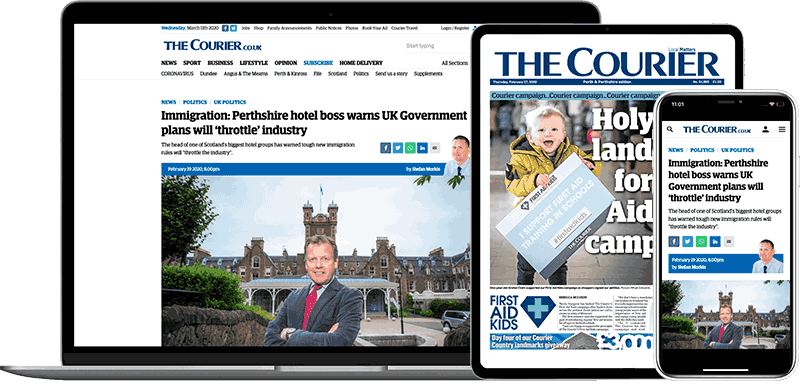 Help support quality local journalism … become a digital subscriber to The Courier
For as little as £5.99 a month you can access all of our content, including Premium articles.
Subscribe