David Beckham did it topless. Lady Gaga performed it in her signature quirky style. Bill Gates did it in slow motion. And Vin Diesel put the challenge to Vladimir Putin. Caroline Lindsay finds out more about the latest charity fad.
Want to raise money for charity? Good on you, but it seems that the tried and tested ways of raising cash like a sponsored walk, holding a raffle or even stripping off, are much too tame these days. No, the way to go is to tip a bucket of ice-cold water over your head and then nominate someone else to do the same thing, and so on, like a charity-driven chain letter.
The £IceBucketChallenge is the latest charity craze to take the internet by storm, with people pouring iced water over their heads in a bid to raise money for charity the rules state that when challenged by a fellow competitor, you have 24 hours to complete it, or make a donation to help the charity. To take part, people need to have their experience filmed and then share it via sites such as Facebook and Twitter, challenging others to do it within 24 hours, before donating money to charity by text message.
Sport stars, international celebrities and it seems, everyone else, are posting videos of their chilly challenge on social networking sites and the trend has raised thousands of pounds for cancer and motor neurone disease charities.
https://youtube.com/watch?v=FN0QMmZLcao%3Frel%3D0
Macmillan Cancer Support said 85,000 people have donated so far and about £250,000 has been raised, and while the Motor Neurone Disease (MND) Association was not able to give a figure at this stage they said they had received "a lot" of donations overnight and the total so far is believed to be in the thousands.
Sally Light, chief executive of the MND Association, describes the craze as an "unprecedented opportunity to raise awareness of what is a devastating terminal disease".
She adds: "We care for thousands of people affected by MND across England, Wales and Northern Ireland but we also fund global research.
"The amazing sums of money being donated across the world and with sister organisations in the USA and Australia too will go a long way towards finding out more about the disease for which there is no current cure."
https://youtube.com/watch?v=h07OT8p8Oik%3Frel%3D0
Meanwhile, in the US, the ALS Association a motor neurone disease charity network said it had received 22.9 million US dollars (£13.8 million) in donations compared to 1.9 million US dollars (£1.1m) during the same time period last year (July 29 to August 19).
A whole host of celebs have got in the act, including Cheryl Cole, Justin Bieber, Rio Ferdinand, Kate Garraway, John Terry, J-Lo, Bill Gates, Tom Cruise, Simon Cowell, Ricky Gervais and even George W Bush. Earlier this week the nation gasped along with Good Morning Britain presenters Ben Shephard and Susanna Reid as they were drenched on live TV after being nominated by weather presenter Laura Tobin.
Foo Fighters star Dave Grohl and his bandmates faced up to the Challenge in style Tuesday when they recreated a scene from classic 1976 horror flick Carrie for the cause, when Sissy Spacek has a bucket of pig's blood tipped over her head.
Dressed in a prom dress and tiara, Grohl introduced the skit, which was interspersed with scenes from the movie, before nominating Jack Black, John Travolta and Carrie creator Stephen King for the challenge.
And in true Carrie form, Grohl reprised Sissy Spacek's role by transforming into a demonic maniac intent on revenge after the drenching. He was nominated for the stunt by Country star Zac Brown.
The craze is similar to the £nomakeupselfie campaign earlier this year in which women posting bare-faced selfies online helped Cancer Research UK raise more than£8 million. But as with any craze, there's always the worry that it will be taken to another, more dangerous, level. There's already an online trend across America's Midwest which involves teens and even adults taking the "cold water challenge" and jumping into freezing lakes, rivers and ponds in the name of charity. One high school pupil has injured her leg by landing on top of razor-sharp zebra mussel shells, while another man got into difficulties in the Mississipi River.
UK charities are behind the ice bucket challenge and any non-hazardous whacky craze that helps to raise money and awareness. Liz Dean-Stevens, NSPCC Scotland's head of fundraising, says: "We would welcome any fundraising initiative no matter how unusual that is safe and can engage people's hearts and minds about the challenges being faced by people in their communities and across the globe. If anybody is interested in fundraising for NSPCC Scotland or is looking for ways to get involved they can contact our local fundraising team on 0844 892 0212."
Alisdair Caulfield, Fundraising Manager for Age Scotland, adds: "The internet and social media means that today, if a campaign really captures people's imagination and sense of fun, it can spread to millions in a matter of hours. This can be a great way of raising awareness of issues and raising money. It is possible for the message to get lost as some people get swept up in the craze and lose the reason behind it, but the overall impact on charities involved tends to be very positive."
Jason Turner, marketing lecturer at Dundee Business School says: "The challenge has really taken off because of our love affair with celebrity culture but there's also an aspect of 'If they've done it, I want to do it too'. It's a quick stunt to set up and can be shared with millions. It is a bit of a fad and will doubtless lead to a whole spate of different charity crazes.
"It's good to raise money for charity and as long as it's done in a safe environment with safe boundaries, there shouldn't be a problem.
"The important thing to remember is that it is for charity and you can still donate without participating Obama turned down Justin Bieber's nomination and made a donation instead."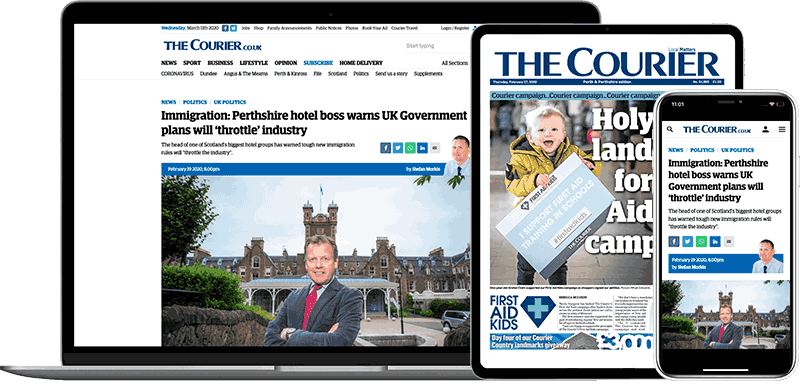 Help support quality local journalism … become a digital subscriber to The Courier
For as little as £5.99 a month you can access all of our content, including Premium articles.
Subscribe