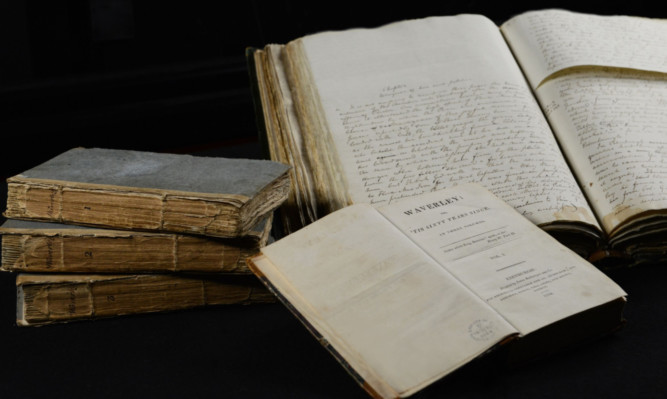 Sir Walter Scott's first novel, Waverley, was published 200 years ago. But how many people have read any of Scotland's greatest novelist's works? Jack McKeown finds out.
When The Casual Vacancy was published in 2012, under the name Robert Galbraith, it didn't take the public long to guess that it was the work of Harry Potter author JK Rowling. The best-selling writer in history has something in common with Scotland's greatest novelist of all time.
Sir Walter Scott released his first novel in 1814. Despite being published anonymously, Waverley was a sales sensation. The first run of 1,000 copies sold out in two days, and almost every critic recognised Scott already feted as a poet as the author.
Waverley was published by Fife-born Archibald Constable, who also owned the Scots Magazine the oldest magazine in the world.
Scott's debut work was such a resounding success that future novels were taglined "by the author of Waverley" and Scott was quickly established as the first English language author to enjoy a truly international career.
On top of being the JK Rowling of his day, Scott was advocate, judge and legal administrator who for many years combined his writing with his daily occupation as Clerk of Session and Sheriff-Depute of Selkirkshire. Indeed, the novel that lit the touch paper of his literary career was almost never published.
For eight years, the first pages of Waverley lay misplaced in the novelist's mahogany desk. Scott placed the beginnings of his masterwork in a drawer alongside some fishing tackle and promptly forgot about it.
It wasn't until years later when he was searching for some fishing tackle that he discovered the manuscript and set to work finishing it.
The desk at which Scott lost and found Waverley was sold at auction yesterday. Auctioneers Lyon & Turbull estimated it would fetch between £2,000 and £3,000. In the event, bidding reached £5,250 before the hammer fell.
"Sir Walter Scott gave [the writing desk] to his steward William Laidlaw and it is being sold by his descendants," Lyon's head of rare books and manuscripts Simon Vickers said. "It is quite a tall writing desk and is not the classic writing desk you can imagine sitting at. It is much taller than that, you would probably have had to sit on a stool to write on it or stand at it.
"It has a sloping lid which is quite large and comes down with pigeon holes for letters and papers. It is mahogany and is quite well worn at the bottom so might have been chewed by Sir Walter Scott's dog at some stage."
Despite having been in his grave for more than 180 years, this has been a busy week for Sir Walter Scott. In addition to the sale of his old writing desk, the manuscript of Waverley has gone on public display exactly two centuries after its publication. It forms the centrepiece of an exhibition at the National Library in Edinburgh.
Although there is a surge of activity among collectors and Edinburgh's literary establishment, the popularity of the author of Ivanhoe and Rob Roy appears to be at a low ebb.
Yesterday morning the BBC went to Waverley Station. It may have been named after Scott's debut novel but there wasn't a single title of his on sale at the station's bookshop.
On Princes Street, in the shadow of the Scott Monument, barely any pedestrians had read any of his novels. A woman remembered reading a work by Scott as a child, but couldn't remember which one.
Would local book lovers fare any better? The Courier took to Waterstones in Dundee to find out if the book-buying public had read any of Scott's oeuvre.
Our research found a very clear generational divide. If you're approaching a pensionable age, you've almost certainly read a Scott novel or two, even if the details may have faded from your mind.
Those under 50 fared less well on the Scott test.
Sixty-something Anne Truesdale from Arbroath recalls reading Ivanhoe in her teenage years. Similarly, Fiona Treffry, also in her 60s, has read "at least two" when she was young.
"I can't remember which ones," she said. "What are some of his titles? Oh yes, Rob Roy and Waverley are the ones I've read."
The Scott baton doesn't appear to have been passed on to the next generation. Or the one after that. Forty-four-year-old John Morton paused browsing the best sellers list to admit to never having picked up a work of Scott's.
And both 22-year-old Linden Forster from Dundee and Emma Dew, 21, a Dundee University student from Warwick, looked quite baffled at the mention of our greatest ever novelist.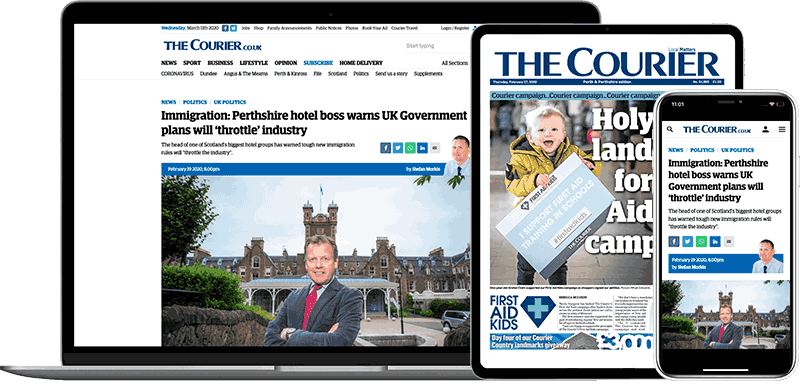 Help support quality local journalism … become a digital subscriber to The Courier
For as little as £5.99 a month you can access all of our content, including Premium articles.
Subscribe