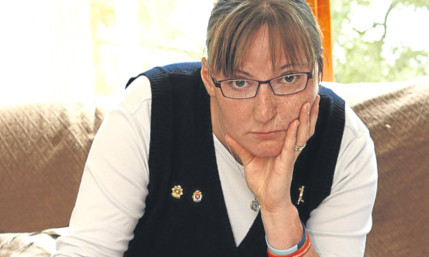 A former army captain from Tayside says veterans are still waiting too long to receive compensation payouts.
Laura Fermor, who was born in Dundee and is a former Monikie Primary and Carnoustie High School pupil, was unable to salvage her career despite undergoing years of surgery and was eventually medically retired in October 2013.
She suffered depression as her health struggles took their toll but she eventually won her five-figure payout last year after a long-running battle.
Laura, who now lives in Spittalfield, Perthshire, with her husband Kevin, was at a reception for Armed Forces Minister Mark Francois last week.
She asked him about the issue of veterans waiting for payment and he said they had taken on extra staff to try to clear the backlog.
Laura said: "He seems to be under the impression that the veterans agency have sorted the problem.
"However, this is clearly a lot of wishful thinking as I am personally aware of other veterans from all over the UK who are still awaiting compensation.
"People who have been diagnosed with post-traumatic stress disorder (PTSD) are being denied compensation by the amount of hoops they are made to jump through by veterans agency staff.
"A clinical diagnosis by a psychologist is not good enough for the veterans agency, who insist that veterans are seen by a veterans agency-approved psychiatrist.
"Reports are lost in the system and have to be resent, which all takes more time.
"It seems to us on this side of the table that they take a long time in the hope that many people will find the stress of it too much to cope with and give up.
"Veterans who have mental health conditions are often not offered the same recognition as those who have physical injuries.
"This imbalance is creating a lot of animosity among the veterans community."
She also asked Mr Francois why she had to pay for her own treatment in order to get the best possible care.
Laura was commissioned from the Royal Military Academy at Sandhurst in December 2007 and, after further training, joined up as a troop commander with the Royal Logistic Corps.
A graduate of St Andrews University, she sustained her injury while conducting a fundraising march along Hadrian's Wall in May 2008 with the corps.
She had physiotherapy for months and had to manage the condition with painkillers before the injury reared its head again in mid-2009, by which time it was clear that some serious damage had been done.
Laura received a right hip replacement in July 2012.
Her left hip was now just as much of a problem as the right one and was replaced in November 2013, which ended her seven-surgery marathon over five years.
She has had two minor investigative surgeries, three hip arthroscopies and two total hip replacements to date and will need further surgery as the implants wear out.
Laura was among thousands of injured veterans left waiting for their claims to be dealt with because of a huge backlog.
Ministry of Defence (MoD) figures reveal 36,000 new compensation claims for those injured, disabled or bereaved through service in 2013-14 an increase of around 16% from 2010-11.
An MoD spokeswoman said: "We are committed to dealing with all claims as quickly as possible."