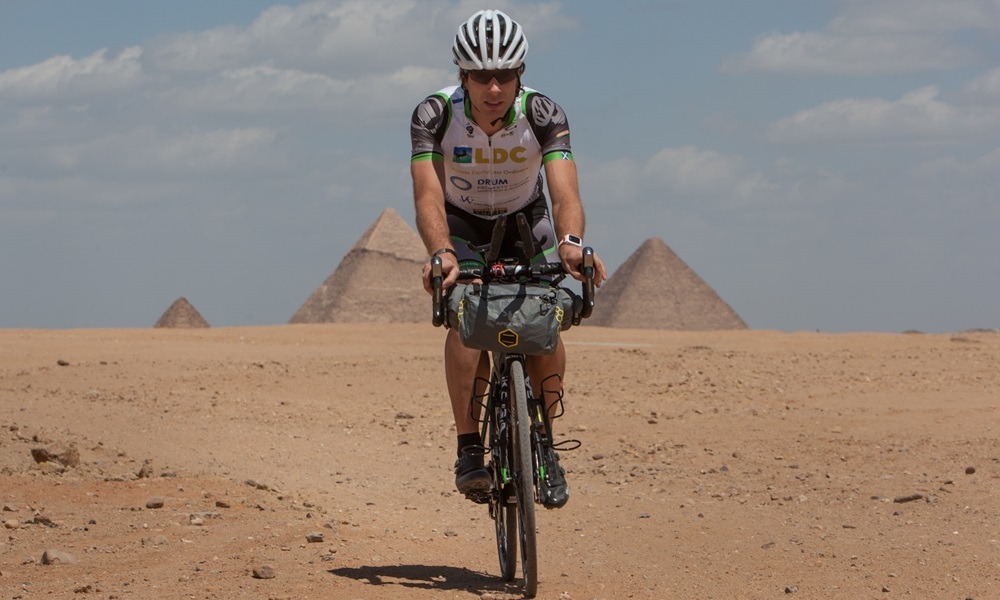 Dundee-educated artist Neil Scott was cycling to work in Perth when he was involved in an accident with a car.
The Duncan of Jordanstone College of Art & Design graduate was making his daily mile long mountain bike commute between Perth Railway Station and St John's High School, where he worked as a learning support assistant, when a car pulled out of a side street and into his path, causing him to crash.
The driver was immediately very apologetic and provided him with her name and number.
But dazed, high on adrenalin and not immediately realising he had fractured his left ankle, Neil did not manage to get her registration number.
When specialist legal firm Cycle Law Scotland helped him track her down, she refused to give insurance details and maintained that the cyclist had launched himself off a pavement and into her path.
But after the matter was referred to the police, Neil was eventually able to secure £4,200 for his suffering, wage loss, bike damage, and loss of use of his bike.
Now working as an artist and postman in Edinburgh, Neil, 29, told The Courier he was pleased with the outcome of the 2013 accident.
But what surprised him most was that under the current system of civil law, the onus was on him as the vulnerable injured road user to prove the case against the motorist's insurance company.
He is now backing a campaign for presumed liability, whereby it would be for the more powerful car user to prove that the vulnerable road user is liable for any damage or injury.
"I wasn't really aware of the law on this until I had the accident," Neil said. "I was always careful on the roads. Ironically I had a near miss on the Perth Road in Dundee just a couple of weeks before this happened. But it's really made me think about safety on the roads and what would happen in the event of an accident."
According to the Scottish campaign Road Share, support to introduce presumed liability into civil law is broadening across the UK, and a change in the law would rectify a system that is out of date and inherently unjust.
With nearly 10,000 signatures to its online petition so far, Road Share has seen its campaign backed by cyclist and British Cycling policy advisor Chris Boardman and the UK transport minister Robert Goodwill.
Support has also come from the powerful London Cycling Campaign, Road Danger Reduction Forum and Stop Killing Cyclists.
In Ireland, both the Dublin Cycling Campaign and Irish Cycling Advocacy Group have come on board. While Phil Gawne, the Minister of Infrastructure for the Isle of Man Government announced recently that presumed liability will be brought forward alongside a variety of road safety measures in a Bill later this year.
Yet the Scottish Government, which promotes increased cycling for green and health reasons, does not believe the case for presumed liability has been made.
A Transport Scotland spokeswoman said: "Safety for all road users is a key priority for the Scottish Government and every road death is one too many. That is why our review of the Road Safety Framework to 2020 has identified vulnerable road users, such as cyclists and pedestrians, as a key priority.
"We are also committed to ensuring fair access to justice for anyone who is unfortunate enough to have an accident. There is, however, a lack of robust evidence to demonstrate a clear association between presumed liability and higher levels of safe walking and cycling. Presumed liability would create an exception to the general principles of the law and we do not believe that the case for this exception has been made."
Record breaking round-the-world cyclist and recently appointed Dundee University rector Mark Beaumont is a supporter of the Road Share campaign. He believes the Scottish Government needs to think again. He told The Courier: "I have witnessed first-hand the great cycling cultures of other European nations and am aware of the role that a stricter legislation in civil law has played in countries like the Netherlands, Denmark, Germany, and France to help bring about safer roads.
"Having learned more about the Road Share campaign's calls for a system of presumed liability, I firmly believe that their proposals would go a long way to helping improve the safety and cycling culture in Scotland. This is an area the Scottish Government should be taking a closer look at if it is truly committed to safeguarding cyclists and other vulnerable road users whilst at the same time getting more Scots on their bikes.
"I believe by introducing presumed liability to our civil legal system, and therefore bringing Scotland into line with most of Europe, it would ensure injured cyclists and pedestrians are compensated quickly and fairly. This is vital if we are to encourage more Scots to see their world by bike and encourage a change of mind-set in drivers. I sincerely hope that the Scottish Government seizes this opportunity."
In England the campaign for change has been growing following the death of 13-year-old Hope Fennell who died in November 2011 when she was hit by a HGV lorry on a busy suburban high street in Birmingham.
But with pressure rising, Brenda Mitchell, the founder of Road Share now fears Scotland, where the campaign started, could be left behind.
She said: "When it comes to road traffic collisions where a cyclist is hit by a car, or indeed where a pedestrian is knocked over by a cyclist, we have an archaic system where the odds are frequently stacked against the vulnerable and receiving compensation quickly and fairly in many cases is impossible without resort to litigation which adds to the distress of those who have been injured through no fault of their own.
"We think it is right for Scotland to lead the rest of the UK by changing its civil law to respect and protect the vulnerable in society by moving to a system of presuming liability to support cyclists and pedestrians injured in road traffic collisions. However, what started as a Scottish campaign has been taken up across the British Isles and the fear is that Scotland could be overtaken in terms of policy leadership."