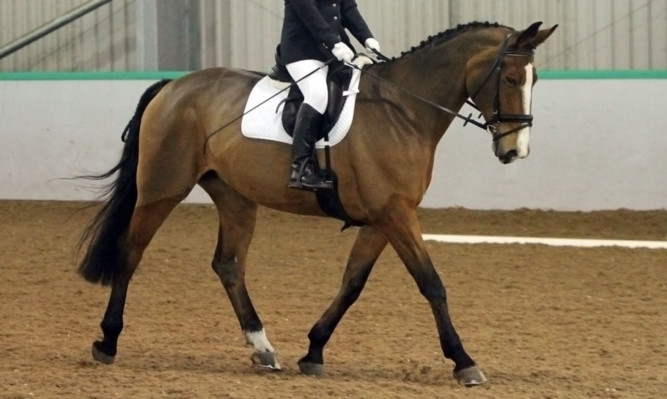 Fife Riding Club began its half century celebrations in style with the first of its 2015 outdoor dressage competitions.
Blessed with a "lovely spring day", a turnout of around 40 horse and rider combinations supported the event, which boasted qualifiers for both the Scottish Veteran and the Rainbow Room International championships.
The first class of the day the intro A was scheduled to encourage novice riders, young horses and new combinations. Clinching a convincing win from their first attempt at a dressage test was Elsie Pollock Smith and her new horse, Krystal. Elsie hopes to develop her partnership with the coloured Thoroughbred throughout the year.
So large was the prelim entry, the competitions run over both the Prelim 1 and Prelim 13 arrangements had to be split into two sections.
Achieving the highest winning score of the day from the Prelim 1 and also progressing to top the Prelim 13 entry for section A, was Fife rider Debby Fairfull with Phoenix Longreach. This imported 13-year-old Australian Warmblood, which came to the UK several years ago, having also spent time in Germany, has been on loan with Debby since September.
The win from the later section of the Prelim 1 test went home with Samantha Dupen and her 14-year-old Irish Sports Horse, Brec. Sam has owned Brec for almost a year and hopes to be able to compete him in riding club dressage and showjumping
this year, as well as contesting a few local showing competitions.
Meanwhile, Joyce Simpson prevailed to take the Section B win from the Prelim 13. She topped the leaderboard with driving horse, Willem, which she competes regularly at dressage to keep him fine tuned for the outdoor driving season, before taking a second place from the Novice 27.
Here, they were trumped to the pole position by Anne Lindsay and her cob Mister Benn, which also topped the Novice 34 competition.
The final class of the day ridden to the Elementary 49 arrangement proved tight competition.
On this occasion, BD regular Liz Campbell and Urabian triumphed by 0.5 of a mark to take the red rosette.
Urabian, a 17.1hh Belgian warmblood mare, began doing dressage three years ago having hunted and show jumped during her former career.
"She can be challenging because of her size but I've had a lot of help from trainer Helen Brown," explained Liz.
"She has given us lots of tools in the toolkit to cope with her large, scopey movement."
Liz plans to spend the year ahead 'fine tuning' their dressage and will also play a part of the Fife Fillies squad contesting the Team Quest competition.
equestrian@thecourier.co.uk Results Intro A: 1 Elsie Pollock Smith, Krystal, 66.96; 2 Fiona Soutar, Whitton, 65; 3 Anne Henderson, Canchelara Z, 63.7. Prelim 1 section A: 1 Debby Fairfull, Phoenix, 70.79; 2 Diane Dryburgh, Leut, 65; 3 Tricia Garnett, Polly, 64.21. Prelim 1 section B: 1 Sam Dupen, Brec, 68.16; 2 Katie Robinson, United Bruno, 67.63; 3 Deborah Deveney, Guinness, 66.05. Prelim 13 section A: 1 Debby Fairfull, Phoenix, 66.46; 2 Dawn Wallace, Poppy, 65.83; 3 Katie Robinson, United Bruno, 64.17. Prelim 13 section B: 1 Joyce Simpson, Willem, 69.17; 2 Rhona Beda, Puddledub Tempterres, 67.71; 3 Joyce Simpson, Delboy, 64.79. Novice 27: 1 Anne Lindsay, Mister Benn, 66.96; 2 Joyce Simpson, Willem, 66.79; 3 Mandy Moore, Tallulah Belle, 66.07. Novice 34: 1 Anne Lindsay, Mister Benn, 67.08; 2 Liz Campbell, Urabian, 63.96; 3 Joy Clark, Penhalogen Stardust, 63.54. Elementary 49: 1 Liz Campbell, Urabian, 65; 2 Helen Sinclair, Odin, 64.83.