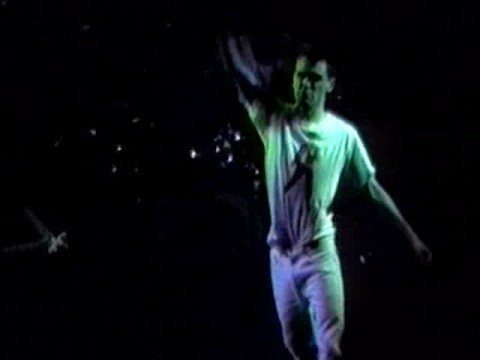 Can you chart the social history of a nation by the music people listen to? Jack McKeown delves into the people's songs.
Music takes us back in time. Particular songs have powerful associations of times, places and events in our lives. When we hear them we are transported back; to a summer when that song was everywhere; to our school days; even to a time of loss or sadness.
Is it possible for an entire nation to relive its past through music? Broadcaster and writer Stuart Maconie thinks so.
He has put together a documentary, book, and touring show called The People's Songs: the Story of Modern Britain in 50 Records.
He explains how the project came about: "Bob Shennan, the controller of Radio 2, wanted me to make a series about the history of popular music.
"Getting a load of pundits together is the well-trodden way of doing these things but I didn't want to just have a bunch of beard-stroking rock critics pontificating about their favourite records.
"I wanted to do something different so I came back and suggested a social history of modern Britain told through pop records from Vera Lynn to Dizzee Rascal.
"This is about the records that the people were listening to. So you can argue that Y Viva Espana tells you as much about the 1970s as Nick Drake does."
"It's about what music affected people up and down Britain. So we have women in their 30s talking about the impact the Spice Girls had during their formative years."
The People's Songs starts with Vera Lynn singing We'll Meet Again.
"Music was very much part of the home front effort," Stuart says. "Then we move into the 1950s and we've got My Boy Lollipop, which deals with Afro-Caribbean migration.
"Then The Beatles arrive and after that we move into Punk and then on to the 1980s."
The People's Songs deal only with British music so there are no songs by Elvis Presley or anything coming out of Motown.
Out of the 50 songs, 49 of them were chosen by Stuart himself, and the 50th by a vote. "Me and my producers sat in a pub owned by Paul Heaton from the Beautiful South and came up with the topics and songs we wanted.
"Some picked themselves. God Save the Queen by the Sex Pistols was an obvious one, and you have to have something by The Beatles.
"For the last one the one people voted on we came up with the theme of the British Christmas experience and, of course, Merry Xmas Everybody by Slade romped home."
As a keen fell walker, one theme Stuart wanted included was the British countryside.
"That was tricky for a while because there was so much to choose from. But eventually we decided on Solsbury Hill by Peter Gabriel.
"Peter wrote that song after he'd left Genesis because he was struggling with the fame and hectic tour schedule.
"He took a walk to the top of the hill beside his house Solsbury Hill to get his head together and work out how to get away from it all.
"Then he realised that being out there, communing with nature, was what he needed to do.
"The disco and dance and people going out on a Saturday night theme is covered by We Should Be Dancing by the Bee Gees.
"We've got the folk scene, stuff about the goths, and heavy rockers.
"We wanted different records to look at key points in British post-war history. So we've got Shipbuilding by Elvis Costello and Clive Langer, which is all about the Falklands War.
"Then there's Brimful of Asha by Cornershop, which looks at the British Asian experience.
"And Je t'aime covers the sex scandals and sexual intrigue of the age."
Politics, naturally, features heavily in the list. "We decided on Gold by Spandau Ballet for the Thatcher years.
"To me, no other song captures the Thatcherite era quite as much. I understand Gary Kemp was actually a Labour supporter at the time but I think Gold sums up the excess and greed-is-good ethos that Thatcher represented.
"The counterpart song to that, which sums up the North of England and Scottish response to Thatcher, is How Soon is Now by The Smiths."
When it comes to the other big, divisive politician of the modern era, Stuart says there was only ever one choice.
"For me, Things Can Only Get Better by D:Ream sums up the whole Blairite New Labour era. Of course, Tony Blair changed the face of British politics and not in a good way, as far as I'm concerned.
"It's not a party political thing about New Labour or the Tories. It's that since Blair every party leader and most MPs have been privately educated white men who've spent their entire careers in politics and have no experience of anything else.
"Before Blair Thatcher, Heath, Callaghan politicians did other things before they became MPs."
Stuart, 52, is currently in Scotland touring his show, and will be at the Gardyne Theatre in Dundee tonight.
The format will see Stuart talking about his choice of records and playing snippets from them.
Some of the records in The People's Songs touch on Scotland and Scottishness. "You've got Pentangle, which had quite a lot of Scottish members in it, and there's Smalltown Boy by Bronski Beat, which is about a young man going to London from Scotland to find himself.
"The other thing I'm prepared for is the independence question. If anyone asks that I'm going to tell them that I'm English so it's none of my business! It's up to Scotland to decide."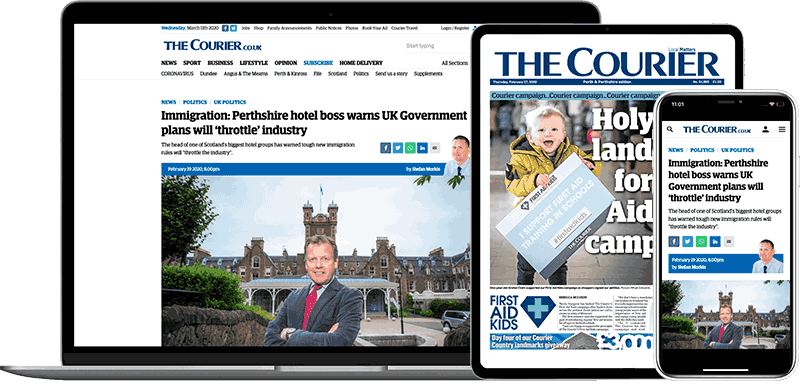 Help support quality local journalism … become a digital subscriber to The Courier
For as little as £5.99 a month you can access all of our content, including Premium articles.
Subscribe