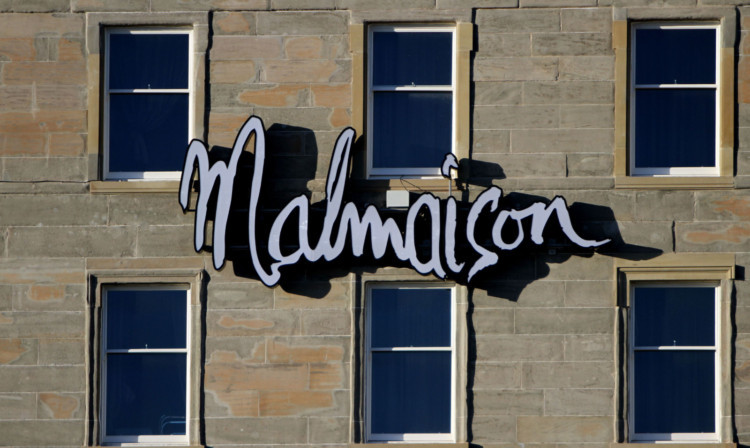 Staff at Dundee's new Malmaison hotel have been criticised by irate guests who turned up at the hotel on Sunday only to find that it was not opening as planned.
The confusion continued last night over when the hotel would be able to open. The four-star boutique was due to commence service this Sunday but was hit with severe flooding on Thursday.
On Monday staff could be seen using mops in the foyer of the building.
The flooding, apparently caused by an electrical fault, affected several rooms, the brasserie and reception areas, Malmaison managers said.
Meanwhile, guests who had booked to stay in the hotel on Sunday night were left disgruntled, taking to the hotel's Facebook site to express their frustration.
Bruce Kettles wrote: "My wife and I have arrived at (the Malmaison Dundee), on its grand opening, and my wife's birthday, to find it in a state of disrepair and no one has contacted either of us about the hotel not being open.
"We've now to find alternative accommodation at short notice and had taken time off work to celebrate the new hotel and birthday in one.
"I phoned 'customer service' and was asked to leave a message!? Concerned to say the least!
"Ruined weekend 1 Malmaison 0," he added.
The hotel which is said to have taken many bookings for Christmas has since offered the couple a refund.
It is understood that the hotel emailed guests to inform them that their bookings could not be honoured just 24 hours before they were due to open. However, some guests did not see the message in time.
Other cancelled bookings included a 170-seat dinner for the 120th anniversary of Dundee FC on Saturday. Organisers of the event said that they had to "move heaven and earth" to find an alternative venue at such short notice.
In a statement, the hotel explained that it was in discussions with the developer about "a programme of works" and that it hoped to announce a new opening date at midday, six days after the initial flooding.
Hotel general manager Claire Livingston said: "Unfortunately, due to a severe flood last week the hotel has suffered damage to several rooms, the brasserie and reception areas.
"This has meant the developer has been unable to turn the property over to Malmaison.
"A programme of works is being finalised and agreed with the developer with an opening date which will be communicated at 12.00 hours tomorrow."