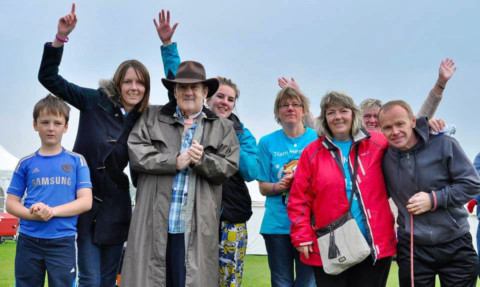 The daughter of an Angus football fan turned author who succumbed to cancer has called on locals to take part in this year's Relay for Life.
Arbroath man Billy "Mad Dog" McLeod wrote his memoirs based on exploits with the Scotland football team's travelling support and a career in the oil industry.
Louise Lawson entered a Mad Dog's Minions team into last year's event inspired by her father, who was undergoing treatment for cancer at the time.
Mr McLeod died in November, aged 57.
Now Louise is urging local people to follow her lead and enter a team for what she describes as "a huge adopted family".
Louise, a Dundee and Angus College accountancy student, said: "Everyone knows someone who has been touched by cancer.
"Taking part in Relay for Life is a positive way to be part of the local community and help make a real difference.
"At the beginning of Relay 2014 my team consisted of myself, my sister, my auntie and my dad's cousin.
"By the end I had nine new team members that I had never met before and are now very good friends.
"People were always asking after my dad and I was asking how they, or their friend or relative, were.
"When my dad passed away I was amazed at the number of people from the relay who sent me messages of support.
"It was a great comfort to know that so many people cared.
"Once you join Relay for Life you become part of what I can only describe as a huge adopted family."
Local chairman Ian Angus said "every single person" can play a part in this year's event, which takes place on September 19.
He said: "Relay for Life bonds people together in the belief that united we are stronger than cancer and it is a fantastic way to enjoy fundraising for such an important cause."
Anyone wishing to take part in this year's Relay for Life in Arbroath, in association with Arbroath United Cricket Club and the Town House Hotel, can register at the Cancer Research website.Contact Mr Angus on 07928 521030, email team chairman John Crompton at bigjc17@hotmail.com or any committee member for information.