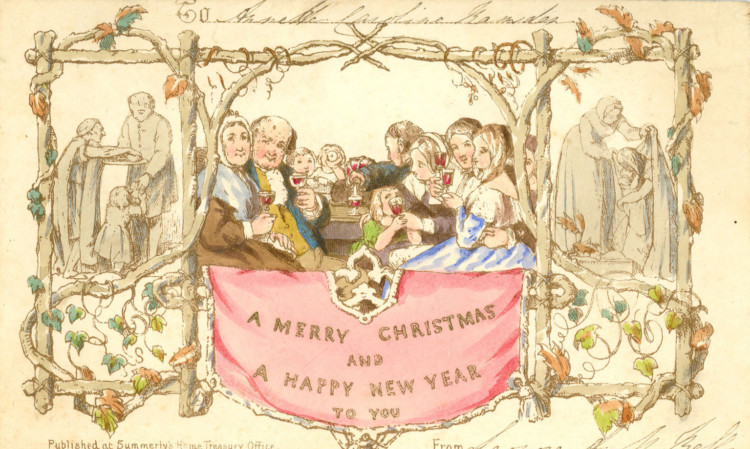 2013 is the 170th anniversary of the first Christmas card ever sent. But as Christmas e-cards increase in popularity in this digital age, Caroline Lindsay asks: does this mean the traditional Christmas card is dying out?
In 1843 the first Christmas card was invented by civil servant Sir Henry Cole, who worked for the Royal Mail and, three years earlier, played a key role in helping introduce the Penny Post service. Only 1,000 of these cards were printed and sold for a shilling each this meant that they were a luxury item and were not within the means of the working class.
Nevertheless, they started a trend that has endured ever since. Hearteningly, recent research by the Royal Mail revealed that 72% of us still prefer to give or receive a traditional card to any kind of electronic festive greeting or social media message. More than a quarter of us ignore or delete e-cards or think they're silly or too generic.
Last month The Bishop of Hertford, the Rt Rev Paul Bayes, launched a campaign by leading ethical retailer Traidcraft, challenging the e-card culture which has seen increasing numbers of people sending Christmas greetings through social media sites such as Facebook and Twitter.
Launching the campaign, he said; "I love technology and social media and I use it a lot but it can be a bit impersonal and, frankly, sometimes a bit cold. It's so important to remember that human connection and reaching out to one another is a basic human need.
"That's why I think at, Christmas nowadays, something has been lost by the trend to either send no cards or e-cards or a group email. Sometimes traditional is good."
And the cash tills are still ringing as people queue to buy those cards. David Howard of Paperchase commented: "People are still buying cards in their droves, judging by our store", while Debenhams's Ed Watson said: "We've seen a 36% increase in Christmas card sales this year compared to 2012 with charity cards proving most popular. They represent a tradition which an e-card just can't compete with the joy of receiving a card in the post can't be beaten by an electronic version."
The Greeting Card Association said that after dipping in the last few years, there has been an increase in the sales of single cards with people buying more cards last Christmas than the previous year.
In 2012 the volume of single cards sold rose from 97.5m to 101.4m.
Sharon Little, CEO of the Greeting Card Association, said: "Christmas cards epitomise all that Christmas represents to us in the UK. They are all about keeping in touch, keeping the emotional connection, reaching out to spread caring and goodwill at Christmas time. They are a physical manifestation of someone's regard that people keep and display.
"People value being sent real Christmas cards and being surrounded by these tokens of caring as part of their Christmas decorations in the home. You can't put an e-card on your mantelpiece!"
However, research from leading communication experts, Pitney Bowes, has shown that businesses appear to be shying away from traditional Christmas cards this year for fear of offending personal beliefs, with nearly a third admitting that they were concerned about appearing to be insensitive. However, the overriding opinion was that electronic Christmas cards are considered to be impersonal.
Charities benefit enormously from the sale of traditional Christmas cards. For example, sales of seasonal cards from PDSA's Christmas catalogue have already raised enough to provide emergency stabilising fluids for over 1,000 pets.
Stephen Agar, Royal Mail, said: "From the very first cards that we helped send back in 1873 to the millions of Christmas cards we handle each year, we are proud to still be delivering season's greetings across the UK 170 years later."
Dr Jason Turner from Dundee Business School, University of Abertay, predicts that while the sale of traditional Christmas cards may decline, things may well come full circle. "The younger generation find it so much easier to send a text or to Skype, or use companies like Moonpig and Funky Pigeon that offer personalised digital cards. Perhaps because of environmental reasons, or maybe as a result of the cost of postage compared to the decreased cost of text and broadband, many people will bypass traditional Christmas cards this year. You can only communicate so much in a card or a letter whereas technology is instant and unlimited. But a group of students recently told me that they craved a digital detox so it could be that the younger generation will come back to the traditional ways of communicating.
"Personally, I hope traditional cards don't die out. I was brought up with the whole process of sending and receiving Christmas cards, seeing them displayed on the sideboard. Don't get me wrong, I think technology is a wonderful thing but there's something special and meaningful about getting a card in the post."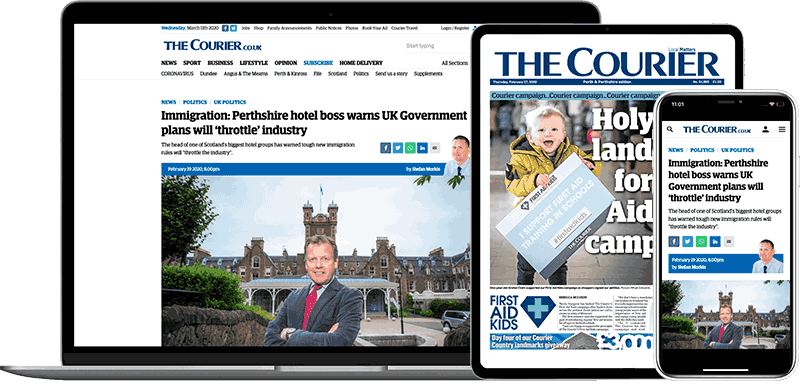 Help support quality local journalism … become a digital subscriber to The Courier
For as little as £5.99 a month you can access all of our content, including Premium articles.
Subscribe