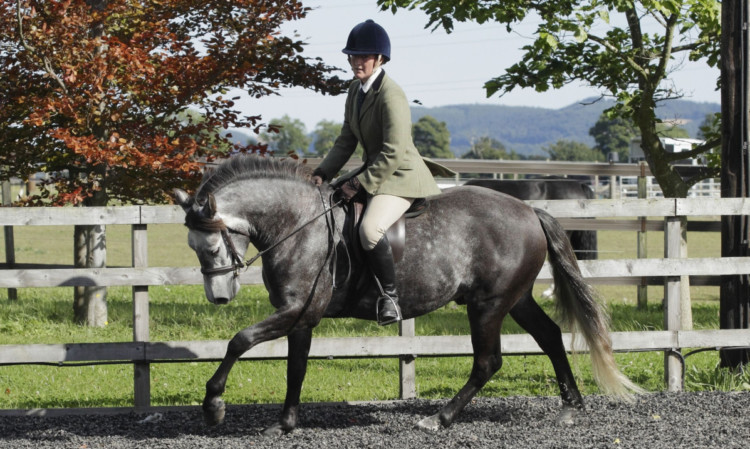 Tayside sisters Julie Speirs and Mandy Hodnett dominated the score boards at the first competition of Strathmore and District's winter dressage league.
The contest, judged by Marie Graham and Adrienne Taylor, took place at the Angus RDA's facilities at South Bottymyre, Inverarity.
Happy in the knowledge that "good things come in small packages", Julie took a double of wins across both the prelim classes for the novice league with one of two Irish ponies that she purchased at the Cavan auction sales earlier this year.
Monty, a registered five-year-old Connemara, arrived in Dundee alongside his partner in crime Dennis back in March.
"He is a really sweet pony," epxlained Julie, who works as a site engineer for Muirfield Contracts.
She has busied herself throughout the summer breaking both Monty and Dennis and getting them out to riding club training, competing at working hunters, showjumping and 'the odd bit of dressage'.
Julie said she plans to add to the small amount of ridden Mountain and Moorland classes she has also done this year, going forwards, and "maybe even try a little eventing!"
Monty, who's Sunday name is Mount Carmel Prince, was sired by Glove's Bobby.
He was bred was out of South Down's Bridie, a daughter of Ballinavilla Prince.
Both Monty and Dennis are liveried at Mandy's yard at Balmydown Farm, outside Strathmartine, alongside her winner of both the open Novice 30 and Elementary 50 classes, Millie.
Millie, an 11-year-old grey-and-white mare has been on the back burner, competitively, over recent months to allow Mandy to focus on getting her daughter Kara out to more pony club activities with her pony.
"Kara has been getting out to more shows than me," admitted Mandy, who works at Timmergreens Primary, in Arbroath, but who also runs the livery yard at Balmydown alongside her grain and straw merchant husband Alastair.
They bought Irish-bred Millie back when she was a yearling.
They have previously had considerable success in the show ring in coloured, hunter and working hunter classes, and also enjoy competing in showjumping and cross country.
This season, Mandy and Millie have, however, managed to make in-roads into the step up to Medium-level dressage competition.
"I attempted my first medium the week this competition, so I'm looking forward to doing more of those.
"Millie went really well at Inverarity, she felt quite relaxed," added Mandy, who hopes to try her hand at some affiliated BD competitions next year.
Before "slowly winding down for the winter", club committee member Lauren Webster notched up an intermediate win in the prelim 12 class onboard her gelding Stumpy.
"He will get his month and a bit holiday over December and part of January now," explained Lauren, who has been concentrating on training lessons of late, through the club, with Shelagh and Shonagh Steven.
Lauren said: "I think Stumpy has found a new gear recently – he is getting stronger and more balanced as he grows up.
"He was a little spooky at inverarity, but he was impulsive and obedient which is where I think he picked up his marks," she added.
Having only reached one British Eventing competition this season at Hopetoun, where they finished fourth and double clear, Lauren hoped to get out to more Scottish events in 2014.
The remaining win for the intermediate league was taken by Ali Lothian and her mare, Madge.
Results
Prelim 4 (novice): 1 Julie Speirs, Monty, 65.45; 2 Ali Easson, Jazz, 64.54; 3 Susan Thow, Rowan, 62.73.
Prelim 12 (novice): 1 Julie Speirs, Monty, 63.6; 2 Ali Easson, Jazz, 63.2; 3 Judith Triebs, Ziggy, 61.2.
Prelim 12 (intermediate): 1 Lauren Webster, Stumpy, 64.4; 2 Kate Clark, Fergus, 63.61; 3 Eve Beveridge, Winnie, 63.2.
Novice 30 (intermediate): 1 Ali Lothian, Madge, 66.54; 2 Loretta Cruickshank, Indy, 65.76; 3 Lauren Webster, Stumpy, 63.08.
Novice 30 (open): 1 Mandy Hodnett, Millie, 66.54; 2 Donna Webster, Phoenix, 65.38; 3 Jenni Eno, Kali, 63.08.
Elementary 50 (open): 1 Mandy Hodnett, Millie, 61.43; 2 Jenni Eno, Kali, 56; 3 Donna Webster, Phoenix, 55.