The clock is ticking in the countdown to the 2014 Cateran Yomp. Gayle Ritchie meets three inspirational women who will be taking on the epic 54-mile hike.
In just a few months, intrepid "yompers" will be walking, or in some cases, running, more than two marathons across the Perthshire and Angus glens.
The Cateran Yomp takes place over June 28-29 and will see participants doing whatever they can to complete the fearsome 54-mile trail in a bid to raise money for charity.
Teams of three to six people start in Blairgowrie and hike a stunning circular route which takes them through Kirkmichael, the Spittal of Glenshee and Kirkton of Glenisla. If the 54-mile Gold route seems too daunting, there's also a 22-mile Bronze route or 36.5-mile Silver alternative.
It's a chance to experience some of Courier country's most breathtaking scenery while raising vital funds to support ABF The Soldiers' Charity and The Alliance Trust Staff Foundation.
Polly Murray, the first Scottish woman to summit Everest, in May 2000, is taking on this year's challenge.
Having completed it at a leisurely pace in 2013 (in just under 25 hours), the 40-year-old, from Kirkmichael, is hoping to do it a little bit quicker this year.
https://youtube.com/watch?v=zn6LaO2swSA%3Frel%3D0
"I'd just had my second baby and was feeling a bit fragile," laughs Polly. "I think we spent too long getting massages and lovely food at the stops a few hours in some places. It was a really fun event and it never became tedious."
Polly's team, Dixies Midnight Yompers, comprised five women, with two personal trainers to boot. Despite their fitness levels, Polly says their bodies felt like they had been "through the wars". One girl, who wore heavy boots, had such painful blisters she ended up in bare feet.
"I wore a light, trainer-type shoe with a high ankle, so my feet were okay," says Polly. "I changed my socks four times, which was a luxury given I'm often on expeditions which involve wearing the same two pairs for three months!"
If Polly could offer Yompers one piece of advice it would be to wear the right kit. "It makes the world of difference and whether you're doing the Bronze, Silver or Gold, it's one hell of a hoof."
The Fifie Wifies were the first ladies team to complete last year's Yomp, with an impressive time of 14 hours 39 minutes and 30 seconds.
The team of three superfit women Liz Killean, 47, Louise Burt, 49, and Carrie Fox, 46 walked, jogged and ran their way to their finishing line, raising £1822 for serving and former soldiers and their families.
Liz, from Cupar, says while it was tough, it was one of the most exhilarating experiences ever.
"Going fast is not the be all and end all," she says. "It's a humongous physical challenge but no matter how long you take, it's hugely enjoyable. You get this voice in your head which says 'Why are you doing this?', but you've got to push on."
The Fifie Wifies trained hard and stuck to a rule that they would walk any inclines and jog or run where possible. The fact they are all keen hill and long-distance runners (they run up the Lomond hills in the dark every Tuesday night) and compete in marathons also helped.
They also believe in sticking together as a team.
"At times you feel grateful to your team for pulling you along when you're struggling and at other times you feel frustrated," says Liz. "We all have different strengths."
Signe Thom, 42, from Blairgowrie, walked the Bronze route with a group of three burly men. Their team was called Beauty and the Beasts!
"It was a great challenge and fun to get out into such a beautiful part of the world," says Signe. "We completed the route in just over eight hours and it was me who kept the guys going. Anyone with a decent level of fitness could do the Bronze but it's wise to train beforehand."
Joining this year's participants will also be former rugby union star Rob Wainwright. The 48-year-old from Perth represented Scotland 37 times and captained the national side on 16 occasions. He was on a ferry from Oban with a lady from (Yomp sponsors) the Alliance Trust and found himself signed up as ambassador for the Yomp.
"These things are really difficult but the key is to keep within yourself," he says. "The human body is designed to be capable of some quite tremendous feats of endurance."
Over the last three years the Cateran Yomp has raised more than £1 million for ABF The Soldiers' Charity and the Alliance Trust Staff Foundation, which supports local projects working with disadvantaged youths. The former is particularly close to Rob's heart he is a doctor by profession and spent 12 years in the Royal Army Medical Corps, retiring with the rank of major in 1999.
"ABF The Soldiers' Charity carries out invaluable work," he says. "And it is needed more today than at any time over the last 20 years. Conflicts in the Middle East over the past decade, and particularly Afghanistan, have left a lot of soldiers and their families in need of support."How to enterEntry is £99 per person or £65 for serving military and veterans which includes food, drink, camping, massage and some surprises on the route. If you sign up by February 28, it's just £80.
The Yomp raisesmoney to supportsoldiers and theirfamilies. Entrantsneed to committo raising £400 insponsorship.
Visit www.soldierscharity.org/events/cateran-yomp/ orwww.facebook.com/soldierscharity.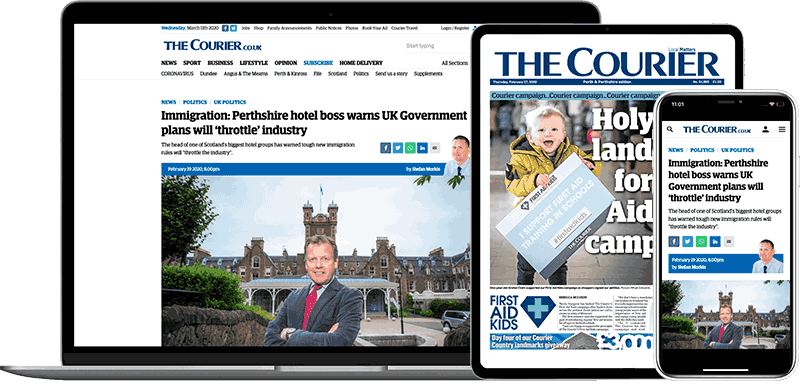 Help support quality local journalism … become a digital subscriber to The Courier
For as little as £5.99 a month you can access all of our content, including Premium articles.
Subscribe