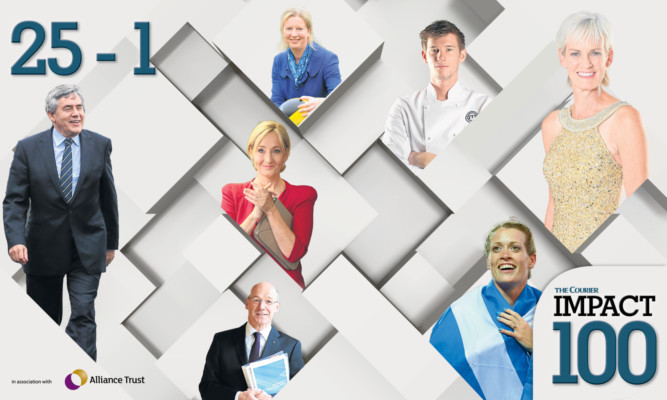 The Courier Impact 100 countdown climaxes with the announcement of 2014's winner.
25. Paul Grant/Martin Grant (New since last year)Their Year: The Grants are the father and son chairman and MD of Mackays of Arbroath, an award-winning, preserve making family firm that prides itself on its authentic approach, sourcing berries locally and keeping up the tradition of historic Dundee marmalade production. The firm has been winner of two Queen's Awards for Enterprise and Paul Grant the recipient of an outstanding achievement accolade a the Scottish Food and Drink Excellence Awards. This year, they have been featured in Great British Food magazine and a jar of Dundee orange marmalade was included in Tay FM's time capsule, celebrating the best of the area. Martin was a judge at this year's World Jampionships and the firm was nominated in three categories in the Courier Business Awards, carrying off the Business of the Year trophy.
Panel View: Local, authentic, traditional but with a modern approach to business and an international reach, Mackays is an example of a business with its feet firmly on the ground, with a family approach and an eye for quality. World-wide appeal has taken its wares from Europe to Asia and even Disneyland!24. Ryan Gauld (new)His Year: The Dundee United player made headlines throughout Europe this year with his transfer over the summer to Portuguese legends Sporting Lisbon for over £2 million. The normal route for Scots footballers is to move to the Old Firm or south to the English leagues. Gauld has broken the mould and Sporting Lisbon are clearly expecting great things – the club has put a 60 million Euro valuation on him. He was called up to the Scotland squad in October despite not having started a first team game for Lisbon. His nickname at United was Mini Messi – he is tiny in stature but huge in talent.
Panel View: Ryan Gauld has pushed out the barriers for Scottish footballers in Europe and has paved the way for others to follow if they have the talent. He has shown it can happen and that a small country with a great footballing tradition but an inconsistent record of international success can still produce greatness and begin to forge links with top class club teams.23. Ninewells Hospital/Archie campaign (new)His Year: Ninewells celebrates its 40th birthday this year as one of the Tayside's biggest employers, one of Europe's leading teaching hospitals and with a long list of pioneering clinical and research achievements to its credit. It's recognised as a centre of excellence and a trailblazer, along with the University of Dundee, in innovation and forward-looking, often revolutionary medical developments. This year, the new official charity of the Dundee-based hospital was launched, backed by The Courier – the ARCHIE Foundation, aiming to raise £2 million for a new, world-class theatre suite inside Tayside Children's Hospital.
Panel View: Everyone knows someone who has been treated at Ninewells Hospital or who has benefited from the expertise and care that works alongside the highest standards of academic and practical research with which the hospital, the university and the name of Dundee have become synonymous. These are now places where top class medical personnel want to work and that offer an amazing service to the people of Tayside. The ARCHIE campaign is just the latest in a series of ground-breaking projects to improve the lives of locals. That kind of initiative and the thinking behind it impinges on all our lives, directly or indirectly and in the slogan of the campaign, will be "making the difference" to a new generation.22. Andrew Panton (new)His Year: The former pupil of Burntisland Primary and Balwearie High in Kirkcaldy directed the opening Kingdom of the Scots segment of the spectacular Commonwealth Games opening ceremony, including the kiss between actor/singer John Barrowman and another man. This was seen as a clear message to the 42 countries of the Commonwealth where it is still a crime to be gay. Andrew Panton, artistic director of musical theatre at the Royal Conservatoire of Scotland, revealed that the organisers knew from the start that the ceremony would be controversial and that the kiss was scripted. But it was not a political move, he said. There was plenty of support for the new style of "Glasgow kiss" on social media.
Panel View: The Commonwealth Games opening ceremony was seen by millions of people and showcased Scotland's humour, tolerance and cheek as well as recognisable landmarks, myths and legends. Supporters reckon it showed a different face of the nation to the world although critics complained that the games should not be used for political statements and that some of the inclusions (dancing Tunnocks teacakes, Nessie and the Forth Bridge on giant Irn Bru cans) were "cheesy." Really, it was all about seeing ourselves and how others see us, as Burns almost said.21. Jilly Tambanhabay (new)Her Year: Jilly Tambanhabay is the Perthshire woman who spoke out about her fears about the "out of control" Ebola epidemic sweeping West Africa, after it claimed the life of her adopted son. She was only days away from being reunited with 23-year-old George in Sierra Leone when she learned of his death. Haunted by what she saw and believing that Africa is on the brink of a human catastrophe that will resonate far beyond its shores, she offered scathing criticism in particular of the lack of control over the free movement of people from the heart of the crisis through to western airports. She described the health checks when she flew into Heathrow as "virtually non-existent" and also called for a crack down on corruption which is stopping vital aid being distributed.
Panel View: Jilly Tambanhabay told The Courier: "I am just very angry; I want to channel that anger into something useful." Following her intervention and that of others, the procedures at airports were tightened up. The Ebola threat remains severe and could indeed be something far more far-reaching than we currently understand. First-hand experience of the realities of the problem, like Mrs Tambanhabay's, will be invaluable in fighting it.20. Andy Murray (1)His Year: He recovered from a serious back injury at the start of the year but parted company with his coach Ivan Lendl in the spring and more recently two long term Team Murray members. His replacement of the Czech ace with former ladies' champion Amelie Mauresmo earned plaudits from some and puzzlement from others. He didn't seriously contend in any Grand Slams and slumped to No 10 in the world although at the time of writing he was back up at No 6. Late in the season, he had three tournament wins to make it into the ATC World Tour Finals in London although he suffered a serious defeat at the hands of Roger Federer and He also had two wins in the International Premier Tennis League exhibition in Manila. Off court he tweeted his support for a Yes vote in the Scottish independence referendum the night before Scotland went to the polls and revealed that he voted from around the world to keep his mum, Judy, in contention in TV's Strictly Come Dancing. He proposed to girlfriend Kim Sears in November and a wedding is planned for next year
Panel View: A chequered year for the 2013 Wimbledon champion (and Courier Impact 100 No 1). He remains hugely high profile, watchable (through our fingers) and remains in contention for top honours amongst what is probably the most impressive set of top male tennis players in the history of the game. His grit, determination and sheer hard work in getting to the ATC Finals endeared him to many, as did his participation in the Rally for Bally event to remember the late Elena Baltacha.19. Judy Murray (23)Her Year: The coach of the Federation Cup team, the female equivalent of the Davis Cup, remains the single most important woman in British tennis and despite practical setbacks, is determined to build on her record of bringing on young talent; she created the Tennis on the Road initiative, designed to take the game out to places in Scotland where tennis has rarely if ever been played. As patron of the Elena Baltacha Academy of Tennis, she led tributes to the former British No 1 after her untimely death and supported the Rally for Bally tournament in which both her sons played. Her public profile has soared due to her participation in Strictly Come Dancing as the partner of professional dancer Anton du Beke. She launched this year's Scottish Poppy Appeal.
Panel View: Judy Murray is a hugely influential figure in British and world sport but "loosening her stays" and taking part in the amazingly popular Strictly has also changed her public persona. In spite of scathing technical criticism from the judges about her stiffness and lack of ability, her willingness to laugh at herself and throw herself whole-heartedly into the process has transformed her image from nippy sweetie to national treasure.18. Dr Derek Patrick/Dr Billy Kenefick (new)Their Year: The two University of Dundee academics co-founded the Great War Dundee Commemorative Project which played a major role in bringing together many different strands to co-ordinate a city-wide approach to mark the centenary of the outbreak of the First World War. A large programme of events and activities encouraged the broadest possible public interest, uncovering forgotten stories locally and contributing to the larger national and international picture. The GWDCP received the College of Arts and Social Sciences of the University of Dundee award for its work. Drs Kenefick and Patrick took part in a BBC public event at the Caird Hall featuring actor and keen history buff Larry Lamb and, with Napier University's Professor Alistair McCleery, made up a team of academic advisers to the BBC's World War One at Home project.
Panel View: Every family has a story from its past about the First World War and the work of Billy Kenefick and Derek Patrick helped to bring those stories home, not only to those whose forebears were directly involved in the conflict, but also to a new generation who learned about the first-hand, human cost of what was supposed to be "the war to end all wars." Their work showed us that history is still our story.17. Shona Robison (10)Her Year: A very successful year for the Dundee East MSP handed the health brief in Nicola Sturgeon's recent reshuffle in her role as Minister for Commonwealth Games and Sport. The Games were a rip-roaring success, showcasing Scotland in an international setting and showing what can be achieved at a personal and national level. The question of legacy remains and Shona Robison will be at the heart of making sure that future potential athletes – and those simply wanting to take part and feel fitter – are encouraged and supported in doing just that. She also praised the importance of the very successful Ryder Cup competition and its economic benefits. She played an important, front-line role in the referendum campaign, featuring at public meetings on TV and radio panels and accompanying Brian Cox for part of his return to his Dundee roots in August. She recently highlighted the "disgraceful" level of child poverty in Dundee, second only to areas of Glasgow in Scotland. Her husband, Dundee East MP Stewart Hosie, was elected depute leader of the SNP in November.
Panel View: Shona Robison could hardly have wished for a better result for the Glasgow Commonwealth Games, with sporting achievement sitting easily alongside a happy, cheerful and welcoming outlook. It took visitors by storm and encouraged a huge number of Scottish families to go along to support their national team and cheer on the other nations, too. 2015 may not be quite so sportingly strenuous for her but with the General Election in May and the Scottish Parliament elections next year, it's likely her profile and work load will remain high.16. JK Rowling (new)Her Year: The best-selling author put her money where her mouth is and not only donated £1 million to the Better Together campaign but also spoke out strongly and in some detail about her belief in the Union. She was roundly trashed by internet trolls but stood her ground. Her first standalone adult novel, A Casual Vacancy, is currently being filmed for TV with Michael Gambon amongst the cast and Warner Bros has announced a trilogy of films based around the Harry Potter character and "magizoologist" Newt Scamander, as a kind of prequel to the Potter series. She guest-edited Woman's Hour earlier this year and introduced Nobel Peace Prize winner Malala Yusufzai to an enthusiastic audience at the Edinburgh International Book Festival. She also produced her second crime novel, The Silkworm, under the pseudonym Robert Galbraith.
Panel View: JK Rowling's statement in support of Better Together articulated her own feelings and those of others on the Unionist side clearly and with precision, bringing the spotlight to bear on what many felt, until that point, had been a lacklustre showing from the No (Thanks) campaign. Her treatment on social media turned the spotlight on this increasingly important area of modern political communication and led to widespread condemnation of such behaviour from all sides. She continues to fascinate the reading public with her tales of mystery and imagination, with millions of Harry Potter fans no doubt busily trying to work out who will play her new hero.15. Peter Dawson (61)His Year: The secretary and chief executive of the R&A presided over this year's second most interesting vote – the one to allow women to be members of the historic club. In this case, the Ayes had it, with 85% in favour of the change to admit female members for the first time in the club's 260-year history. For many, it was a triumph of good sense in the modern era. Practically, it makes little difference, although a dozen or so distinguished ladies will soon be admitted to full membership but it put a stop to a situation that was undermining the role and authority of the R&A in its running of the international game. Peter Dawson retires from his R&A post in September, when he will have presided over 17 interesting years, including playing a leading part in the return of golf to the Olympic Games for Rio 2016. He will remain president of the International Golf Federation until 2016.
Panel View: Peter Dawson is widely regarded as a man who has weathered the storms over men only clubs and female admission to the R&A with tact and good sense. In the year when sport and golf, in the shape of the Ryder Cup, put Scotland on the world map, it was a fine conclusion to a busy and very public career.14. Lorraine Kelly (9)Her Year: This year, Lorraine Kelly celebrated 30 years in front of the TV cameras on the breakfast slot sofa and was presented with a BAFTA Scotland award for her outstanding contribution to television. Early this year, she left ITV's Daybreak in order to present her eponymous show Lorraine from Monday to Friday – it is still one of the most popular morning shows on TV. She and her colleagues were forced to evacuate the building when a fire alarm went off on air a few weeks ago.
She produced a book about her beloved homeland, Lorraine Kelly's Scotland and has become the face of fashion for the over 50s. She was named Inspirational Celebrity of the Year in the Inspiration Awards for Women in October. A patron of the Association of International Cancer Research and Help for Heroes, she is also an honorary colonel of the Black Watch.
On September 19, she reported from Dundee on Good Morning Britain on the Scottish referendum result.
Panel View: The evergreen Lorraine has many strings to her bow but she keeps her feet firmly on the ground and never ceases to root for and campaign for things that matter to her, from military charities to her adopted home city of Dundee. Thirty years at the top level of popular broadcasting is a major achievement and she is one of very few celebrities known by just her first name.13. Eilidh Child (67)Her Year: The former Perth Grammar School teacher turned 400m hurdles specialist who hails from Kinross had her best ever year with four major medals – bronze at the World Indoor Championships for which she was also GB and Northern Ireland team captain, silver at the Commonwealth Games, gold at the European Championships and a maiden title win at the British Championships.
Her silver in Glasgow (she took her first four years ago in Delhi) was the undoubted highlight as she also had the added pressure of being the poster girl for Team Scotland. The Scottish 400m hurdles record holder has also been nominated as European Athlete of the Year.
Her wedding to fiance Brian Doyle is planned for next year.
Panel View: Eilidh Child did herself and Scotland proud at the Commonwealth Games and continues to show a standard of excellence and commitment that is a shining example – in gold, silver or bronze – to her team-mates and athletes coming through to join her in the national squad.12. Scott Davies (new)His Year: After reaching the semi-finals of the hugely popular MasterChef: The Professionals, Scott Davies' profile and that of the restaurant of which he is head chef, The Adamson in St Andrews, has rocketed. The influence of telly on foodies and food-lovers is obviously huge – in a recent interview Scott reckoned that The Adamson was probably handling 250-300 extra covers a week. "The show has put our name out there; all of a sudden everybody all over Britain and even abroad knows who we are!" he said. Davies became a director of The Adamson shortly after the show was broadcast and is leading the company's development strategy – a new bar next door in St Andrews and possible restaurants in Edinburgh and Glasgow.
Panel View: Scottish produce has always had a good reputation and now Scottish cooking is catching it up with chefs and restaurants making their mark in national and international listings. TV exposure adds an extra dimension to this and with success in the latter stages of as widely watched a show as MasterChef, it's no wonder that those keen on scran of the highest quality are finding their way to places outside the traditionally busy Central Belt.11. Scottie dogs (new)Their Year: The four-legged hit of the Glasgow Commonwealth Games opening ceremony, this traditional Scottish breed, known for intelligence and independence, trotted its way into the hearts of the world when, complete with wee tartan coats and bright-eyed expressions, a band of Scotties created its own winning team. Fife and Dundee Scotties were among the overnight sensations – terriers Mr Beau from Crail and Freddie from Leven joined Jinty, Jessy, Maggie and Angus (now collectively known as the Broughty Scotties) owned by Louise and Ashley Smart and Marco Caira and his fiance, Emma Graham, respectively. More than 40 pooches took centre stage, with Mr Beau and his owner Isla Reid leading athletes from Malawi and Northern Ireland while Freddie and owner Peter Duncan escorted the British Virgin islands. Both are rescue dogs.
Panel View: The surprise hit of the Games, the massed ranks of Scotties took a trick with everyone who saw them, in spite of one or two complaints that the presence of animals was disrespectful to Muslim nations and competitors. For most people, the cute factor won out and these hardy little characters were "wee stars on the night who did their country proud."10. Mikaeel Kular (new)His Year: The tragic story of little Mikaeel Kular shocked Scotland to the core. At first, when it was thought the three-year-old had gone missing or been abducted, neighbours, members of the local community near his home in Edinburgh and even complete strangers joined in a two-day search to try to find him, the result of an almost unprecedented outpouring of feeling and a huge desire to help and support the family. The news that Mikaeel had been killed by his mother, Rosdeep Adekoya and his body dumped near a family property in Kirkcaldy, sent shockwaves across the nation. She was subsequently convicted of culpable homicide and attempting to pervert the course of justice and jailed for 11 years.
Panel View: The caring face of a community and of people who had never even met little Mikaeel gave this appalling case a special poignancy. His story ended tragically and stunned those who followed the progress of the case, hoping against hope for a good outcome. The news of his death and the manner of it had a huge impact far beyond his own locality into the wider world and raised questions about how to spot potential cases like this in future.9. Professor Sir Philip Cohen (14)His Year: One of the world's most distinguished scientists and academics and a central figure in the College of Life Sciences at the University of Dundee, Professor Sir Philip Cohen received the 2014 Albert Einstein World Award of Science from the World Cultural Council. It was given in recognition of his outstanding 40-year continuing career devoted to studying and establishing the importance of protein phosphorylation in regulating almost every physiological process. The council credited the professor with "bringing true benefit and well-being to mankind" in the development of drugs and treatments with global impact. He admitted that he had no idea he had even been nominated and shared his recognition with the college, the university, the students and post-doctoral students "who have underpinned the success of my laboratory over the past 43 years." This year he also warned about the potential effects of a Yes vote in the referendum campaign on secure research funding.
Panel View: Sir Philip Cohen's stature is undeniable and this award, bearing the name of perhaps the greatest and best-known scientist of all time, is testament to his own achievements and to the context in Dundee in which these have been created.8. Professor Louise Richardson (24)Her Year: The first female principal of the University of St Andrews led the institution as it was named third best in the UK by two respected university guides. Grabbing headlines, however, was her role in the debate over two historic votes which took place on the same day. A leaked email exchange between her office and that of Alex Salmond created embarrassment for the Yes campaign, as the then First Minister was accused of attempting to force her to tone down warnings about the impact of Scottish independence.
Ahead of the Royal & Ancient Golf Club's vote to permit women members, the principal broke her long-held silence on the organisation's failure to offer her honorary membership, an automatic invitation to her male predecessors, accusing club members of taunting her about it.
Panel View: Louise Richardson is formidable operator who has overseen one of the most significant periods in the history of the University of St Andrews. Her influence and impact on the academic and day-to-day workings of the institution is huge and her profile has created, along with the story of the Duke and Duchess of Cambridge, a much greater and more serious awareness of St Andrews, both town and gown, in the wider world.7. Darren Burnett (new)His Year: The Arbroath community police officer won the World Indoor Bowls Championship at the start of the year which helped to secure his place in Team Scotland for the Glasgow Commonwealth Games. He was given the most prestigious place in the lawn bowls team, competing in the singles and won gold – Scotland's 17th of the Games defeating his Canadian rival in the process. He admitted it had been something he had been dreaming of and trying to achieve over his whole career and that it was the absolute highlight. He had to apply for special permission to play as all police leave in Scotland was cancelled during the Games!
Panel View: A gold medal is the highest accolade in the sporting world and Darren Burnett worked hard and played brilliantly to achieve his place amongst the top medal winners. He paid tribute to the support of his family, community, work and sporting colleagues and underlined the role of the Commonwealth Games in bringing people together and raising awareness of his sport and many others.6. John Swinney (17)His Year: As well as playing a leading role in the Scottish independence referendum campaign, the Perthshire North MSP and now Deputy First Minister of Scotland and Cabinet Secretary for Finance also introduced the first new Scottish tax for 300 years. Under the Scottish Government's new Land and Building Transactions Tax, a marginal tax of 2% would apply to the proportion of a transaction between £135,000 and £250,000, while a 10% rate will apply to those between £250,000 and £1 million. In his budget proposal for the year ahead, Mr Swinney stated: "As a result of the rates I have announced today, nobody will pay tax on the first £135,000 of their house purchase. 5,000 more transactions will be taken out of tax, supporting first-time buyers and those buying properties in the afforable market."
Panel View: The link between tax raising and tax spending has never been so heavily discussed and John Swinney upped the ante with his proposals for a new tax rate format linked to property. The last time a Scottish Parliament was presented with tax proposals, before the Act of Union in 1707, these were also about property. In 2014, this was made possible after new powers were devolved to Holyrood following proposals from the Calman Commission on strengthening devolution. Devo tax, rather than devo max, perhaps…5. St Johnstone FC (new)Their Year: Saints beat Dundee United 2-0 in the Scottish Cup Final. The club had never reached the final or won any national cup final before in their 130-year history. Steven Anderson and Steven McLaren scored the goals.
Perth became a ghost town on the day, with over 15,000 going to the game. The day after, thousands lined the streets to see the team come through in an open-top bus parade. The win came in manager Tommy Wright's first season in charge but secured St Johnstone a place in European football for the third successive year.
Panel View: Unprecedented in the long history of the club, this win was a landmark for St Johnstone, for Perth and for loyal fans for whom such success had indeed been a very long time coming. It gives them the chance to make a further mark in Scottish football in a very changed environment and to go on into Europe with experience of victory behind them.4. Amanda Kopel (new)Her Year: When her husband, Dundee United footballing legend Frank Kopel, developed dementia in his early 60s, Amanda Kopel discovered that his relative youth made it impossible for him to claim free personal care. Determined to change this, Amanda, from Kirriemuir, took her campaign to have this situation changed to the Scottish Parliament's Public Petitions Committee and spoke about early onset dementia and the toll it takes on sufferers and carers alike. She challenged them to spend a day in her shoes without the support that might make life that bit easier. "I am asking and begging and pleading for change," she said. "I don't feel embarrassed for that because I'm speaking up for Frankie and others who don't have a voice." Her husband sadly died in April this year but Amanda is continuing her battle via the Frank Kopel Alzheimer's Awareness Campaign and is determined that the law will be changed to help early onset sufferers.
The footballer, Jim McLean's first signing at Dundee United, was remembered at the Scottish Cup Final between United and St Johnstone this year, 40 years after he played in Dundee United's first ever Scottish Cup Final.
Panel View: Personal tragedy inspired Amanda Kopel to fight not only for her own husband's rights but for those of people across Scotland. Her tireless campaign may yet make a huge difference to the lives – and quality of life – of many dementia sufferers and their families and carers.3. David Haines (new)His Year: The news of David Haines' awful and public murder at the hands of Islamic State militants in the Middle East came after the British aid worker, from Perth, had spent the last 18 months of his life as a hostage. He had gone to Syria to work for the French relief agency, ACTED (Action for Technical Co-operation and development), to help civilians affected by wars, natural disasters and economic crises. At the time of his kidnap he had been on a mission to help bring supplies to a refugee camp close to the Turkish border.
He spent many years in the RAF before spending 16 years as an aid worker in Libya, South Sudan and the former Yugoslavia where he met his second wife, Dragana. In 2011 he became head of mission in Libya for Handicap International and was later posted to South Sudan under the auspices of another agency, the Nonviolence Peaceforce. His capture was kept secret from the world's media at the request of his family until he was shown in a video that also showed the beheading of US journalist Steven Sotloff. David Haines was killed in the same way a few weeks later.
Panel View: The horrific nature of the deaths of people like David Haines and Alan Henning brought home the nature of the Isis/Isil militants and brought vows to hunt down the perpetrators, no matter how long it takes. But attention was also focused on the work of helping others that such selfless aid workers do in places of great danger across the world. Haines' elder daughter Bethany emphasised this and how touched her father would have been by public support.2. Peter Lederer (39)His Year: The man at the helm of the preparations to make Gleneagles ready for the first Ryder Cup in Scotland for more than 40 years, Peter Lederer is a senior Scottish business leader whose efforts were rewarded this year with a hugely successful tournament, a win for European golf and a showcase second-to-none for Scotland and its long tradition of hospitality. This event and the Commonwealth Games showed that Scotland can organise, run and make a great success of truly international events , exhibiting an enviable amount of energy, hard work and imagination. The boost to the tourist industry and to the image of Scotland abroad is hard to assess accurately but coming seasons will undoubtedly see a huge increase in interest, visitor numbers and money spent in the local and national economy. As chairman of Gleneagles, this was the culmination of a long-held dream and Lederer's decision to retire in its wake shows the place in his heart and thinking of this event and its significance for Scotland. He was given a Special Recognition Award at the inaugural Scottish Golf Tourism Awards.
Panel View: Last year, we assumed that Scotland's profile would never be higher than in 2014 and in all respects we were right. International attention on what was happening here at a top class sporting and touristic level allowed us to show the rest of the world what we are made of.1. Gordon Brown (2=)His Year: The man who "saved the world" from the banking crisis is credited, at the end of 2014, with saving the Union. Former PM Gordon Brown returned from the political wilderness into the limelight in the latter stages of the referendum campaign. Altering his post 2010 focus on international work as the United Nations Special Envoy for Global Education – earlier in the year he encouraged the UK and other governments to help free the kidnapped Nigerian schoolgirls – the MP for Kirkcaldy and Cowdenbeath turned his attention to educating the Scottish public about what mattered in its present and future. He turned in inspiring, tub-thumping displays of political oratory to galvanise undecided voters towards a No vote and put backbone into Better Together. Barnstorming public appearances across the country led to a surge of personal popularity and calls for him to stand again for high political office in the wake of the No result. His decision to stand down at the next election as MP for Kirkcaldy & Cowdenbeath brought the curtain down on a political career of more than 30 years, in the words of The Courier's political editor: "on a high, rather than as a failed Prime Minister."
Panel View: Brown turned himself from Flash Gordon to Galvanic Gordon as he seized the referendum debate by the scruff of the neck and injected it with his own brand of high octane political argument but this time, with a much more human face than the Mount Rushmore-like stoniness that put the electorate off in the all-too-recent past.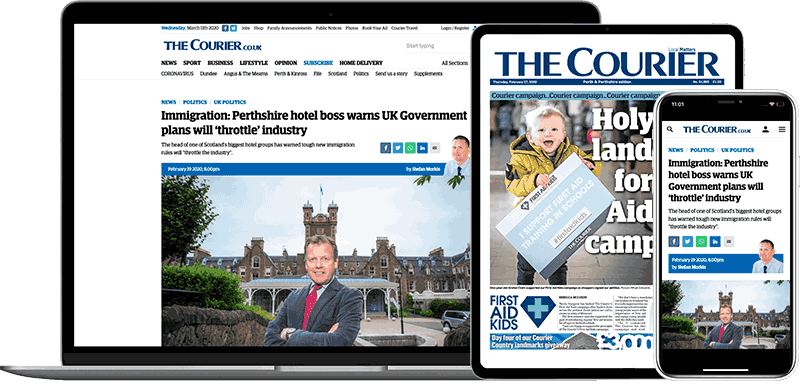 Help support quality local journalism … become a digital subscriber to The Courier
For as little as £5.99 a month you can access all of our content, including Premium articles.
Subscribe