 Readers will be left feline fine after reading our working week-starting extravaganza of news and sport.
We have the positively purr-fect tale of the moggy immortalised in bronze after capturing the hearts of locals in St Andrews.
It's just like Greyfriars Bobby. But a cat. And not in Edinburgh.
It's certainly enough to cause paws for thought although the £5000 price tag may lead to a few catty comments. Not from Jim Leishman though. Not a bit of it. The Fife provost thinks it's ruddy great (or words very much to that effect).
Find out more in Monday's Courier.
If you don't think stories about cats are claws for celebration, don't worry, we can hiss and make up over our coverage of fresh support for a commercial airport at Leuchars.
We've been speaking to top politicians and industry experts who insist failure to fully examine the potential for a major airport at the Fife base once the RAF leave would be madness gone mad (again, words to that effect).
Did Rangers feel the wraith of Raith on Sunday or was it all Rover too soon for the plucky Fifers (Raith Rovers for the avoidance of doubt)? We have all the details of a big day for Kirkcaldy fans as they took on Rangers in the Ramsden's Cup final.
Football may be a top spectacle for many, but for a staggering 40,000 (and growing) you just can't beat the "drama" of events at a Perthshire nature reserve where an old bird is sitting on a nest. People just can't get enough of Lady, the elderly osprey and are flocking (gettit?) to the Loch of the Lowes nest-cam.
We have all the latest.
If you find yourself in need of a Monday morning pick-me-up may I commend a veritable sea (page worth anyway) of blushing brides and their handsome grooms? Our weekly round-up of newly weds is enough to melt even the steeliest of hearts (this is not a guarantee and is no way legally-binding).
For all of this meaty goodness and indeed so, so much more be most certain to pick up Monday's Courier or why not try our digital edition?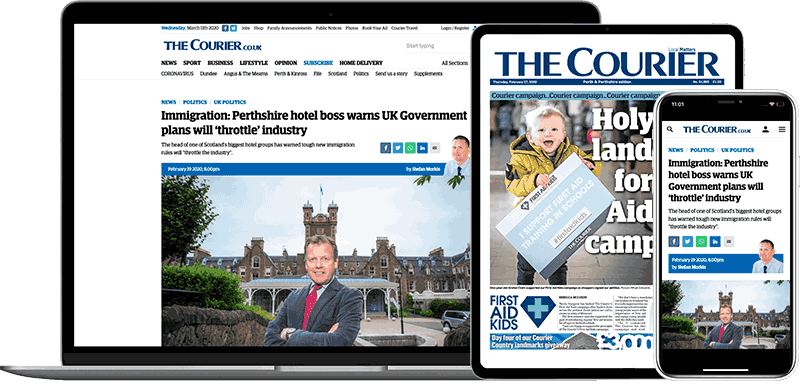 Help support quality local journalism … become a digital subscriber to The Courier
For as little as £5.99 a month you can access all of our content, including Premium articles.
Subscribe