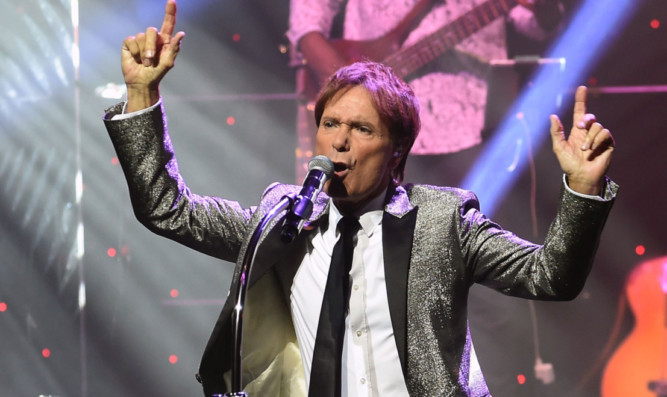 It has the notoriety of being the song that was banned from Costa Coffee's 1,600 UK outlets in 2013, after customers voted it the most despised Christmas song in Britain.
With lyrics including "Christmas is love, Christmas is peace/ a time for hating and fighting to cease", it pipped Blue Christmas by Shakin' Stevens (1985) in a poll of 3,000 latte drinkers.
But in a remarkable turn-around in fortunes, Cliff Richard's 1988 Christmas number one Mistletoe and Wine has now been voted Scotland's favourite festive tune.
The research by vouchercloud.com also revealed that half of 2,812 Britons surveyed feel that retailers begin playing Christmas music too early, with two fifths of respondents feeling that Christmas songs should be put on hold until December.
Initially, all respondents were asked 'How do you feel about retailers playing Christmas music?' to which the most common response was 'they begin playing it too early' (47%).
All respondents were then asked 'When do you feel it is an appropriate time to begin listening to Christmas music?' to which almost half of respondents stated 'not until December' (47%), whilst remaining respondents stated 'November' (33%) and 'when it's officially the 12 day Christmas countdown' (14%).
Love them or loathe them, the Christmas number one is as much a part of the British festive tradition as the Queen's Speech and bad jumpers.
Even in the modern era of digital downloads, the Christmas edition of Top of the Pops remains required viewing for many.
The official UK Singles Chart began in 1952 after appearing in the NME. The first Christmas number one was Al Martino with Here in My Heart.
The Beatles made history when they bagged four festive best-sellers in the 1960s.
But the serious contest for the Christmas number-one spot didn't begin until 1973 when Slade deliberately released Merry Xmas Everybody as an effort to reach the top of the charts.
The only song to have made it to Christmas number one twice by the same artist is Bohemian Rhapsody by Queen. It first topped the Christmas charts in 1975 and pulled it off again 16 years later, following the death of Queen frontman Freddie Mercury.
The last decade has been dominated by songs from reality TV contests, deliberately released to try and get straight to number one in the week before Christmas.
There have also been a number of novelty songs over the years, ranging from Benny Hill (1971) to Mr Blooby (1993).
The most popular Christmas song per region, according to the survey, were:-
East of England Chris Rea, Driving Home For Christmas (23%)
North West Mel and Kim, Rockin' Around The Christmas Tree (22%)
Scotland Cliff Richard, Mistletoe And Wine (21%)
London Band Aid, Do They Know It's Christmas (20%)
South East Mariah Carey, All I Want For Christmas (20%)
Northern Ireland Slade, Merry Xmas Everybody (19%)
North East Boney M, Mary's Boy Child (17%)
Yorkshire and the Humberside John Lennon & Yoko Ono, Happy Xmas (War Is Over) (16%)
South West David Bowie & Bing Crosby, Little Drummer Boy (11%)
Wales Tom Jones & Cerys Matthews, Baby It's Cold Outside (10%)
East Midlands Jackson 5, Santa Clause Is Coming To Town (8%)
West Midlands Wham, Last Christmas (6%)