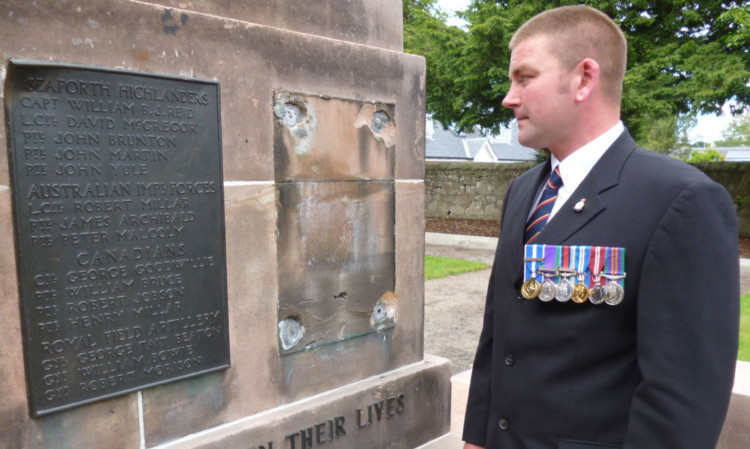 Creating a specific offence for metal thieves who desecrate war memorials is unnecessary, the justice minister has told a campaigning veteran.
Steven Reid, 33, who lost comrades in Afghanistan, wants the law changed after bronze plaques bearing the names of men who made the ultimate sacrifice in two world wars were cleaved from a monument in Milnathort.
The retired soldier, who is now a firefighter, wrote to Justice Minister Kenny McAskill after the Orwell War Memorial was targeted in July. Two men are facing charges in connection with the theft but the community will have to raise more than £7,000 to replace the plaques.
In a letter to Mr Reid, seen by The Courier, Mr MacAskill said judges already have discretion to hand down stricter sentences as they see fit.
"We therefore believe that a specific offence in relation to the protection of war memorial plaques is unnecessary," he added.
Mr Reid also contacted Mr MacAskill's deputy, Community Safety and Legal Affairs Minister Roseanna Cunningham, who is the young veteran's local MSP.
She met Mr Reid recently to discuss the campaign but declined to comment when approached at the SNP conference in Perth last month.
However, in a letter to Mr Reid, the minister backed Mr MacAskill's position.
Ms Cunningham suggested that "impact statements" used recently in a case where a metal thief was handed a four-year sentence for targeting a church in Edinburgh will ensure harsher punishments are meted out.
Mr Reid's local MP Gordon Banks disagreed with the ministers and urged decision-makers at the UK and Scottish Parliaments to create a specific offence.
Mr Banks said: "I don't believe it is something that can be adequately addressed through current legislation in respect of metal theft and if the Scottish Government think it can, I believe they are wrong, and will look to ways to support Mr Reid's campaign to change their minds."
Mr Reid welcomed the MP's support and intends to take time to consider how to take the campaign forward.
He added: "I am going to ask Roseanna Cunningham about the impact statements and whether we can get one in place for the theft from the memorial in Milnathort."